'Immigration poses threat to our way of life' – LGBT support for Front National rising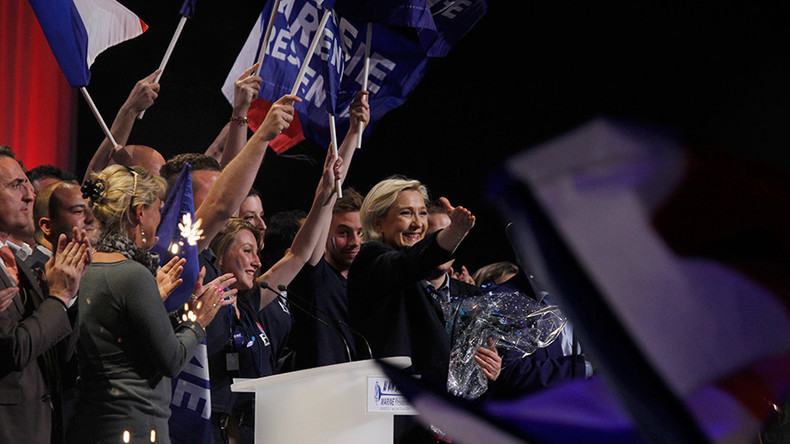 A lot of homosexuals, LGBT people, are attracted to parties that want to end immigration and protect our freedoms as many migrants come from countries where views on sexual minorities differ from those in Europe, says David Coburn UKIP MEP.
Hundreds of people gathered in the city of Marseille on Wednesday, holding banners denouncing Marine Le Pen, after she held a rally there.
Amidst the protests aimed at the National Front, some interesting statistics have arisen regarding the coming election. A significant number of people who identify as LGBT are expected to support Marine Le Pen in the first round of the election on Sunday.
Apparently triggering the switch were Islamist terrorist attacks in France as well as last year's gay nightclub killing in Orlando which left 49 dead. It was considered a homophobic attack, as the American-born killer had pledged allegiance to ISIS.
In the wake of attacks like these, there are growing security concerns in Europe which has been facing an influx of migrants and refugees. Anti-establishment parties across the EU are gaining popularity as usual voter concerns such as the economy and healthcare are waning against the perceived threats posed by the refugees.
Recently Le Pen said: "homosexuality is attacked in countries that live under the Islamist jackboot."
RT discussed the rise of National Front popularity among gay voters with UKIP MEP David Coburn.
"I think there is a threat to our way of life. That is attracting a lot of homosexuals, LGBT people toward parties that want a cessation of immigration and want to protect our freedoms," he said.
"We only have to look at Islamic fundamentalists we have in Europe. Look at the bombs going off. Look at the people who are run over by trucks. This is outrageous stuff. These people have an agenda. It is not our agenda. It is not the free libertarian sort of agenda we want in Europe. It is not what the young people want. I am a libertarian. I believe in people having the freedom to do as they please – within reason, within the law," he said.
"We fought very hard…have fought very hard to go with homosexual rights in Britain and across Europe. We don't want people, who've come here more recently to come round and tell: "No, we can't do that sort of thing. That is not allowed." They don't like it. Well I am sorry, we fought hard for those rights, and they are rights that we want to keep," he added.
According to Coburn, many of the migrants and refugees come to Europe from "very authoritarian countries" that lack tolerance for "other peoples and minorities."
"So to come here and bring their rather different views with them is obviously a challenge to people from perhaps the homosexual community, and many sorts of parts of society, who maybe think differently – atheists or people of different religions. This is something that is worrying a lot of young people, because they are going to face this in the future, and they don't want to see this sort of thing," MEP said.
Coburn also said that Le Pen "is very much in favor of homosexual rights."
"I know many people from National Front who are homosexual. I am the leader of UKIP in Scotland, and I am a homosexual. I don't want to see my rights limited, and I wouldn't like to see those of the French people limited either. There is a great attraction to the Front National, or to groups previously, people described as right wing," the UKIP member concluded.
The statements, views and opinions expressed in this column are solely those of the author and do not necessarily represent those of RT.