Time to close down Gibraltar, major part of criminal network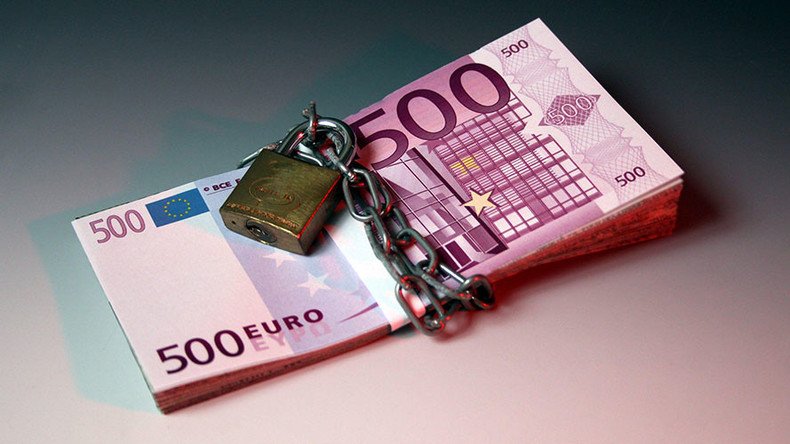 British sovereignty over Gibraltar stems from the same treaty that gave Britain a monopoly on the slave trade and granted Brazil to Portugal. It, like all these abominations, belongs in the dustbin of history.
The British ruling class was frothing with belligerent outrage last week following EU President Donald Tusk's comments on Gibraltar in his letter to Theresa May.
Responding to the British Prime Minister's letter formally requesting to leave the EU, Tusk noted that any agreement between the UK and the EU would not apply to Gibraltar without Spanish consent.
The statement was hardly controversial in itself, given that all member states already have a veto over any agreement, such is the nature of the decision-making in the EU. As Stephen Bush commented in the New Statesman, by giving Spain a veto over the terms of a future trade deal, Tusk was giving it "a right which it already has an EU member." Indeed, compared to Ms. May's thinly veiled threat to unleash terrorism against the EU should Britain not get the deal it wants, Tusk's gentle reminder of the existing state of affairs was positively christlike.
Nonetheless, it was enough to provoke the full fury of British supremacism. The Sun newspaper devoted its entire front page to declaring "Hands off OUR rock" (helpfully translated into Spanish for the paper's Iberian readers), while former Tory leader Michael Howard waded in with a threat to rerun the Falklands war. Current Tory Defence Secretary Michael Fallon appeared to embrace this approach with a promise that Britain will "go all the way" to keep Gibraltar under British rule, a classic euphemism for the use of armed violence.
All of this prompted a slightly bemused response from the Spanish, with Foreign Minister Alfonso Dastis commenting that his government was "surprised by the tone of comments coming out of a country traditionally characterized by its composure...it seems someone is losing their cool", he added.
In fact, the longest rulers of Gibraltar were neither Spanish nor British, but North African Muslims. The word 'Gibraltar' itself comes from the Arabic name for the Rock - Jabat-at-Tariq, meaning "mountain of Tariq." Tariq led the Umayyad conquest of Gibraltar in 711, and it remained, along with the rest of Spain, under Moorish control until 1462. Then, after two and half centuries of Spanish rule, Britain took the territory in 1704, its troops conducting mass burglary and rape, causing over 90 percent of the inhabitants to flee. In 1713, Britain forced Spain to cede the territory to Britain "in perpetuity" in the Treaty of Utrecht, turning it into another piece of Britain's growing colonial jigsaw.
A glance at the map immediately reveals the strategic value of the tiny territory, especially to an empire like Britain's, based on control of the seas. The southernmost tip of Western Europe, Gibraltar lies just eight miles from the North African coast, making the Strait of Gibraltar the narrowest 'choke point' on the Mediterranean. As a British naval base, it played a key role in the battle of Trafalgar, the Crimean War, and the World War Two campaign against German U-boats.
Following the misnamed 'de-colonial period' in the 1950s and 60s, Britain took care to hang on to a series of such strategically placed territories to ensure it could continue to project military power against those of its former colonies that dared to challenge the new neocolonial dispensation. This covert empire included places like Diego Garcia, leased to the US as a crucial refueling stop for its long-distance bombers following the ethnic cleansing of its native population; parts of Cyprus, regularly used to dispatch British fighter jets to the Middle East; Falklands, an air and naval base from which to intimidate Latin America; and Gibraltar.
Gibraltar's strategic importance increased massively following the opening of the Suez canal in 1869, becoming a crucial point on the sea route between Britain and its empire in the East; today, fully a half of all world trade passes through the Strait, including a third of oil and gas shipments.
But Britain's strategically located islands and peninsulas are not only military bases; they also make up what leading tax haven expert Nicholas Shaxson calls a global "spider's web" of tax evasion and money laundering.
Following the end of (most of) Britain's formal empire, lawyers, bankers, and criminals from the City of London, New York and elsewhere, helped to turn Britain's overseas territories into jurisdictions offering absolute secrecy to those seeking to hide their wealth from both the tax authorities and the criminal justice system.
Effectively, places like Gibraltar, alongside other UK-managed territories such as the Cayman Islands, Bermuda, Jersey, Guernsey, the Turks and Caicos Islands, and the British Virgin Islands, were transformed into a giant global money laundering service. Local branches of the major London banks were established in each territory, taking in vast amounts of criminal wealth, which could then be safely transferred to each bank's parent branch in London.
Today, the developing world is estimated to lose $1.25trillion per year in illicit wealth transfers to tax havens in this way, around ten times the rich world's aid budget. As Shaxson puts it, "For every dollar that we have been generously handing out across the top of the table, we in the West have been taking back some $10 of illicit money under the table." Eva Joly, a magistrate, involved in investigating the criminal use of tax havens, commented (this quote comes from the book above) that "It has taken me a long time to understand that the expansion in the use of these jurisdictions has a link to decolonization. It is a modern form of colonialism."
Gibraltar is a major part of this criminal network. John Christenson, former Economic Advisor to Jersey, itself a major UK-run tax haven, noted that "the instruction from senior partners in London was to direct the really, really dodgy business away from Jersey to Gibraltar…[we] regarded Gibraltar as totally subprime. This was where you put the real monkey business."
This was apparently confirmed in 2014, when OLAF, the European Anti-fraud office, revealed that it had "a number of concerns" over "cigarette smuggling across the border" between Gibraltar and Spain, including "indications of the involvement of organized crime."
The following year, Spanish newspaper ABC reported that Gibraltar was home to no less than 15 organized crime gangs connected to drug smuggling, money laundering, and the Russian mafia. In 2008, Expatica.com reported that, according to Spain, "Gibraltar refuses to cooperate in investigations into money laundering, tax evasion and organized crime," quoting a Spanish police official involved in anti-money laundering operations as saying that "we've reached a point where when we chance upon something related to Gibraltar in an investigation we prefer to leave it aside because we face a brick wall. It is useless trying to get information."
Indeed, this is the whole point of a tax haven: it guarantees secrecy to its depositors, protecting them from the taxman and criminal investigators alike. This is precisely what enables them to soak up so much of the world's stolen wealth and channel it into London.
The secrecy offered by Gibraltar is astonishing. The beneficial owners of any company incorporated in the territory - that is, the ones actually taking the revenues - are not only kept private but are not even submitted to the registrar of companies. 'Nominee' shareholders and directors can be used - that is, people not genuinely connected to the company in any meaningful way - and only one of each needs to be named. Gibraltar has signed no information exchange treaties with any other country, meaning that, according to taxhavens.biz, "information regarding offshore clients is safe and will not get back to other country's tax authorities."
Ah yes, tax avoidance. Gibraltar has no sales tax, no capital gains tax, no inheritance tax, wealth taxes or estate taxes. Since 2010, it has had a corporate tax rate of 10 percent, although it is currently under investigation by the European Commission for, probably illegally, exempting at least 165 multinational corporations from even paying this. As Richard Murphy has noted, Gibraltar is "deliberately run as a tax haven with the intention of undermining [Spain's] tax revenues."
What's more, this is all likely to get a lot worse unless action is taken. At present, Gibraltar is - at least in theory - bound by EU regulations on financial transparency. Once it leaves the EU, however, none of those will apply. This is why Spain, in particular, is so worried about Gibraltar being used to destroy its tax base even further. As Richard Murphy of Tax Research UK has pointed out, Gibraltar "is funded by its activity as a tax haven and center for offshore gambling. The first activity is intent on undermining the global economy and the legitimate tax revenues of democratically elected governments. The other is wedded to destroying individual lives. Quite emphatically, this is a place that is dedicated to undermining well-being." It is time it was closed down.
Dan Glazebrook is currently crowdfunding to finance his second book; you can order an advance copy here.
The statements, views and opinions expressed in this column are solely those of the author and do not necessarily represent those of RT.
You can share this story on social media: