'Syria's Bashar Assad is not a perfect leader, but certainly better than Islamic State'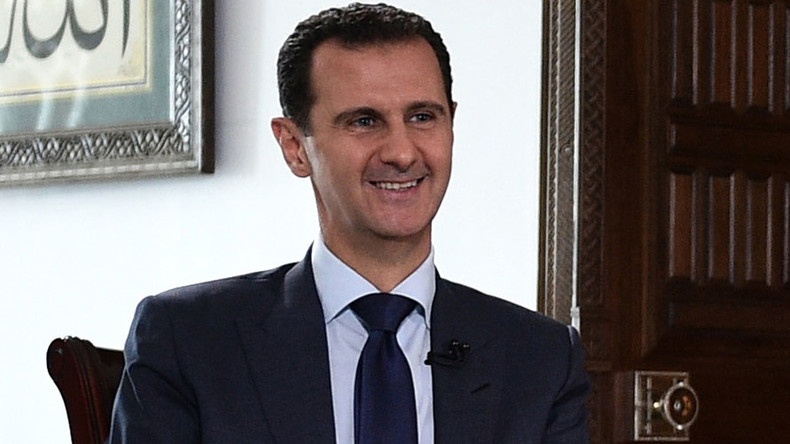 President Obama's position to take Assad out when he was one of the few forces for stability in Syria never seemed to be a good idea; Rex Tillerson is right - it is up to the Syrian people to decide who is their president, experts told RT.
The US Secretary of State Rex Tillerson signaled a major U-turn in Washington's policy on Syria. Rex Tillerson says the US is no longer insisting President Assad must step down. The comment was made during an official visit to Turkey.
However, this new stance could become a stumbling block in relations between the US and Turkey. Ankara has never expressed sympathy for the Syrian president who is backed by Russia.
RT: What is your take on Rex Tillerson's statement?
Ivan Eland: The Trump administration is probably moving away from the Obama administration's desire to get rid of Assad. In fact, Obama had dropped it privately as a goal a long time ago, it was just (a matter of) backtracking from it publicly. But now Trump is the new president, he opposes a lot of what Obama did, and he seems to be saying, "we are changing our position." It made little sense, Obama's position anyway because Assad is now stronger than he used to be and also even when he wasn't strong, it never seemed to be a good idea to take him out when he was a force for stability, one of the few forces for stability in Syria. He may not be the perfect leader, but certainly, he is better than Al-Qaeda or ISIS.
RT: Do you think the Obama administration's policy was a failure if we are witnessing such a change of stance?
IE: It was certainly a failure in taking out Assad because he is still there and he is not going anywhere. Obama did have some success in defeating ISIS both in Syria and Iraq; that is not a job that is complete. And it is going to take years to do it because even after they kicked ISIS out of the cities, they would still fight as guerrillas. Obama could at least claim some success on the ISIS part but not on getting rid of Assad. Certainly, that has been an abject failure.
Tillerson is going to Turkey today, and he had to 'ride the fence' because he wants Turkish cooperation in Syria, but they also want the Kurds being the only force they have. And Turkey is in a bad mood over the coup and Turkey thinks the US is harboring Mr. Gülen (Fethullah Gülen, wanted in Turkey for his alleged role in last year's coup attempt), who lives in Pennsylvania in the US now, and Turkey wants him back. The US is refusing to give him back so far. There are many issues between the Turks and the US that are a problem right now, and that is why you see Turkey and Russia getting closer together.
The only major convergence during Tillerson's visit to Turkey was the reiteration of the two sides in their mutual commitment and determination to cooperate and to keep fighting ISIS…In terms of whether Turkey could change or moderate its position vis-à-vis YPG, I think it is unlikely in the near future. Much depends on how much role Turkey is given in the future of Syria and particularly in what happens in the effort to retake Raqqa from ISIS. - Osman Faruk Loğoğlu, former Turkish ambassador to the US (2001-2005)
RT: How would you explain this apparent U-Turn in US policy on Syria?
'Assad will win free election'

Rick Sterling, investigative journalist and a member of the Syria Solidarity Movement: It is a positive step, very much in keeping with international law and so I hope it will be followed through with actions. This is in keeping with President Trump's campaign promise to stop the US foreign policy of regime change of overthrowing governments that it doesn't like. If Secretary of State Tillerson's words here are followed by deeds, it will be a positive change.
RT: Does the change of stance indicate that the Obama administration's policy was a failure?
RS: This was definitely a failure in a number of respects. It was violating international law, the US policy in alliance with Saudi Arabia, Qatar and the whole gang of countries that has been funding the jihad war in Syria has been in clear violation of international law. And it has basically created the crisis, the refugee crisis, all the deaths that have occurred in that country. It has been tragic, and it is basically pretty amazing that the Syrian people, with support from Lebanese resistance, Iran, and Russia have been able to withstand this onslaught. It will be a good thing if some kind of negotiations will be successful and they can proceed, and if they have elections, a lot of people predict that Bashar Assad will win a free and fair election, as was held actually in June 2014 they had an election with a good turnout. I think that is the likely result. But Rex Tillerson is right; it is up to the Syrian people to decide who their president is.
The statements, views and opinions expressed in this column are solely those of the author and do not necessarily represent those of RT.