'House investigation into alleged Trump Tower wiretapping looks Keystone Cop-ish'
Published time: 29 Mar, 2017 14:15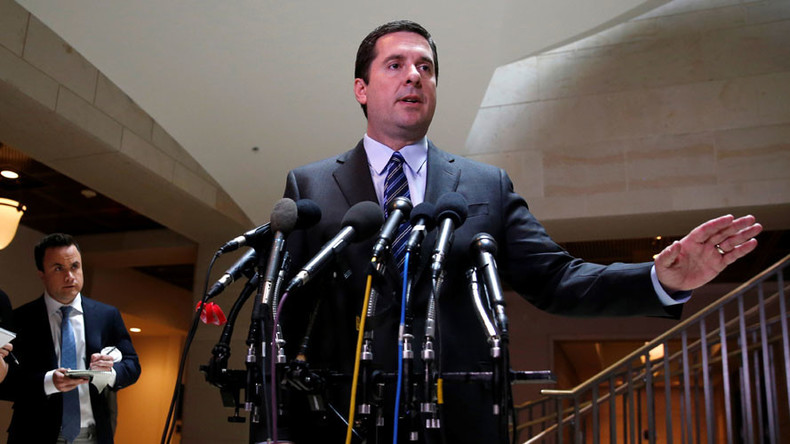 The really odd part is what is going on with the White House. They have never been, not once, in front of this story. They always seem to be responding to it, former CIA officer Jack Rice, told RT America's News With Ed.
The House Intelligence Committee Chairman Devin Nunes drew fire from some congressional members after it was discovered he had paid a visit to the White House to view information indicating communication by then-President-elect Donald Trump may have been captured during the surveillance of foreign nationals.
Claims by Nunes sheds new light on Trump's as-of-yet unsubstantiated claim that he was wiretapped by President Obama.
RT: Could an independent investigation outdo the FBI? It seems there is this fever pitch on Capitol Hill that the FBI can't investigate well enough and we've got to have a new committee. What are your thoughts on that?
Jack Rice: Three investigations are taking place right now: The House Intelligence Committee, the Senate Intelligence Committee is getting ready to start on Thursday, and then the FBI – all of those are rolling. I think the problem that is going on with the House Committee right now is it seems very 'Keystone Cop-ish.' There are a lot of things that are jumping back and forth, there are a lot of inconsistencies, a lot is coming from Nunes which we're not seeing from the Senate side. I think that is part of the problem.
What you're finding right is that there isn't consistency and there isn't sort of an ongoing process that makes sense. It seems haphazard; it seems kind of strange and odd with some of the statements coming from Nunes about going to the White House; why he was at the White House; or at least in the White House area, and what that means. A lot of people are confused. In fact, there has been one Republican, at least now that I am seeing, that is even saying: "Maybe Nunes needs to go." So that is the question people are asking.
RT: Does it change the gathering of information. Does all of that rhetoric and speculation about who goes, who stays, who's responsible change what the FBI is going to do?
JR: … The FBI is going to continue going down the path that they are going down now, and that is a good thing. The House Intelligence Committee is as well. I believe the concern is that what is the motivation of Congressman Nunes. Is he there to protect the White House? Is he there to provide an independent investigation? If he is acquiring information is he providing that to everybody, or is he basically turning around saying, "Let's go to the White House and talk to them about it." That is the real concern right now.
RT: Nunes claims that he felt he had an obligation to tell the President about the unmasking of names. It seems to me that investigators keep things close to the vest and don't say anything to anybody, and certainly don't have it end up in the media.
JR: You're absolutely right. It is odd that this is going on. Contemplate upon the comparison of how the Senate is approaching this and how the House is. That really is the distinction here; that's the real problem. This unmasking issue – there are some issues that deal with FISA and 12333, and some other issues as to what is and what should not be. But again, the consistency problem with the House is really the issue. The really odd part, honestly, is that what is going with the White House is: they have never been, not once, in front of this story. They always seem to be responding to it… If they want to handle this issue and control it, they need to be on the front end. Why are they always on the back end? It's crazy, don't you think?
The statements, views and opinions expressed in this column are solely those of the author and do not necessarily represent those of RT.