'Iraqis must stop relying on air strikes in Mosul, and need to fight ISIS on the streets'
Despite their overwhelming numerical advantage, Iraqi troops have been reluctant to engage Islamic State militants directly, causing a slowdown in the Mosul offensive and high civilian casualties, says journalist Martin Jay.
"On the ground right now, colleagues are telling me that Iraqi forces are not really rolling their sleeves up and not getting involved in hand-to-hand combat, and I think that's one of the main problems," Jay, an award-winning, Beirut-based journalist, told RT. "Most of the Iraqi forces are really just waiting for the US airstrikes to do their work, and I think that's got to change."
While relying on artillery barrages and airstrikes from the US-led international coalition has helped to preserve the manpower of the attacking contingent, this has endangered the lives of the 600,000 civilians still trapped in the city, according to the International Organization of Migration.
Over the weekend, reports emerged of more than 200 civilians killed by coalition airstrikes, though Baghdad says that these are the result of jihadist booby traps, not bombs from above.
Read more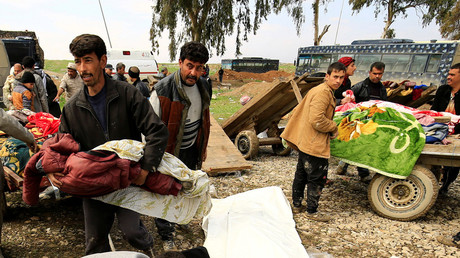 "The number of civilian casualties in the last few days has reached a pinnacle, and it is something which I think has gone now beyond the point of acceptability," said Jay. "We'll be looking for a different strategy from them, how to flush out ISIS, how to get more civilians out, so they'll be in a position at some point to create a kill zone. We've heard reports also of some commanders talking about a second front. That's inevitable."
In fact, Iraqi forces have declared that they are adopting"new tactics" that will "protect civilians" now that they have reached the historic parts of western Mosul, where the bulk of the remaining jihadists have holed up.
"They've got to look at ways of separating civilians and extremist fighters, and I think that's going to be quite difficult," Jay says. "But sooner or later it'll have to be quite messy work and the infantry soldiers will have to go in and actually fight in very close proximities. Don't forget west Mosul is an old town, lots of tiny alleyways and narrow streets, perfect for insurgents to hide and take advantage."
Jay believes that the Iraqi army needs to fully exploit its numerical advantage, with over 100,000 troops on the offensive side, and at most, 5,000 Islamic State defenders, though they are in fortified positions, and, according to the Iraqi authorities, prepared to die in the battle.
Read more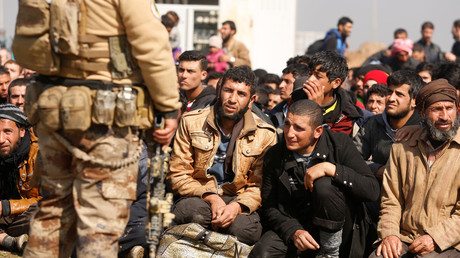 "When you have a large army on one side and a group of insurgents on the other, it's quite easy to concentrate the fighting around the clock, 24 hours, changing the cycles of different units to fight the insurgents, to flush them out, to tire and exhaust them. And one other idea also is if you can, create avenues for escaping civilians. Then you can create a situation whereby electricity and water is cut off, and a besieging situation then follows," Jay said.
Jay, who worked for Al Jazeera and Deutsche Welle before becoming a freelance journalist, says that unlike in, for example, Aleppo, there was previously less focus on the human cost of the advance, but as fighting gets grittier, the coverage will become more critical.
"Sooner or later Western journalists, even those reluctant to report on the real story, on the number of civilian deaths, have to report on the real story. And that's what we've seen recently in the last couple of days, certainly from Friday. What else have the journalists got to report on besides the big story, which is the civilian casualties?"
'We need liberation, not an occupation'
Massoud Shaljareh, of the Islamic Human Rights Commission, also urged greater attention to the humanitarian aspect of capturing the last major Islamic State stronghold in Iraq.
"It is a worry that we seem to have a lot more concern for the life of innocent people and the casualties in Syria than we seem to be getting for Mosul. The United States was showing extreme concern for loss of life in the liberation of Syria than when it is itself involved in the liberation of Mosul. So I think we need to put politics to one side," Shaljareh told RT.
The activist also believes that the manner of the capture, and its aftermath, will be key not just to a return to normality for the inhabitants of Iraq's second-biggest city, but to the post-war settlement of what will remain a deeply divided country, even after the likely demise of Islamic State.
"We need to be extremely careful, not only for the lives right now but also for the future of Mosul. People in Mosul need to see that they were liberated rather than occupied, and that means that they need to see that every care was taken in ensuring their safety and their lives as this liberation goes on," said Shalijareh.
The statements, views and opinions expressed in this column are solely those of the author and do not necessarily represent those of RT.