'FBI Director James Comey must go'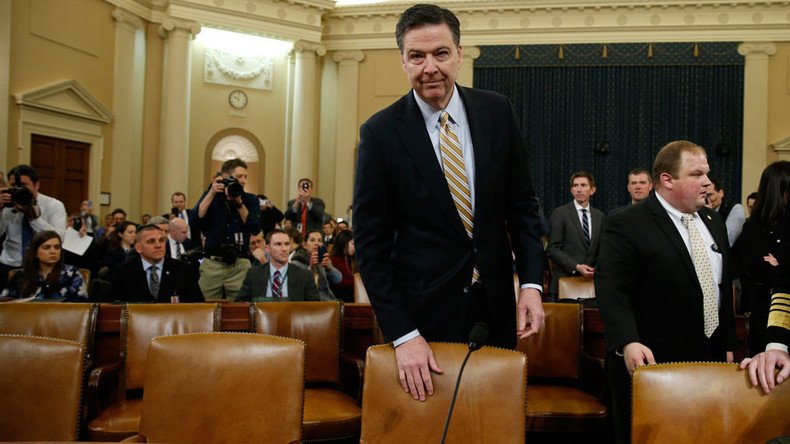 There is a long-standing contest in this country between the spying agencies and Congress and who should oversee who, says investor and writer Charles Ortel. You can't appear before Congress and lie to the American public, he added
President Donald Trump's controversial claim he was wiretapped before last year's election has been partly corroborated.
House Intelligence Committee Chairman Devin Nunes on Wednesday said the Trump team was monitored despite the FBI's claims to the contrary.
"I recently confirmed that on numerous occasions the intelligence community incidentally collected information about US citizens involved in the Trump transition. I want to be clear, none of this surveillance was related to Russia or the investigation of Russian activities or of the Trump team,"said Devin Nunes.
RT: What's your take on this story?
Charles Ortel: I certainly at this stage have to say as much as I initially liked director Comey of the FBI, he must go. You can't go before Congress as he did several days ago and basically, it seems now, lie to Congress and lie to the American public. And really the person who called him out – it was little noticed at the time - is a freshman Republican named Elise Stefanik from upstate New York, who asked a simple question and Comey flubbed: 'How frequently is the FBI supposed to notify Congress of these investigations?' The answer is quarterly. 'When did this investigation supposedly started on Trump?' July of last year. 'How come this is the first report we get now in March?'
I think Comey has little credibility left for the sake of all that needs to get done in this great country and in the world. He needs to step down and his deputy Andrew McCabe as well should step down.
RT: Don't we need to see some evidence?
CO: Absolutely, what has happened is we have had a long-standing contest in this country between the spying agencies and Congress and who should oversee whom. And how do you settle that up? In the interim, starting at around 2002 the force of the cyber apparatus has grown to be so large and so pervasive, that I think the regulatory system in this country, and in many countries, is not really up to the task of disciplining these spy agencies and we have many of these. It seems we have 17 or more in this country. It is definitely not ok for any one of these spy agencies to knowingly spy on US citizens. Particularly in the middle of a presidential campaign. Particularly, if one or both of them happen to be running for president. And we really need to understand what actually happened here.
Initially, I wasn't in favor of going back over spilled milk in 2016. Now I think we have to. We need to know what happened in the primaries, in each of the primaries, both parties, the general election, was there spying, if so, by whom? Foreigners inside this country, federal against state, private against both? What was going on? Who is regulating this? And why can't we get a straight answer from the FBI, from these agencies? (James) Clapper (former Director of National Intelligence) basically had to admit that he lied to Congress. Now it seems that Comey may also have lied to Congress.
I think there is a sense across the political spectrum in our country and many other countries – we don't like to be spied upon by our own government. Especially in the US. That is not something that Americans are comfortable with, whether they are on the left, the right, independent, agnostic, whatever. We are not comfortable with it. It may have been going on, it may be going on, and we have an absolute right to know whether this spying system is completely out of control and we have the right to put it back under the control of people.
The statements, views and opinions expressed in this column are solely those of the author and do not necessarily represent those of RT.
You can share this story on social media: