'High alert is the new normal for America & Europe' (Expert panel)
Published time: 23 Mar, 2017 12:28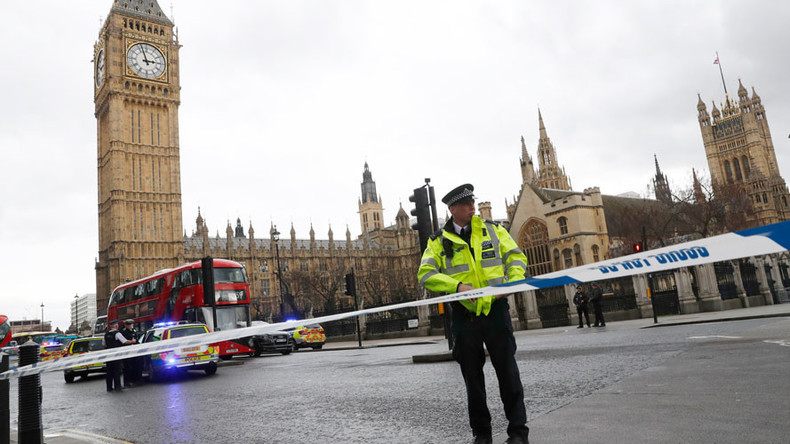 When you have an individual, or individuals, hell-bent on becoming a martyr, finding a way to prevent their actions will be exceedingly difficult. The terrorists may not succeed, but they will have succeeded in creating the desired effect, which is fear.
UK Defense Secretary Philip Hammond says police are working on the assumption the deadly attack on March 22 in the heart of London is linked to Islamic terrorism, while Prime Minister Theresa May has said the attacker was a British national known to MI5, the intelligence agency.
The number of dead from the attack has been revised down to four, including the assailant.
Around 40 people were injured when the lone attacker rammed a car into crowds of pedestrians on Westminster Bridge before jumping out and fatally stabbing a policeman. The attacker was then shot dead.
RT spoke to a group of experts and discussed the question of global security and what precautions can be taken - if any - to stop such acts of violence.
Ivan Eland, defense analyst
"All terrorism is psychological. The terrorists have always wanted to kill a few people and scare even greater numbers of people because it gets on TV worldwide… This is what terrorists do; they like to get media attention. It's too early to tell, but it may be a lone wolf attack, and I guess they are working on the assumption that it is a lone wolf attack, an Islamist attacker, much like we've seen in Europe and other places. And it did happen on the anniversary of the Brussels attack… While we don't want to minimize this, the lone wolves are usually amateur terrorists, and this indicates that it was sort of an amateur attack."
Gerald Horne, author and historian
"On the anniversary of the attack on Brussels this is a very chilling episode with regard to what countries have to do – keep in mind that to a degree this kind of event in London is an example of 'chickens coming home to roost.' What I mean is that five, six years ago in 2011 it was London and Washington that led the attack on Gaddafi's Libya that has now led to the rise of Islamic State in that North African country. It was just reported within the last few hours that Islamic State militants and other religious zealots are on the outskirts of Damascus attacking the Syrian regime. Keep in mind that the allies of London, Saudi Arabia, and Qatar, in particular, have been funding these so-called zealots, and it's not surprising that if they can launch attacks on Damascus, they're also able to launch attacks on London as well."
Martin McCauley, author and Russia analyst
"It is impossible to have total security.You can have total security around the Houses of Parliament if you stopped everyone going there on foot or every vehicle going there. But even that wouldn't be safe because somebody could fire a drone, so there's no such thing as 'total security.' All the police and counter-intelligence officers can do is collect as much intelligence as possible and their contacts and put it all together and try to work out if an attack is imminent… From the point of view of surprise, the attacker achieved that because nobody expected somebody in a vehicle to run into pedestrians on Westminster Bridge."
Charles Shoebridge, security analyst, and former counterterrorism intelligence officer
"Parliament itself is long-known to be a potential target and it is protected accordingly. Although a review is still to take place, I think police and the security services can take some consolation perhaps from the fact that the attacker didn't manage to get through into Parliament itself.
But the problem is that whenever you've got a hardened target like Parliament or many other buildings, particularly in places like Central London, the threat gets displaced to somewhere else. And if you got a situation like yesterday on Westminster Bridge or it could have been Oxford Street, shopping areas, not just in London, but any city or villages around the country, people are vulnerable to this kind of attack. We need to keep it in perspective."
Michael Maloof, former Pentagon official
"The idea of the attack was to strike where it would have the greatest visibility. Parliament is a very good target. Obviously given all the attention, they have succeeded.
But when you have someone who is hell-bent on being a martyr, it is going to be very difficult to stop that. They may not succeed, but they will have gone out of the way they wanted, and they will accomplish what they hoped to achieve, and that is maximum publicity for their cause and to bring attention to the fact that they are alive and well.
It is very intriguing that in that announcement last November, the ISIS public affairs guy basically said that recruits should not be going to Iraq or Syria. Instead, stay in your own country and conduct terrorist attacks at home. In London, of course, guns are very difficult to get, so, using the most rudimentary means: a car is an excellent weapon if it is used for purposes such as that. A knife. A machete."

Annie Machon, former MI5 intelligence officer
"First of all, it seems to fit with the modus operandi that has been used both in the Nice attack in France last year and also the Berlin attack in Germany last year, where it's a low-tech but highly damaging attack. So we can assume that it's probably an ISIS-inspired lone wolf attack, there's no doubt about that I think.
I think a condition of 'high alert' is the new normal. We have to accept that across North America and across Europe. Because in the past terrorist organizations used to carry out coordinated attacks. In Brussels, it is the anniversary of that huge attack at the airport and on the metro... But trying to coordinate that sort of attack leaves the group organizing it very open to interception when they are try to talk and communicate. A lone wolf attack is much more effective, and that is what we are seeing.
We also know that ISIS has been encouraging this sort of attack: using vehicles to mow down pedestrians, random knife attacks, random machete attacks. We've seen this time and again in Europe over the last year…The aim is to create terror for political gain, that is what terrorism is, and it seems to be actually rather effective at the moment, sadly to say that."
The statements, views and opinions expressed in this column are solely those of the author and do not necessarily represent those of RT.