'Natural born orator' Marine Le Pen leads Twitter hashtag race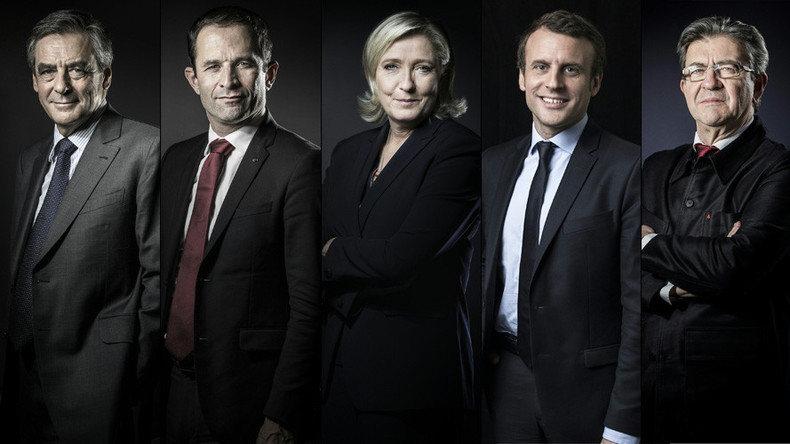 National Front leader Marine Le Pen did well in the first French TV presidential debate, taking first place in Tweets, but to be credible she has to convince people she can get over 50 percent in the second round, says political analyst Nikola Mirkovich.
The leading candidates in the French election clashed in their first televised debate ahead of the first round of voting on April 23rd.
The top three in the polls, National Front leader Marine Le Pen, independent candidate Emmanuel Macron and Republican Francois Fillon, all went on the offensive to score some early points.
In one of the exchanges, Fillon accused Le Pen of being a "serial killer" of the French economy for her plan to leave the EU and its single currency. While Le Pen hit back at the former prime minister saying he is making the public fear leaving the bloc.
Macron also picked his battle with Marine Le Pen accusing her of twisting the truth. The National Front leader sniped back at him saying his campaign has been filled with empty words.
RT: Who do you think performed best in the TV debate?
Nikola Mirkovich: It is difficult to say. I wouldn't say there is a definite winner at this stage. I think that these exercises are easier for some of these candidates who are used to speaking in front of large crowds, in front of cameras. I think the likes of Jean-Luc Melenchon and Marine Le Pen are quite good, they are used to this exercise, they are natural-born orators. What they say is more interesting when they speak, and this is a more difficult exercise for Francois Fillon. I think Benoit Hamon was quite surprising. He doesn't have the strong image in the campaign today, and he showed that he had some courage, that he had ideas to defend. And this is something that is quite interesting and something quite novel in the debate. This exercise had been the most difficult for Emmanuel Macron, who is the novel person in this presidential election, he is the outsider – not in the polls, but out of the political system today. And it is a bit more difficult for him because he is not used to this exercise in front of the cameras.
RT: National Front leader Marine Le Pen was attacked on all sides during the debate. How did she do?
NM: I think she did pretty well. She was the only woman in the debate, and she pointed that out, and she wanted to show that this was something different. If you look on social media, she was the first hashtag tonight in France. On Twitter, for example, the two first hash tags concern the debate – the first political person is Marine Le Pen. And when you look at details, a lot of people do agree with what she is saying. Some of them totally disagree, of course. But that shows that people are reacting to what she is saying, so this is helping her campaign. Right after her, we have Mr. Hamon which is two hashtags behind. And quite far behind we have Mr. Fillon and at the bottom Mr. Melenchon. I think she felt quite well. She has the advantage of having quite a strong position compared to Mr. Fillon and Mr. Macron who are seen as liberal candidates in this presidential election. And they were quite courteous and quite polite. But of course, there was some backstabbing, and that is normal for the debates. And there were some people debating on hard issues with her. She gave a pretty good show.
It is an easy way to exist politically to say that Marine Le Pen is going to be strong against terrorism. But if you were listening to all the candidates, not only the five but the six others that have not been invited to the debate, you will notice that no one of them is here to make a promotion of terrorism. - Maati Hosni, a French lawyer.
RT: The polls suggest Macron and Le Pen will go through to the second round, and Macron will win by a landslide. But can we trust the polls? What are your thoughts?
NM: I think today just anything is possible. We've seen this in the last elections. It is going to be very difficult for her because there are people who really do not like her in France today and she has to try to convince those persons and at least the people who are not so far from her, who have never voted for her or for her political party to do that. It is not impossible. It will depend on who she is against in the second round if she does reach that stage. Everybody thinks that is the case. She is quite popular, that is a fact. It can happen. Her campaign is working quite hard already on the second term of the elections and trying to get these people probably a lot from Fillon, some of them will be hoping Fillon will not be there so they can get his votes in the second round. And others are saying that they don't need Fillon votes anymore to go to the second round. But that is definitely the biggest challenge for her. And if she wants to be credible, she has to convince people that she can get over 50 percent after the second round.
The statements, views and opinions expressed in this column are solely those of the author and do not necessarily represent those of RT.