Migrants, Islam, independence: Top French presidential candidates clash in 1st TV debate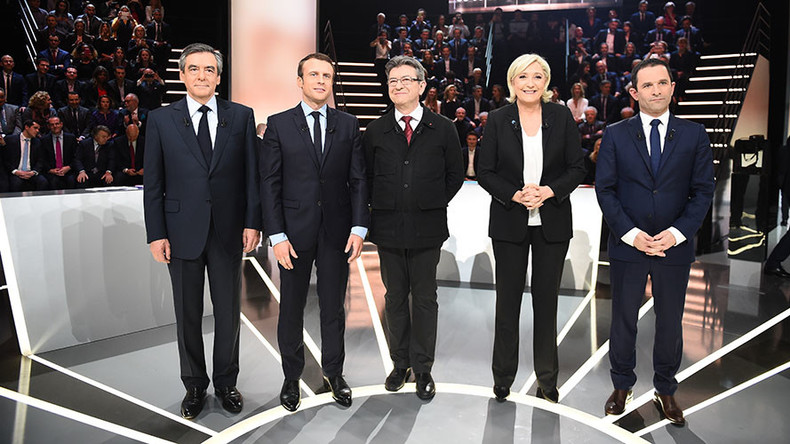 During France's first presidential debate on Monday, the leading five French presidential hopefuls traded punches on the most burning issues, ranging from immigration and Islamization, to the country's alliances and its very sovereignty.
The timing of the debate, a month before French voters head to polls for the first round of the elections, provided candidates with a perfect opportunity to swing public sentiment in their favor. It was aired live by French channels TF1 and LCI.
While a total of 11 candidates will take part in the first round of the presidential elections on April 26, the five front-runners include Francois Fillon from the 'Les Republicans' party, Marine Le Pen of the far-right National Front, independent centrist candidate Emmanuel Macron, Benoit Hamon of the ruling Socialist Party, and the left-wing leader of the 'Unsubmissive France' movement, Jean-Luc Melenchon.
EU & sovereignty
Known as a passionate advocate of France who wants to follow Britain out of the EU, Le Pen vowed that she will not become "the vice chancellor of Madame Merkel" or "the salesperson for a multinational group."
"I want to be the president of the French Republic, truly. I am not going to become involved in a vague region in Europe," she stressed, pointing out that France's independence is a core value for many French people, who want to "defend their values and traditions" and remain competitive "without being lectured" to by a "supranational structure."
However, Fillon claimed that holding a Frexit referendum, as the National Front leader wants, would "drag the country into social and economic chaos." Le Pen fired back at the conservative, reminding him that there had been a campaign in Europe voicing similar attitudes against Brexit, which she branded "Project Fear."
Macron, whose is pro-EU, rejected the idea of Frexit, arguing that Brexit turned out to be a much more tumultuous process than its backers had expected.
"All those who said Brexit will be wonderful... ran away and hid," Macron said.
Immigration
The debate on the migration crisis and the consequent challenges of integrating newcomers, which was one of the central topics discussed during the three-hour-long event, saw the candidates resorting to personal attacks at times.
Le Pen, known for her tough stance on migration, spoke in favor of closing the nation's borders, pointing out that France must handle the issue itself, as "we can't count on Greece to deal with the flow of migrants."
"Stop immigration, and I will not make any excuses for that," she said, stressing that France's security situation is "explosive" and measures need to be taken "to discourage immigration."
Former Economy Minister Macron, Le Pen's centrist rival, argued that the unending flow of migrants can only be stemmed through more cooperation within the EU.
READ MORE: French pres candidate Fillon placed under formal investigation over fraud accusations
"We don't do enough to coordinate the protection of European borders," Macron said, calling for a buildup of security forces and the creation of an "effective expulsion policy" in France.
Conservative candidate Fillon, whose campaign has been mired in a corruption scandal involving an allegedly fictitious political job he gave to his wife, championed quotas on newcomers that "do not affect asylum seekers, but other immigration."
Islamization
Another hotly contested topic was the contention that French secularism is under attack and that Islam is having a negative effect on the life of French citizens.
One heated exchange was sparked when Le Pen referred to the frequent sightings of burkinis on French beaches, citing them as evidence of the "rise of radical Islam in our country."
The burkini, a head-to-toe swimming suit, grabbed a lot of media attention in France last summer, when some French city councils sparked uproar by banning them.
When Le Pen accused Macron of being a burkini supporter, he snapped back, claiming that she is "failing [voters] by twisting the truth," and "trying to divide the French."
Relations with Russia & US
The candidates also proposed differing geopolitical strategies, particularly regarding relations with Russia and the US.
Macron, a centrist, cautioned against building closer ties with Russia, while pointing out France's long-standing relationship with the US. Claiming that France and the US "have built the world peace together," he advocated for "more independence" in the foreign policy realm, without getting closer to Russian President Vladimir Putin.
Meanwhile, Hamon seemed prejudiced against both Russia and the US, which is now led by President Donald Trump.
"We are facing the instability that emerged with the election of Donald Trump as the president of the United States. We also cannot ignore the claims of Russia," Hamon said.
While Le Pen stressed the importance of defense, promising to increase defense spending to three percent of French GDP by 2022, she also called for more independence from partners and alliances, saying that the French should "not let [others] decide for us."
"I don't want to force our soldiers to make war that we don't need," she said, referring to overseas conflicts.
Speaking about the right to self-determination exercised by the people of Crimea when they opted to rejoin Russia in a referendum held more than two years ago, Francois Fillon acknowledged that "we [Europe] have changed borders ourselves," referring to NATO's intervention in the war in Yugoslavia in 1999, which resulted in the country breaking up and the separation of Kosovo from Serbia.
READ MORE: RT 'flattered' to be centerpiece of Macron's French presidential campaign
"There is a fundamental principle of the right of people to decide for themselves. There are borders that have been established in a way, unacceptable for people," he said.
Macron came out as the most persuasive in the first debate, according to a BFMTV poll. Out of 1,157 people polled, 29 percent preferred Macron, 20 percent picked Melenchon, while both Le Pen and Fillon were favored by 19 percent.
Before last night's event, he had been running neck-in-neck with Le Pen, with both polling at 26 percent in the latest Figaro poll.