Grass not greener in Rostov? Man United coach unhappy with Russian team's home field
Published time: 8 Mar, 2017 23:16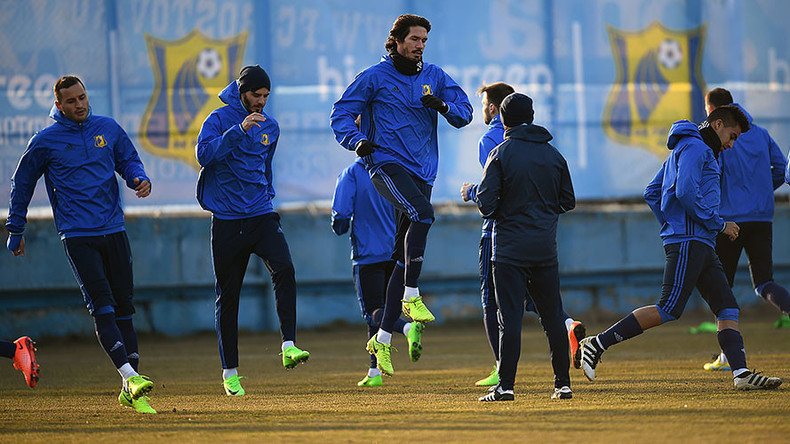 Football fans in Russia's southern city of Rostov on Don are calling themselves the luckiest among their peers in the rest of the country – the world's football powerhouse Manchester United are in town to play local heroes FC Rostov.
Though FC Rostov's trophy cabinet is incomparable to United's glory, the fans believe Russians do stand a chance against Man U, which it now faces in the first leg of the last 16 clash of the Europa League. Leaving aside the statistics that favor both sides in different areas, Rostov will have other advantages.
The most important factor will be the 16,000 passionate fans pushing the team forward in this once-in-a-lifetime opportunity. But another reason for the Reds' potentially less-than-impressive performance was voiced by none other than Manchester United's manager Jose Mourinho.
"It's still hard for me to believe that we are going to play tomorrow," Mourinho said at the pre-match presser. He was referring to the state of the pitch in Rostov. "I know we have to play but it's hard for me to believe we are going to play on that field, if you can call it a field."
FC Rostov's home ground, Olymp II, was inspected by UEFA officials who gave the match the green light, but Mourinho was very vocal in his criticism, citing concerns for the safety of his players.
The United boss dedicated quite a lot of time to the issue during the press conference, and naturally the questions were later directed at his Russian counterpart, who stressed that both teams are in the same position in regards to pitch conditions.
The weather forecast for match day is near perfect for a game of football with clear skies and temperatures of up to 13 degrees Celsius. One unprofessional look at the pitch from above doesn't really uncover any problems, but that's probably for an agronomist to decide. To a fan, it looks green, flat and ready for a great game of football. To Mourinho, it looks like an obstacle that he would rather avoid.
With UEFA's go-ahead for the game on Thursday, United's manager and his side will have to prove that this team can win under any circumstances, and to prove their legendary status.
Roman Kosarev to RT
The statements, views and opinions expressed in this column are solely those of the author and do not necessarily represent those of RT.