Taliban's new look: 'National defender of Afghan sovereignty against ISIS'
Published time: 8 Mar, 2017 16:30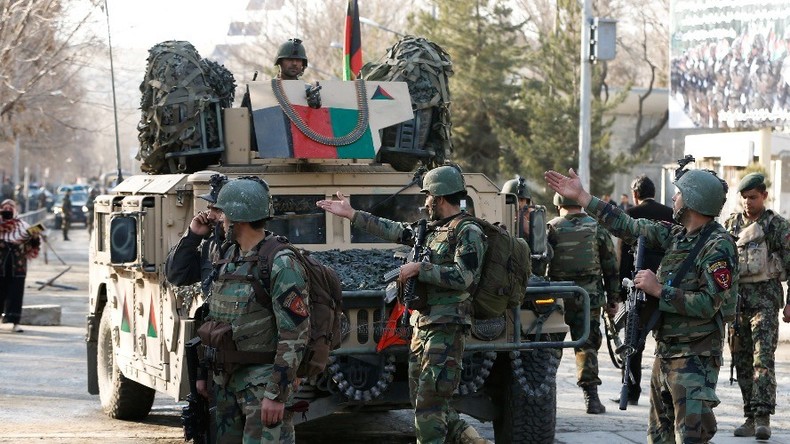 There is massive rate of attrition and unemployment in Afghanistan - stepping up security is not very effective. The US and NATO try to avoid actual combat which is left to the Afghan forces and police units, says Jonathan Steele, international affairs commentator.
In Kabul, the capital of Afghanistan, ISIS claimed responsibility for an attack on the largest military hospital in the city with over 30 people killed and more than 60 injured.
Several gunmen, dressed as doctors, attacked the facility near the US Embassy on Wednesday, engaging special forces units.
ISIS fighters have carried out several attacks in Afghanistan in recent months. Local officials warned that an ISIS base near the country's border with Pakistan is expanding to new areas and recruiting fighters.
RT spoke to Johnathan Steele, a British journalist who has been covering the situation in Afghanistan for decades.
RT: The Taliban has been responsible for the many terror attacks in Afghanistan, but we are now seeing ISIS attacks in areas they previously weren't in. Why is this? How much of a concern is this?
Johnathan Steele: It is a major concern. As you point out, they used to be involved in the areas close to the Pakistan border in Kandahar, Nangarhar and Kunar provinces. But now they are penetrating into capital itself and moving to some other provinces. It is very dangerous. It seems clear that they are getting some help from Pakistani authorities.
RT: Considering the number of recent attacks, has security been stepped up in Afghanistan? Is it enough?
JS: They are always trying to step up security in Afghanistan. They are trying to increase the size of the Afghan National Army, but there is a massive rate of attrition. People join mainly because they need the money, there is so much unemployment for young men, they get paid in the Army but then they usually don't sign up again, many of them are killed. There is a very high rate of wounded and killed. So, stepping up security is not being very effective at the moment.
"The proof of the fragility of the situation [in Afghanistan] is the attack on the hospital. The hospital is actually used by military personnel. So their own asset was exposed to the attacks from ISIS. You can deduce from that the extent of the security situation deterioration. ISIS has been trying for some time now to gain a foothold in Afghanistan and there is a kind of civil war between Taliban and ISIS. And bizarrely enough, the Taliban has emerged as a nationalist defender of Afghan sovereignty ."- Kapil Komireddi, journalist and Middle East expert
RT: Could NATO step in and help the situation at all in Afghanistan?
JS: There is no appetite for sending Western ground troops back into Afghanistan among most governments. The Americans have still got several thousand based there, but they are trying to avoid actual combat, which is left to the Afghan national forces and the police units. But there is a lot of NATO training going on and equipping and arming of the Afghan forces. So, NATO is certainly part of the struggle but is not in the front line with combat troops.
The statements, views and opinions expressed in this column are solely those of the author and do not necessarily represent those of RT.