Netanyahu positions himself as Trump's war broker in Middle East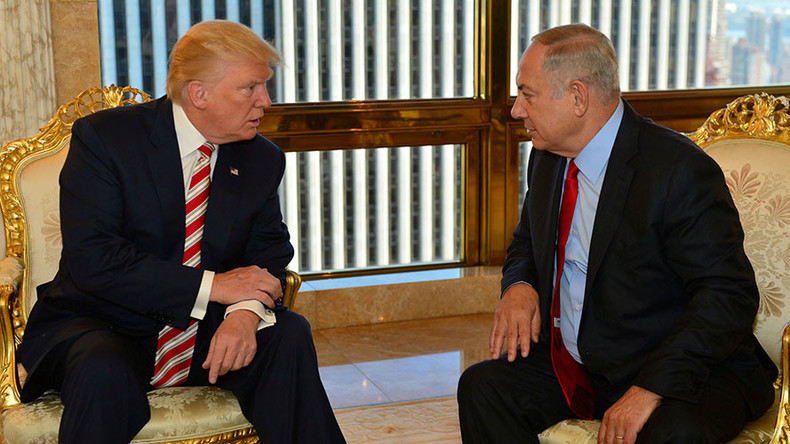 The Israeli Prime Minister's visit to President Trump is likely to be a starter's pistol for a new chapter in US foreign policy in the Middle East. He should drop his obsession with scrapping the so-called 'Iran Deal'.
The last time Israeli Prime Minister Benjamin Netanyahu visited the US President, he was ushered into the White House through a back door. There's no chance of that happening on Wednesday when he meets Donald Trump and presents his arguments about what the chief ailments are in the region, who the culprits are and how to go about dealing with them.
There are no prizes for guessing who the usual suspects are, but some might note that post Syria war and the emergence of ISIS, positioning Israel's objectives perfectly with America is more challenging these days.
Previously, during Obama's time in office, those two prisms were certainly not perfectly aligned. With Trump now at the helm, however, both men can relax knowing ideologically they have more or less the same views on what was an amicable status quo in the region for decades when it came to US foreign policy: Israel the greatest friend, Saudi Arabia the greatest ally and Iran the enemy which threatens the entire region's stability.
And so it is unlikely that both men will disagree on any of the fundamentals, but more on the methodology on how to deal with them.
Netanyahu will no doubt attempt to get Trump to agree on his settlements policy, which has accelerated in recent weeks. Although the Israeli leader might have to compromise on the roll out and accept a new law passed which rubber stamps them, this will only - like airstrikes in Gaza - impede Trump's relations with key Arab countries.
There may well also be some awkward moments about US-Israel relations if the Israeli leader brings up the subject of Trump's comments about the Holocaust and how it should be remembered.
And then there is Gaza. Netanyahu is still committed to a two-state solution and recent airstrikes there will only be justified by explaining that Hamas is a terrorist organization and has to be treated as such. Indeed, Netanyahu is expected to drive home the point that all the problems of the Middle East are down to fundamentalist terror groups, as well as Hezbollah and Iran.
However, Americans of his generation and political leaning struggle to see beyond Hezbollah's attacks against Americans in the 80s in Beirut, thus branding the Lebanese group as 'terrorists', and struggle even further with grasping that the Saudis and Qataris were the chief financial backers of ISIS and Al-Qaeda.
Netanyahu will not emphasize to Trump that US policy in recent years has worsened already complex situations in the region indirectly, and sometimes directly, by funding some Islamic groups fighting in Syria. It is an irony that will irk many in US politics that Obama, despite wanting to end the polarization of the Middle East, also sold over $100 billion worth of arms to the Saudi Arabian government which many argue it knew was supplying ISIS and Al-Qaeda with weapons in Syria.
Indeed, Syria may well be a subject which both men hold a different view on. According to reports in the Israeli press, Netanyahu wants ISIS to be destroyed and yet, to date, there is little to support that notion. The problem for Israel is that if ISIS is removed from the war demographic, then does that automatically mean more of the country covered by Assad's allies, namely Hezbollah?
Netanyahu would prefer the Lebanese militant group were not near his northern border and in particular the Golan Heights. He believes the way forward in Syria is to remove Assad, and ISIS and Al-Qaeda are at least playing a role in that process. Meanwhile, Trump wants to completely wipe out these hardcore Islamic groups and is seeking the support from Turkey in achieving that which then presents a new problem for Israel: if there are no more Islamic terror groups in Syria, then doesn't that strengthen Assad, Hezbollah and Iran?
Iran will be the center of the discussions.
Netanyahu is expected to get the assurances he needs that Trump really is the hawk he seems to be against the regime. Trump's key aides with regards to Iran, his Defense chief James Mattis, would like – like Netanyahu – nothing more than to bomb Iran, along with Steve Bannon, probably his closest adviser.
In recent years, however, mainly due to Iran expanding its presence in the region, but also due to Obama's war on ISIS in Iraq, where Iran provides many of the militias, things have got complicated. Now, Iran is well placed to hit US servicemen if the US were to attack its military in any way, which will have economic implications as well as political ones.
"In order to confront Iran or push back more fiercely against it, you may find you're in a conflict far more far-reaching and more destructive to the global economy than many of our allies or American public are willing to bear,"said Nicholas Heras of the Center for a New American Security in the Washington Post recently.
So, it is likely that both men will agree that a direct war with Iran is hard to envisage but a get-tough policy on the regime is more beguiling as a realistic policy to grasp.
Although Netanyahu still holds out hope to scrap the Iran deal, it is more likely that Trump will try and muster new international support to kick start a fresh set of non-nuclear sanctions while examining where a military initiative against Tehran could be carried out by proxies.
Of all the options to hit Iran, the most likely would be to plan a longer term strategy against Assad in Syria. Assad is the weakest link and the US could orchestrate and fund a new proxy war against him, with a view to destabilizing Iran. If Iranians don't trust Russia to stand by their side if the US attacked them, then the argument to consider attacking Assad would be stronger; Moscow's bond with Assad is often over-stated and Trump may ask Netanyahu for his views on whether Putin would consider a 'round edged' regime change in Syria plan as perhaps a trade-off with Trump removing Russia sanctions.
Could preparations to launch fresh assaults on the Assad regime be already under way? Congress signed off a bill to allow sales to Syrian rebels of surface-to-air missiles just a week before Obama left office. Could these 'MANPADS' have something to do with Trump's new 'safe zones' plan in Syria, which seem to be all about creating military zones with a 'no-fly zone' which needs to be protected? If he is serious about going ahead with this plan, which could potentially place Russia as an opponent, then he will certainly need support from regional allies who have impressive air forces, like Saudi Arabia, UAE, Turkey and Israel.
Trump will listen carefully to Netanyahu who met Theresa May in London days earlier. The UK PM may well support a plan for regime change in Syria if Trump could give her support in other areas, like trade and a good Brexit deal, whereas a war with Iran will be hard to sell to weary voters and a belligerent press pack who are already snapping at her ankles.
Did the Israeli leader already get the nod in Downing Street?
Martin Jay recently won the UN's prestigious Elizabeth Neuffer Memorial Prize (UNCA) in New York, for his journalism work in the Middle East. He is based in Beirut and can be followed at @MartinRJay
The statements, views and opinions expressed in this column are solely those of the author and do not necessarily represent those of RT.
You can share this story on social media: