Go figure: Soros-funded watchdog says populist politicians 'undermine fight against corruption'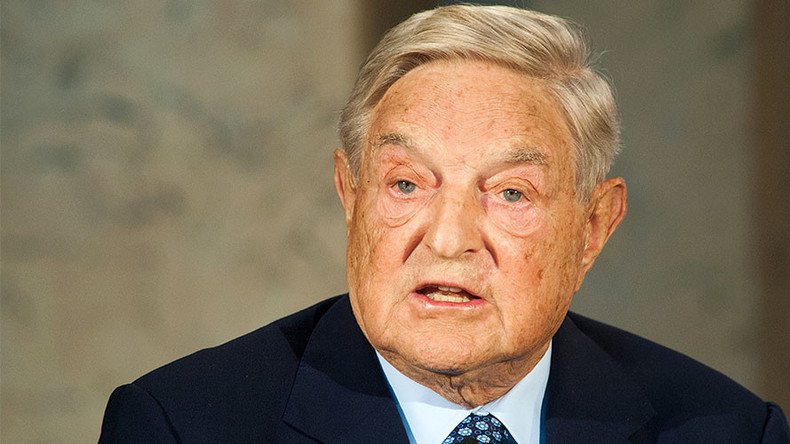 With the EU elite threatened by a populist insurgency aiming to end free and easy immigration programs and promote nationalism over globalism, an influential think tank says populism will only - wait for it - fuel the fires of corruption.
Transparency International, a Berlin-based anti-graft group, warned in its annual Corruption Perceptions Index about the purported perils of populism, a political animal that on occasion rolls through nations like a force of nature to contend with the excesses of an out-of-touch, elitist minority.
"Populism is the wrong medicine," stated TI chair Jose Ugaz, without offering any alternative prescriptions. "In countries with populist or autocratic leaders, we often see democracies in decline and a disturbing pattern of attempts to crack down on civil society, limit press freedom, and weaken the independence of the judiciary."
"Instead of tackling crony capitalism, those leaders usually install even worse forms of corrupt systems," Ugaz continued.
With regards to corruption, the watchdog attempts mind-reading by asserting that populist politicians "have no intention of tackling the problem [of corruption] seriously."
The report takes to task some firebrand politicians, including Donald Trump (USA), Marine Le Pen (France), Jaroslw Kaczynski (Poland) and Victor Orban (Hungary), among others, who are currently topping the popularity charts among their constituents by declaring open season on the moribund establishment.
Transparency International sounded the alarm over these political "con artists" who are "reactive, nativist and often right-wing..." while alleging that these disruptive newcomers "have been able to exploit the disenchantment of people with 'the corrupt system' and present themselves as the only 'way out' of the vicious cycle described... "
While deliberating upon the potential risks associated with the new agitators on the block, the report conspicuously failed to mention the reasons why so many voters today are disaffected with the same old run-of-the-mill politicians, who are guilty, it must be said, of far worse crimes than mere corruption.
In all too many cases we are talking about complicity in actual atrocities, from bloody regime change in places like Iraq, Libya, Afghanistan, with efforts underway in Syria, to the wholesale destruction of Western civilization due to the unchecked immigration of war refugees without the consent of the governed. If NATO member states are feeling pangs of guilt over their direct complicity in the serial murders of nation states, forcing the refugees of these war zones onto the territory of their people is undoubtedly not the answer.
In light of these unsavory actions on the part of many NATO countries, concerns over high level corruption may seem a bit exaggerated and misplaced. At the risk of sounding cynical, separating corruption from the world of politics is tantamount to separating the chicken from the egg, and, as the popular riddle reminds us, very difficult to say what came first.
And speaking of corruption. The scale of corruption in the Clinton camp, revealed by WikiLeaks in the run up to the 2016 presidential election, is simply astounding and should be enough to preclude any lectures on good behavior by the folks at Transparency International.
For starters, it was revealed in November that the Clinton Foundation received a $1 million 'gift' from Qatar without telling the State Department, thereby breaking an agreement requiring it to reveal all foreign donations. The check was reportedly a gift to former President Bill Clinton in 2011 for his 65h birthday. A meeting was to take place between him and Qatari officials at some point, according to an email published last month, but it is not clear if this ever happened.
At the same time, it was also established that Saudi Arabia and Qatar were not only donating heavily to the Clinton Foundation but were also arming and funding the militants of Islamic State. Now if that isn't the worst case of political corruption then I don't know what is.
It is, therefore, no coincidence that populist politicians, simply responding to the market demand for fresh leadership, appeared around the world at just about the same time. The fact that France has its own version of Donald Trump in the form of Marine Le Pen would only come as a surprise to those people who don't follow world events, or who are not told the truth about them.
Now that so many Western politicians and their affiliated parties are facing the threat of eviction this year (The most influential EU member states are witnessing a fierce struggle in the ranks amid the spectacular rise of anti-establishment, far-right politicians, like Le Pen in France, Geert Wilders in Holland and Frauke Petry in Germany), it is somewhat ironic that Transparency International would release a report warning voters that they are about to be hoodwinked by rabble-rousing, right-wing demagogues.
But there is a simpler explanation for the one-sided nature of this report, and it is due to a massive conflict of interest on the part of its sponsors.
Take it away, George
If you were doing consumer research on a particular product, would you trust the manufacturer of that product to carry out the research, or would you prefer some independent body to handle the job? I think most people would agree that the most reliable, trustworthy method would be to commission some third party with no connections to the company to provide its consensus. That would dramatically reduce the chances of inaccurate results due to something called 'self-interest.'
And therein lies the glaring problem not only with this report but with Transparency International as a watchdog group.
A brief perusal of its supporter list should remove any doubt as to why Transparency International is extremely wary about populist politicians rocking the European boat of power.
Aside from receiving from a number of foreign governments (Germany, United Kingdom, United States, Ireland, Estonia and Finland, to name a few), TI is sponsored by the some of the most dubious names in democracy today, brought to you by none other than investor and philanthropist George Soros himself.
The Open Society Institute (OSI) and Open Society Initiative for West Africa (OSIWA) ranks just behind the National Endowment for Democracy (NED), a soft power non-profit sponsored by the US government, on the list of TI's supporters.
Clearly, this is the last organization one should trust for providing an objective look at the rise of new political parties across the world. Indeed, George Soros himself has been largely responsible for the massive influx of refugees to the European Union, going so far as to offer cash incentives to refugees who wish to make the long, dangerous journey from the Middle East to the European continent.
Never mind that none of these displaced peoples, who have every right to our sympathy, will live in the same neighborhood as Mr. Soros, who can well afford all the personal protection that is certainly desirable when embracing such reckless policies. But for the average European citizen, who must accommodate these millions of new people who do not share the same religious, social and cultural predilections, nor in many cases the same high level of education, this social experiment carried out on the whim of a billionaire is the epitome of reckless behavior.
In fact, it should come as no surprise that the TI report singled out Hungarian Prime Minister Victor Orban. Just this month, Szilard Nemeth, a vice president of the ruling Fidesz party, said it would use "all the tools at its disposal" to "sweep out" NGOs funded by the Hungarian-born financier, which "serve global capitalists and back political correctness over national governments."
But all that pales in comparison to an award that Transparency International bestowed upon none other than former US Secretary of State Hillary Clinton in 2012 for "her emphasis on the importance of increasing transparency and countering corruption as part of US foreign policy, with the award addressed solely to those contributions." Needless to say, that award drew a lot of raised eyebrows around the world.
There is a breathtaking degree of conflict of interest in this TI report, which, like so many closed halls of power in the EU today, is just begging for the transparent light of day.
The statements, views and opinions expressed in this column are solely those of the author and do not necessarily represent those of RT.
You can share this story on social media: