'Trump won't tip hand on plan to defeat ISIS, wants to keep enemies guessing'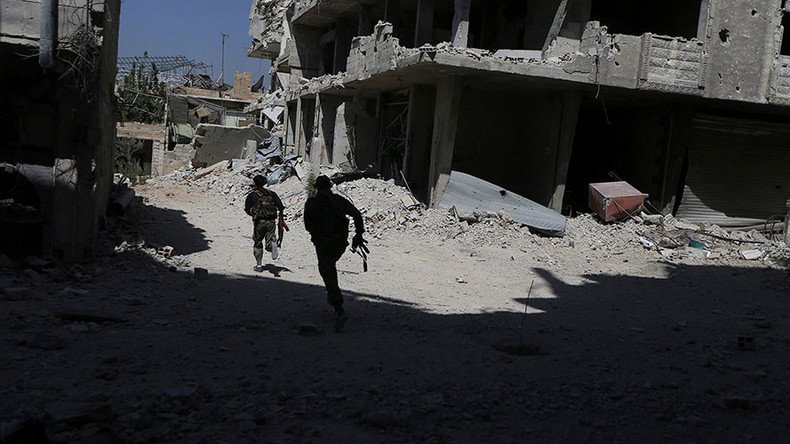 President Trump made a strong point of saying that the US will not let Islamic State (IS, formerly ISIS/ISIL) know exactly how it plans to smash them, says John Hajjar, the deputy director of the US-Middle East Alliance to Support Trump.
After Russian President Vladimir Putin and US President Donald Trump's first phone conversation, RT spoke to John Hajjar, the deputy director of the US-Middle East Alliance to Support Trump, to discuss what this conversation could mean for resolving the situation in Syria.
RT: We know that Donald Trump wanted a joint plan to work with Russia to combat ISIS. Do you expect Trump and Putin to get along regarding the pledge to cooperate in fighting terrorism?
John Hajjar: I think it is in the interests of both Russia and the US, and the whole free world. And, in fact, the Muslim world that ISIS has thoroughly and completely destroyed. President Trump has made a key point of discussing the threat of radical Islam and terror in the past few days. We just imposed a ban on immigrants or any visitors from certain countries where terrorism is predominant. I think it will be good for the Russians and good for the Americans if ISIS is thoroughly decimated. That is one common point that they can agree on, I am sure.
RT: Trump has reportedly given his Joint Chiefs of Staff 30 days to prepare a plan for defeating ISIS. What kind of plan do you think it will be? During his campaign, he mentioned "bombing ISIS."
JH: He has said that. But he also had a very strong point of saying that we would not going to tip our hand to our enemies and let them know exactly how we are going to deal them a very harsh blow. We know that in the waning days of the Obama administration, many ISIS figures in Syria were killed. I am sure that the aerial attack will continue and maybe US forces will commit some more ground troops as well, although that is not certain. That is exactly what President Trump intends to keep our enemies guessing. He has made a strong point of it, and if you judge him from other campaign promises, you can see from just eight days in office, he is very intent on keeping his promises and acting all kinds of presidential decrees. And I think that you are going to be seeing some action in this regard very soon.
RT: Donald Trump's receiving criticism for denying US entry to refugees and others. He said earlier that he would order so-called "safe zones" in Syria. But what about securing those zones, will that need American military manpower whether Syria wants it or not?
READ MORE: Trump's 'Muslim ban' fallout
JH: I think a lot of that could be enforced with a 'no-fly zone' like we did very successfully back in the 1990s in Iraq. I think that President Trump knows that there are endangered minorities in the Middle East, ancient Christian communities, and President Putin is very well aware of that as well. And I know Russia has made a very strong point of talking about the Christians in the Middle East and Yazidis and others. And our obligation is to defend them.
RT: There are concerns about potential 'no-fly zones' that could prohibit Syria from flying in its own skies.
JH: We have some strong partners on the ground, the Kurdish forces and other forces that also have ISIS in their cross airs – and we have been in the cross airs of ISIS as well – who are ready to go and fight as well as this minority groups. I know the Assyro Chaldean community in Iraq and Syria have formed protection forces. They are very lightly armed and I think that if we support them more strongly they will express a willingness to defend themselves. They are ancient communities and they don't want to lose what remains of the small territory they occupy. I think we could do that. With moderate Muslims, I think in certain areas they are willing to support themselves as well. We are talking about Arabs, Kurds, and others, that in certain areas are very well into the fight against ISIS and other terrorist groups, such as Jabhat Al-Nusra and other Salafi jihadist groups. And if we give them the wherewithal, they are ready to fight. That was very lacking in the past administration.
The statements, views and opinions expressed in this column are solely those of the author and do not necessarily represent those of RT.
You can share this story on social media: