'Why wasn't Berlin attack suspect under tight surveillance?'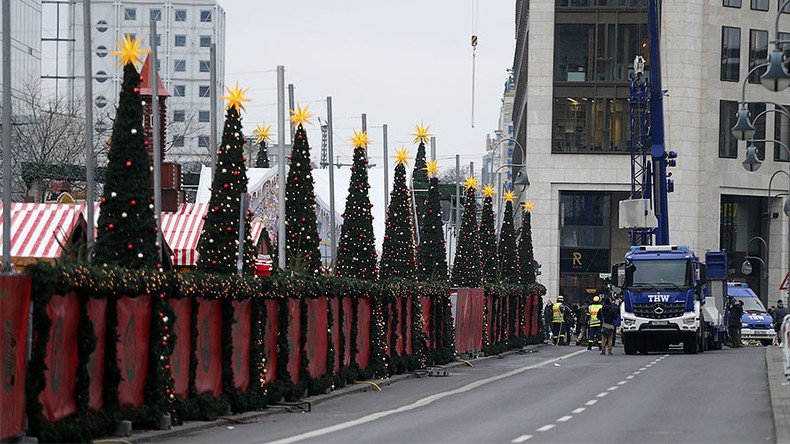 Why were sufficient precaution measures not taken in some European cities after the Europol warning of increased risk of terrorist attacks? What did intelligence services know about the alleged attacker? RT asked experts.
Tunisian national Anis Amri was named by the German federal prosecutor's office on Wednesday as the suspect in the Berlin Christmas market attack. The man reportedly sought asylum in Germany and was already on the radar of intelligence services.
Identity documents belonging to Amri were allegedly found inside the truck.
RT asked David Lowe, former UK counter-terrorism officer whether it's normal for it to take two days to find the suspect's ID in the vehicle.
"It depends on what condition the car was after the incident finished. Maybe there might have been all the documentation – we've got to see, we really don't know. Yes, I suppose you could argue that this could have been an absolutely vital piece of evidence that might have been seized upon earlier. But the good news at least they found it, and there is now a name to the person we're looking for. That is an interesting angle because we've supposed that it's been an individual, who is being inspired by what they've heard and seen from – we can now say ISIS because they are claiming responsibility. But it could be, because they are from Tunisia, and a lot of Tunisian citizens have joined ISIS over in Syria and Iraq, as well where they held territory in Libya. So it just might be another avenue for the investigators to look at the possibility that this is being organized and they've got someone who is a member of the group, who is active in Germany," he said.
German security forces are now putting up concrete barriers around Christmas markets in cities like Dresden.
RT asked the analyst whether security measures should have been taken earlier, given increased risks and the attack in Nice where similar tactics were used. Europol - citing intelligence services - warned that jihadists were likely to carry out more terrorist attacks.
Lowe said he was "quite surprised" that some precautions were not taken in markets in a capital city like Berlin.
"It's the same throughout most of Europe where most towns and cities" have Christmas markets and there are a lot of other public events at this time of year, he said.
Among measures that can be taken the expert named "physical prevention issues like concrete and so on," cordoning off some areas, increased uniformed police presence. However, Lowe said, the real key to preventing terrorist attacks "is information in intelligence that comes in."
According to Charles Shoebridge, former counter-terrorism intelligence officer, a lot of questions currently remain unanswered.
"I think in the fullness of time, if not now, there are many questions to be asked of what the German intelligence services knew about this operation that has been carried out; about what they knew perhaps about the suspect that was originally arrested; but above all of course – what they knew about the suspect they have now named. Also - if as the briefings are being given turn out to be correct – that this was a person that was known, at least in some kind of terrorism context; if he was regarded as dangerous to the extent that appears to have been the case, then why wasn't he under more tight surveillance," he told RT.
Having ID may make sense if death anticipated. But case anyway likely to be decided not by ID, but DNA, fibres, prints, CCTV, phone records.

— Charles Shoebridge (@ShoebridgeC) 21 декабря 2016 г.
"It is certainly a mystery why… when the German police first started saying that they weren't completely sure that a suspect that they've got was that person that was responsible, I began to wonder. Simply because by that time with such a serious crime as this, police should have had information coming in purely from a reactive investigative point of view, let alone any intelligence input. They would have had DNA, or the possibility of DNA, fibers from the clothes of the suspect – we're talking about the Pakistani suspect, fingerprints, phone records, and so on. All which should have, in a case of this magnitude, have either confirmed or ruled out his involvement very, very quickly," Shoebridge said.
Regarding the found ID, "it may be that the police indeed did find this identity document," he said, adding though that "many people are speculating that it's been placed."
"Why hasn't that been mentioned for two days, when the person on the identity document was so well-known, it seems, to the intelligence services in this kind of respect. We've had a two-day lead which has disappeared and allowed that person and his accomplices to make at least some kind of escape and dispose of evidence. And there would be many questions about not only the intelligence aspects but also about the investigation," the expert said.
Now that two days have passed, it is not going to be easy to find the suspect particularly in a country like Germany with a population of over 80 million, agrees Alexandre Mendel, French journalist and author of the book La France Djihadiste.
"It is not going to be easy, especially in Europe with open borders. He can be in France right now. Maybe he will attack France, maybe he we will attack Italy – we don't know where he is," Mendel told RT.
It is now difficult to say whether the attacker had accomplices, according to Mendel.
"It is probably a copycat of what happened in Nice on July 14, on the Bastille Day in France, on the French Riviera. It is a very easy attack to do. It is easier to rent a truck than to get a Kalashnikov. It is way easier to kill soft targets at a Christmas Market than soldiers," he said. "The attack that happened two days ago in Berlin is probably the easiest attack that can occur in a country that doesn't defend itself. Actually right now in France all Christmas markets are secured with reinforced, concrete barriers – that is not the case in Germany…"
The shift to far-right rhetoric is worrying.
Given the already existing anti-migrant sentiment in Germany, there are concerns now that the Berlin Christmas market tragedy might further empower far-right movements, says Arzu Merali, Director of Research at Islamic Human Rights Commission (IHRC).
"We're always concerned that something like this happens, particularly in Western Europe, where there is a trend of so-called backlash events subsequent to an event like this. Having said that, what we've seen in the last few years, although recently there has been a shift from Angela Merkel, is that there has been that sort of better public and political discourse about asylum seekers. And this is not to undermine very real kind of threats that refugees have been under or migrant population in Germany, who have been experiencing quite a lot of violence, regardless of whether there has been an event like the horrible events in Berlin – but nothing at all is going on," she said.
"But what we've seen is – that because there has been a slightly more responsible political discussion from the top, particularly Merkel, compared with other countries like the UK and France, that there hasn't been that same sort of venomous backlash. Angela Merkel herself – who we have seen in the last couple of weeks started talking about banning the burka - she is talking now about how painful this will be if it was committed by someone who was seeking asylum. This is a shift now to that kind of far-right rhetoric that we've seen happening in other Western European countries from the mainstream. That is the cause for concern, that is the thing that is perhaps most worrying about now," she told RT.
The statements, views and opinions expressed in this column are solely those of the author and do not necessarily represent those of RT.
You can share this story on social media: