Dresden barricades Christmas market with concrete barriers after Berlin truck attack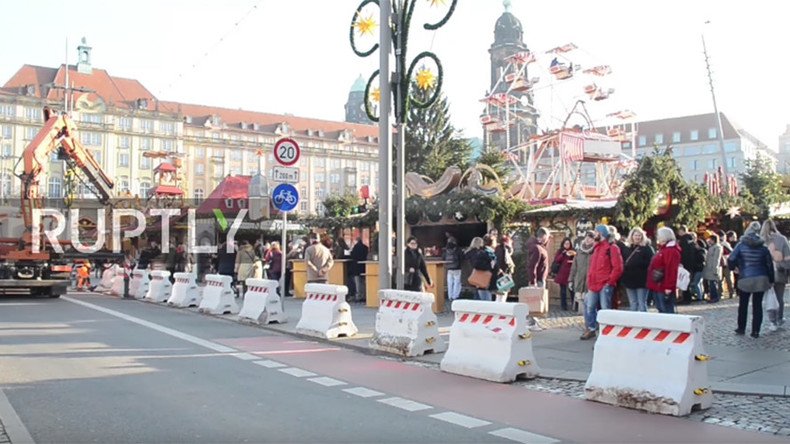 The German city of Dresden is building concrete barriers around Christmas markets after an attack in Berlin killed 12 and injured 48 on Monday when a truck rammed into a crowd. Berlin's police chief says he does not believe such measures will work.
Top German officials, including Chancellor Angela Merkel and Interior Minister Thomas de Maiziere, have called it a terrorist attack, and police say the suspect is still at large and may be armed.
Popular market places in the city of Dresden in the eastern part of Germany have seen the deployment of additional police cars and the installation of concrete barriers around their perimeters and approach roads in the wake of the attack.
"So far, we have refrained from setting up road-blockers, but we made arrangements allowing us to react quickly in a changing security environment," Dresden Police Chief Horst Kretzschmar told Dresdner Neueste Nachrichten.
He said that one of the measures was to install more so-called 'Nice barriers' – concrete blocks which emerged in Dresden in July after a deadly terrorist attack in the French city of Nice killed 86 people and injured 434 when a 10-ton cargo truck plowed through Bastille day crowds.
"Still, Dresden faces an abstract threat, and there is no concrete indication of a terrorist act," Kretzschmar added. "The truth, however, is that there is no absolute certainty. With these additional security measures, we are trying to minimize risks," he said.
The new barriers come as police and security forces are on alert in other cities across the country. Christmas markets in Berlin were closed on Tuesday as the city mourned the victims of Monday's attack.
Germany's interior minister, Thomas de Maiziere, said other Christmas markets and public gatherings would not be cancelled, stressing that what steps should be taken to increase security for them should be decided on an individual basis.
However, on Wednesday, Berlin Police Chief Klaus Kandt argued that concrete barriers would not have prevented Monday's attack. "There are so many possibilities to kill people with a truck," he told reporters at a press conference, adding "putting up concrete blocks would not completely eliminate the risk."
Germany is the focal point of Europe's Christmas markets, but authorities elsewhere in Europe are also beefing up security. In Italy, Interior Minister Marco Minniti ordered police to improve security at Christmas-related events and other public places.
In France, where the Berlin truck attack has revived bitter memories of the one in Nice, authorities have reassured the public that upcoming Christmas celebrations will be safe, stressing that the police and security forces are always vigilant.
You can share this story on social media: