Who's responsible for Istanbul blasts?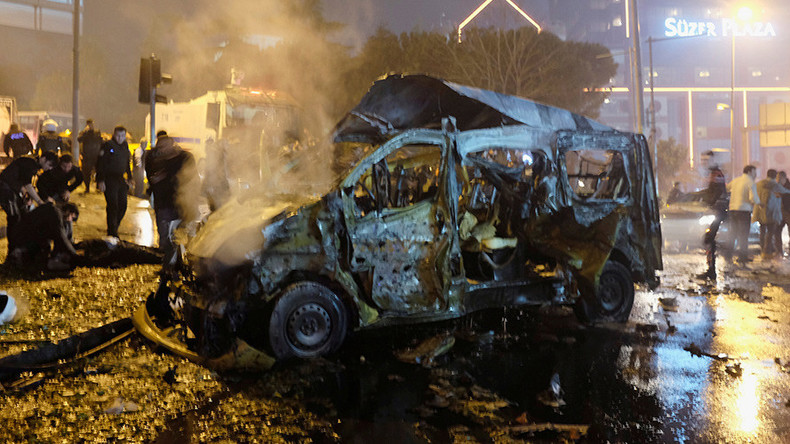 Why are Turkish law enforcement officers increasingly being targeted by terrorist attacks? Who is likely to be behind Saturday's deadly blasts in Istanbul, and is there any significance in the timing of the bombings? RT discussed with analysts.
Turkish President Recep Tayyip Erdogan vowed Sunday that the government would continue its fight against terrorism "until the end." This comes a day after a twin blast near a football stadium in Istanbul killed at least 38 people – including 30 police officers – and injured at least 155.
There was no immediate claim of responsibility for the attacks.
"Different groups might be behind these terrorist attacks. It could be ISIS, who have carried out attacks most recently back in June... a car bomb attack against civilians in airport. If the police are found to be the main target, then it will be easy to indicate that the Kurdistan Freedom Falcons, who the government accuses of being an offshoot of the PKK, could also be responsible for this current attack," said Ibrahim Dogus, founder and director of the Centre for Turkey Studies and Development.
If the attacks were masterminded by the Kurdistan Workers' Party (PKK) or the Kurdistan Freedom Falcons, it is likely that they would claim responsibility for these actions within the next few days, he said in a comment to RT. However, if Islamic State (IS, formerly ISIS/ISIL) is behind the blasts, "we may never hear anything from them."
"In the past, they carried out suicide attacks against civilians in Ankara, in Diyarbakır, in Sanliurfa, in many different places within Turkey, and they haven't claimed any responsibility for those attacks. But in the airport and a few other locations, they have claimed – in Gaziantep – they have claimed responsibility," Dogus told RT.
Max Abrahms, terrorism expert at Northeastern University in Boston, said that based on research he has done, claiming responsibility often depends on the target.
"When civilians are killed, what I found is that terrorist groups are generally more reluctant to claim credit. In this case, it seems as if the attack was not indiscriminate, because police officers were the targets, and they were the ones who were killed and the other ones wounded. These are precisely the kinds of targets that terrorist groups tend to be quick to claim credit for," Abrahms said.
He went on to say that the Turkish government has "many different enemies" as it "is essentially at war both with ISIS as well as Kurdish separatist fighters."
"That is why whenever there is an attack in Turkey, we have to think very carefully about who the likely culprit is."
Commenting on how Ankara could respond to the attacks, Ronald Suny, professor at University of Michigan, suggested that it "may regrettably use this as an excuse to escalate its struggle and its fight against the Kurdish resistance in eastern and southeastern Turkey."
"It used the coup in July to crack down very effectively, as you know and as you reported, on all kinds of people: the PKK, the Gulenists, the people in the army, the educational system, journalists, scholars, etc. This might be another excuse to escalate the kind of repression that is taking place in Turkey, undermining all the advances that the AKP, the Erdogan Party, had made in the past toward democracy," said Suny. "Both the government and the PKK have to take steps backwards – away from... violence, killing, and wounding – toward... democratic advances and negotiations."
The statements, views and opinions expressed in this column are solely those of the author and do not necessarily represent those of RT.