Hofer's portrayal as 'Nazi' by rival camp and media 'only reason' for his defeat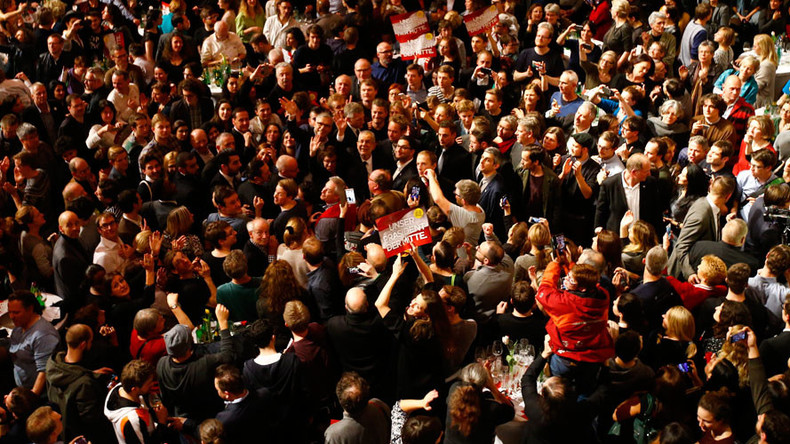 Norbert Hofer's defeat in the Austrian presidential election can be largely blamed on him being constantly labeled as 'fascist,' 'Nazi,' and 'far-right' by political opponents and media alike which put off the voters, Austrian MP Marcus Franz told RT.
"In the last two weeks we had a Nazi discussion, a Nazi discussion again, and that made people afraid, and lot of people changed their opinion and decided to vote for Alexander Van der Bellen [left-leaning independent candidate]," Franz said, adding that it is a well-known trick to prevent anti-establishment politicians gaining ground in Austria.
"You can't do new politics because if you want to be a new politician, they always call you Nazi, it's a big problem," he said, describing Hofer's treatment by the media as a "sort of smear campaign."
However old the tune might be, it has worked for Austrians who, Franz believes, "have fear about getting a bad reputation in Europe," even with the Nazi times long gone.
"We always had the old Nazi debate and Nazi discussion, and I think it's not right to discuss it again and again because there's no Nazism in Austria at all," he stressed.
At the same time, there is an enormous unsated demand for politicians who would challenge existing political order and present an alternative, as "the system is old and people are fed up with the system."
Franz suggests that Hofer, despite his opponents' attempts to make him look like a "bad man for Europe" and "enemy of the European thought," is just aiming to do what is better for Austrian well-being.
"He was just labeled as a nationalist, he is patriotic, he is a real Austrian, and he tries to fight for Austria and he always said that."
Franz's words were echoed by Alexander Marcovics, spokesperson for the Generation Identity Movement, who said Hofer has fallen victim to an unprecedented smear campaign in the media, which touted the idea of Austria's descent to "barbaric times" should he be victorious.
"There was always a created image that when Norbert Hofer would win the presidency, Austria would actually fall back into the dark ages or back into the barbarism or fascism," Marcovics said. He added that despite its apparent incredibility, "this image, actually, has somehow worked for voters, and therefore Hofer lost the elections."
Alex Loustau from France's right-wing National Front, which has frequently come under mainstream media attacks for "racist" views, said it seems that Van der Bellen has been elected as a "lesser evil" compared to Hofer.
"The Left candidate probably managed to come on this result with the discourse of 'We have to stop the fascism, we have to stop the Nazism, and that's it," he said, arguing that "there were no more arguments than that."
With Hofer being painted as a disaster for Austria, the Austrian presidential campaign did not become a competition between different policy visions, but played on popular fears, Georg Zakrajsek, from Austria's gun lobby argues.
"The election campaign was based on fear. For example, on fear of exiting the EU, the fear of Nazism, dangers that did not exist. Exaggeration and non-existent threats were the foundation of this campaign," he told to RT.
"It may be that some swing voters had not decided who is better or not. It had an impact."
Hofer conceded his defeat in a rerun of the Austrian presidential elections on Sunday. Hofer managed to get over 46 percent of the popular vote, while Van der Bellen won with around 53 percent. His victory was widely celebrated in EU mainstream circles.
European Parliament President Martin Schulz called his victory "a heavy defeat of nationalism and anti-European, backward-looking populism," while German Foreign Minister Frank-Walter Steinmeier said the "the whole of #Europe has heaved a sigh of relief."
The statements, views and opinions expressed in this column are solely those of the author and do not necessarily represent those of RT.