'Lock Her Up': What's next for S. Korea as scandal-ridden presidency dithers?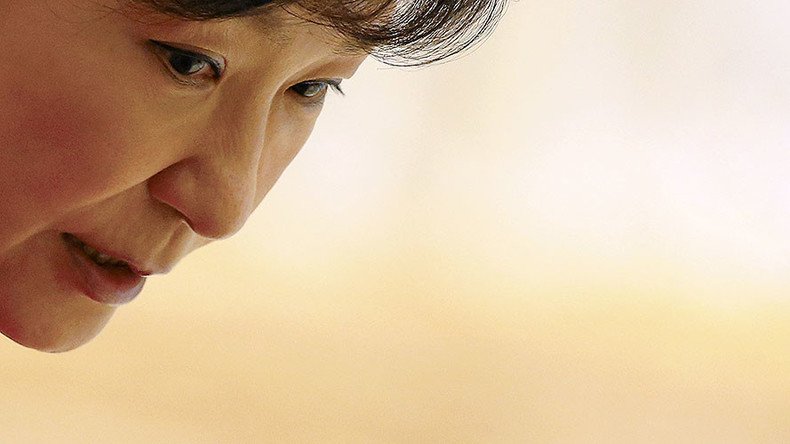 South Korea's Park Geun-hye is at the center of a political firestorm and under attack on multiple fronts over a devastating corruption scandal. The country's first female president faces impeachment and mass street protests calling for her arrest.
The bizarre scandal engulfing Park's government is rooted in allegations that her longtime personal friend and confidant, Choi Soon-sil, exerted an inordinate amount of influence on government policies, edited the president's speeches, and even influenced government appointments.
Choi, a civilian with no security clearance, was found to illegally possess confidential government documents. Park is also accused of personally lobbying corporations like Samsung and Hyundai to make massive financial contributions to charitable organizations controlled by Choi.
To add to the salaciousness, Korean media reports claim that Choi's father was a spiritual mentor to Park after the death of her parents because of his alleged ability to channel the spirit of her assassinated mother and induce trance-like experiences in the future president.
Park's approval ratings have plunged to five percent and she has agreed to resign in an effort to head off a pending impeachment vote. However, she has admitted no legal wrongdoing and called for the country's ruling assembly to decide the terms of her resignation.
There is speculation that she is attempting to bide her time, considering that any proceeding in the assembly would take many months. Even if lawmakers voted overwhelmingly to end Park's rule, the country's Constitutional Court judges could block the measure, allowing her to see out her term, which is due to end at the end of next year.
Since coming to power four years ago, Park has governed high-handedly with a secretive leadership style that has stoked public curiosity in her closely guarded personal life. She campaigned on reducing income inequality and expanding welfare, but emerged adrift as a bland center-right defender of the status quo.
Park is heir to a fallen political dynasty, the daughter of Park Chung-Hee, a contentious military dictator strongly associated with the rapid growth and authoritarian politics of his eighteen-year rule. Both her parents were killed in political assassinations during her youth, and she has remained an unmarried and solitary figure throughout her life.
Relations with North Korea have reached their nadir under her hawkish foreign policy, symbolized by the closure of the Kaesong Industrial Complex and the suspension of all inter-Korean cooperation and channels for emergency communication between north and south.
She has brought defamation lawsuits against journalists and engineered the dissolution of the far-left Unified Progressive Party, ousting elected parliamentarians on the pretext that the party was intent on realizing North Korean-style socialism, when in actuality those accused held critical views of the US' military presence in their country and advocated détente with Pyongyang.
Park's primary foreign policy overture was an extended charm offensive to Chinese leadership in an attempt to persuade President Xi Jinping to cooperate more fully with Seoul on pressuring North Korea over its nuclear program.
China responded by initially strengthening ties with South Korea, but relations between the two countries soured considerably after Seoul agreed to deploy the sophisticated American missile defense system known as Terminal High-Altitude Area Defense (THAAD) on its territory.
Despite mass public opposition inside South Korea to THAAD's deployment, Seoul's conservative establishment says the system will counter Pyongyang's nuclear ambitions. China, wary of American military presence near its borders, believes that it is the true target of the missile defense system and says the move would undermine its security interests.
From mishandling the government's response to a capsized ferry that killed dozens, to a row about whitewashing her father's legacy in school textbooks, Park's advocacy of THAAD and her pro-American security orientation has made her deeply unpopular at home, while hindering trust and cooperation with China, her country's biggest trading partner.
The governing party lost its parliamentary majority during Park's tenure and now faces two emboldened opposition parties with populist programs.
However the political crisis plays out, it's clear that the conservative wing of the political establishment faces a daunting challenge: Park could very well become the first elected president to be removed from office and face trial.
The opposition needs just 28 of the 128 lawmakers from the ruling party to secure her impeachment and this figure may be within reach before the closing of the current parliamentary session on 9 December. There is already discussion of Park's successor. Ban Ki-moon, the outgoing UN Secretary General, is considered a front-runner for the job.
There is much speculation that Ban, whose term expires in January 2017, will run though he has yet to confirm or deny his intentions. This would be a formidable challenge for the opposition due to Ban's stature and prestige as a global diplomatic figure, widely viewed among Koreans as having experience and integrity. It's unclear whether Ban would side with Park's party or the opposition should he run.
Park was one of the first world leaders to phone President-elect Donald Trump, whose remarks have shaken Korean confidence in the American leadership. Where US-Korea relations go from here is an open question. It should be remembered that a small but growing segment of Park's party favors the development of nuclear weapons to deter North Korea.
Given the uncertain political climate brought on by populist victories in the West, Korean voters could opt for a 'safe' steady-handed candidate, though it is difficult to imagine a potential Ban Ki-moon presidency as anything other than the caretaking of a stale political order. Whatever the outcome, the impeachment of Park Geun-hye is a real possibility in the days ahead.
The statements, views and opinions expressed in this column are solely those of the author and do not necessarily represent those of RT.
You can share this story on social media: