Over 1mn S. Koreans protest embattled President Park, opposition seeks impeachment (PHOTOS, VIDEOS)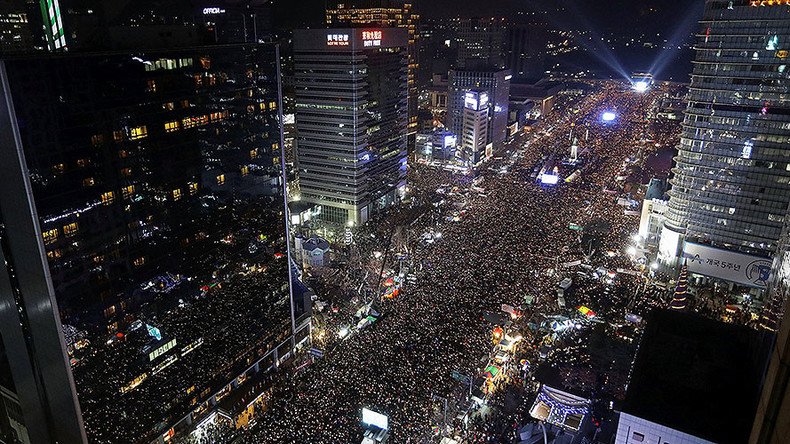 Around 1.8 million people are attending protests in South Korea calling for scandal-plagued President Park Geun-hye to resign over alleged corruption. Meanwhile, opposition parties have introduced a long-promised impeachment bill.
Seoul is once again the scene of the largest of the demonstrations, with the Korea Times reporting that 1.5 million people attended the protest in the nation's capital.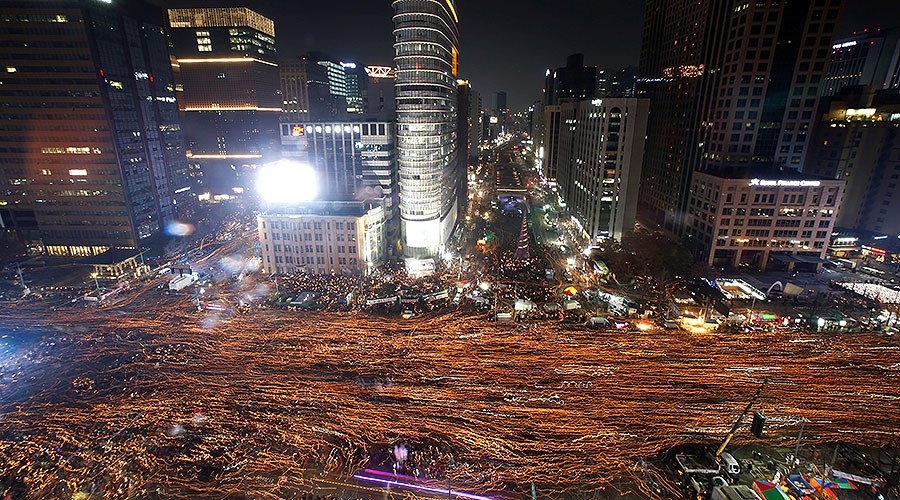 Some of those gathered in Seoul carried huge banners depicting Park in a prisoner's uniform, while thousands held up signs urging the president to step down.
The latest march comes as three opposition parties introduced an impeachment motion backed by 171 members of the 300-seat National Assembly. The vote on impeachment is scheduled to take place on December 9.
"We hereby propose impeachment proceedings to protect the constitution and restore constitutional order by removing President Park Geun-hye from office," the motion said.
According to the bill, "the will of the people that President Park Geun-hye should be made to cease exercising the duty of president is clear."
"The sovereign will has been shown clearly through rallies and protests peacefully attended by countless numbers of the public regardless of generation, ideology or background," it continued.
The three opposition parties introducing the bill will need the support of 28 members of Park's center-right Saenuri Party to bring the vote to the two-thirds majority needed for Park's impeachment.
READ MORE: Over 1mn march in Seoul to demand President Park's resignation (PHOTOS, VIDEOS)
The huge demonstrations that began in October are South Korea's largest since the pro-democracy protests of the 1980s. On Saturday, protesters marched to within 100 meters of the presidential palace where Park resides, carrying banners calling for her to step down. The demonstrations were livestreamed on YouTube. As with previous gatherings, the protests were peaceful.
The embattled president is alleged to have colluded with her friend Choi Soon-sil, who has been charged with extortion and abuse of power. Choi allegedly used her position to offer favors to businesses that contributed money to two foundations controlled by Choi. Prosecutors wish to speak to the president over allegations that she colluded with Choi.
Park has apologized on national TV three times, but is still resisting calls to resign. "It is hard to forgive myself and sleep at night with feelings of sorrow," Park said of the scandal in November.
READ MORE: 100,000s stage largest-ever protest in Seoul to demand president resign
Park's five-year term is supposed to last until February 2018. Her approval rating is hovering around 4 per cent, a record low for South Korea's elected presidents. She now faces the prospect of being the first democratically elected leader of South Korea to leave office early in disgrace.
You can share this story on social media: