Russian economy minister case sends message 'no official is untouchable'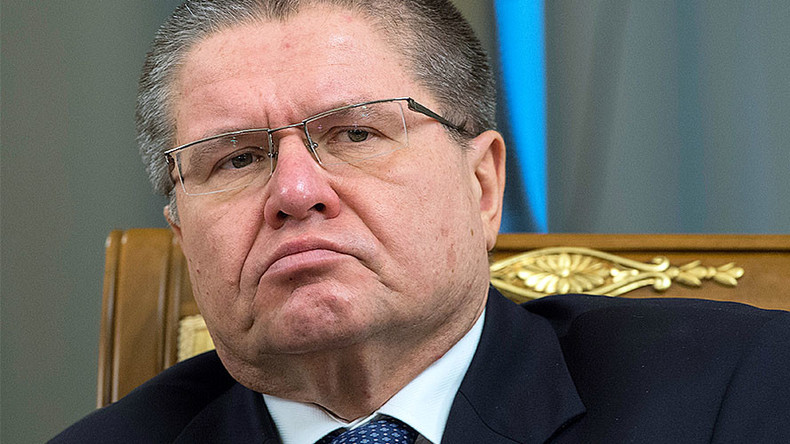 The detention of Russian Economic Development Minister Aleksey Ulyukayev on charges of bribery sends a clear message there are no officials who are untouchable in Russia; it is the drive to make politics more open and transparent, experts told RT.
Aleksey Ulyukayev has been charged with gross bribe taking and extortion. Ulyukayev was detained on Tuesday suspected of taking a $2 million bribe.
READ MORE: Russian economy minister charged with taking $2mn bribe from oil giant Rosneft
"Ulyukayev was caught red-handed - that means at the moment when he received the bribe," Investigative Committee spokesperson Svetlana Petrenko said.
If found guilty, Ulyukayev faces a fine of up to 100 times the sum of the bribe or up to 15 years behind bars.
This is the highest profile case against a Russian official in over two decades and the latest in a string of corruption scandals.
"I think it is a very important operation against corruption because Aleksey Ulyukayev has been at the top of Russian economic policy for more than 10 years,"political analyst Dmitry Babich told RT. "He is seen as a disciple of Yegor Gaidar, the liberal economic reformer of the 1990s. And the story is pretty clear. It is a bribe; Ulyukayev was caught red-handed. I don't see any particular political story behind this. I think this is just a regular story with a high-placed corrupt official. And I think that the message is that there are no officials who are untouchable in Russia now. If you are involved in corruption, you are going to end up in jail."
'High-level corruption not unique to Russia'
Corruption scandals are common among politicians in many countries, says political commentator Adam Garrie.
RT: This is the highest profile case for a Russian official in over two decades. Is this a new move to stamp out corruption?
Adam Garrie, political commentator: It is very interesting because the parallel you are talking about is of course the crisis of 1993 when Boris Yeltsin challenged the Supreme Soviet of the Russian Federation for control in his attempt to reform the constitution and change the government, after that standoff which became violent and all the leaders of the Supreme Soviet and their allies were arrested. This is the first time when someone who is in government has been detained or be it under different circumstances. Now it is well to remember that in 1994 after the crisis all of the people were freed, and in 1995 all of the charges were dropped and those things due to efforts of the new parties elected to the Duma, including and especially in that case the LDPR which is now the third largest party in the Duma today.
This situation is a bit different though because as opposed to an existential, philosophical and metaphysical crisis over the nature of government and a power grab, this is about corruption and it is allegedly corruption at an incredibly high level. We are talking about $2 million that the minister is alleged to have taken in bribes. So, what happened in 1993 was about systematic disagreements on who and how the state should be run, this is about an alleged high crime - in this case, bribery.
READ MORE: Russian anti-corruption boss alleged to have €300mn in Swiss banks, after $120mn found at his flat
… This is obviously nothing unique to Russia, right now president-elect Trump is debating whether to detain and arrest the person who almost became the president of the US, Hillary Clinton. So, in this sense we see corruption at the high levels of politics in all countries. I think the drive to root out corruption is very important, I think that these arrests are absolutely essential. Local government in all countries is usually the most corrupt; the same goes for regional government. So, it is not surprising that you see governors arrested prior to an actual government minister of the national government arrested. But I think it is important because this sort of scandal, this sort of bribery can't be tolerated. And I think in the drive to make politics more open and transparent, this needs to be done and I think the next step is opening the books of some of the major members of the Duma and see what they are doing as well…
RT: Is the economic development minister being made an example? Is this a sign of progress, will others follow suit?
AG: I think it is necessary. The idea that people in government are somehow above the law makes a mockery of government, but the people in government should be absolutely subject to the law, should be under even deeper scrutiny than the ordinary citizens and businessmen. These people have entrusted in their power the lives, the economic welfare and the security of ordinary citizens. So, it is absolutely right for the law enforcement officials, the prosecutors and for judges to take these matters absolutely seriously. But that is not going to effect the stability of the country…Russia is a mighty nation and like any great state, be it Russia, China, America, these states can function perfectly well even while rooting out corruption…
'Important move'
"It's is a very important step,"Martin McCauley, author and Russia analyst said commenting on the news.
"Aleksey Ulyukayev is a very well-known liberal economist, former Deputy Chairperson of the Central Bank of Russia; he has been there since I remember him from the Yeltsin era. He is a very high-profile economist, one of the people who regulates the Russian economy, and to find that he has been nailed for apparently accepting $2 million bribe - is in fact quite shocking that a top economist and minister should in fact engage in this. But if you look at corruption in the Russian economy, Vladimir Putin keeps on saying "it is like a cancer of our economy." This is quite correct because the official version is that 10 percent of the GDP is lost through corruption. That is $150 billion. But other analysts double that - $300 billion are siphoned off from the Russian economy every year through corruption. Next year's budget looks forward to a $30 billion deficit. So, if they claw back 10 percent of that $300 billion, then they can balance the budget. So, therefore, this is a very important move if they can in fact clamp down on it and get back some of the money."
The statements, views and opinions expressed in this column are solely those of the author and do not necessarily represent those of RT.