Is Trump ready to go nuclear?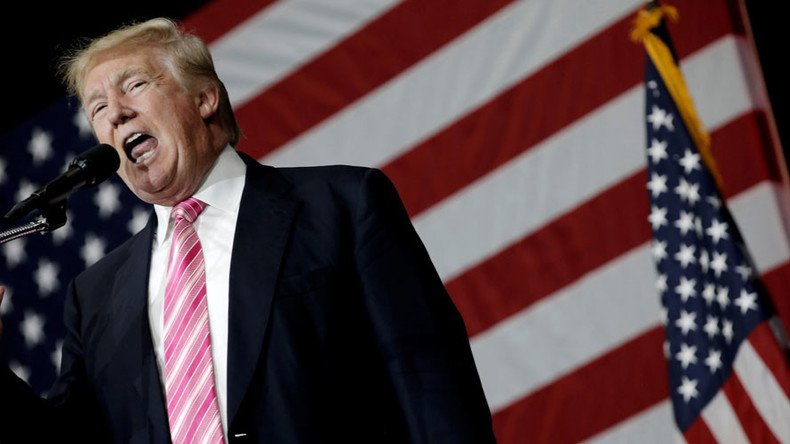 Donald Trump, with nothing to lose, may be finally ready to go nuclear. Not literally, of course; this is all about Cold War 2.0.
German Foreign Minister Frank-Walter Steinmeier is worried the situation between the US and Russia today is even more dangerous than during the Cold War. President Putin's foreign policy adviser Sergey Karaganov argues we've been at a pre-war situation for at least eight years now, since the Georgia fiasco. There are even calls to "bring back the Cold War" – when the rules of engagement were clear.
Six months ago the Valdai Club published a crucial report jointly signed by Andrey Sushentsov, associate Professor at Moscow State Institute of International Relations, and the Wilson Center's Michael Kofman warning that a US-Russia hot war could surge "unexpectedly" in a simultaneous "vertical and horizontal escalation."
READ MORE: 'So many p*ssies': Russian FM trolls US elections (VIDEO)
That would be a consequence, once again, of the absence of clear rules and "no tangible separation between war and peace" – configuring a variation of full spectrum war that includes electromagnetic space and cyberspace, as the first targets in the conflagration would be command and control, finance, energy and information networks.
Hillary Clinton by now has been solidly unveiled as the certified candidate of the Wall Street-industrial-military-surveillance complex – a bipartisan 'War Party' nebulae uniting neocons and neoliberalcons. As I argued, she is ready to go to war and has even coined a remixed axis of evil.
And that brings us to the frankly surrealist scenario of Donald Trump as The Last Man Standing between sanity and WWIII.
READ MORE: American Horror Story: RT launches special election coverage
Hello, Daisy
It ain't over till the last (rigged?) Diebold machine sings. November 8 will be all about turnout in a basketful of "deplorable" states.
And for all the 24/7 scandal time of non-stop groping and kissing and lewd locker room misbehaving, Trump seems to be ready to limp toward the finish line just as he began; an all-out populist/nativist/nationalist fighting open borders (a Clinton mantra, as revealed by the latest WikiLeaks Podesta email dump); "free" trade; neoliberal globalization; and regime change/bomb them into democracy/"humanitarian" imperialism.
US East Coast business circles discreetly supporting Trump's platform are encouraging him to focus on only two issues; "to attack Obama and Clinton for blowing up Libya and Syria, creating the flow of refugees that is disrupting the civilized world;" and to attack Hillary as a Wall Street surrogate, stressing "the 2008 debacle was engineered by derivative manipulations where losses were reimbursed to Wall Street, while middle class home owners were not bailed out. These firms are all supporters of Hillary."
And then there's the ultimate, defining issue; the US-Russia Cold War 2.0 that could turn into WWIII. Washington is de facto holding open a nuclear first-strike capacity against Russia, part of the Full Spectrum Dominance doctrine – and Hillary fully supports it. To unmask her as 'Mother Warmonger', businessmen supporting Trump have suggested he go - literally – nuclear, issuing a remixed version of the notorious ad that guaranteed the 1964 electoral victory to Lyndon Johnson.
That would be something to fully enrage the neocon cabal supporting Hillary, as in the Dr. Strangelove minion Army Chief of Staff General Mark Milley, who is openly peddling all-out military "victory" against both Russia and China.
Milley's speech was of course fully authorized. It can be easily deconstructed as an act – like in the last hurrah of the neocons. There are serious characters even inside the Pentagon who see the melting of the MAD (Mutually Assured Destruction) mechanism as pure madness. As for the (lame duck) White House, Secretary of State John Kerry broke off negotiations with Foreign Minister Lavrov only briefly. Moscow keenly pointed out that it was Kerry who renewed his calls one day after the supposed serious break.
A New York business source connected to the 'Masters of the Universe', on condition of anonymity, unveils part of the mystery: "The United States threats over bombing all of Assad's forces were retracted almost immediately under orders to Obama from above. Kerry took the initiative of a call to Lavrov for immediate renewal of talks under similar orders. The United States does not intend to get involved in a nuclear war that we most certainly will lose, as the Russians have leaped generations ahead in defensive missiles and their air space is effectively sealed."
As for the MAD doctrine, "it is effectively over. As Brzezinski has said, if this is true, and it is, then the United States has ceased to be a global power."
Slingshot time
And yet, all across US corporate media, neocons, neoliberalcons and their shills continue to huff and puff. "Syraq" is already a de facto, indirect, mini-World War, pitting NATO and the GCC against the "4+1" (Russia, Syria, Iran, Iraq, plus Hezbollah), and China (and that makes it a NATO-GCC proxy war against the top two BRICS/SCO members).
Wallowing in the campaign mudslinging-fest, the Clinton (Cash) Machine accuses WikiLeaks of being "a propaganda arm of the Russian government" in favor of their "pet candidate, Trump", as Hillary's campaign manager John Podesta blames the "criminal hack" of his emails on Russia and denounces Trump's "bromance" with Putin. Neo-McCarthyism is the (hysterical) rule; virtually the whole US establishment considers Trump's conciliatory approach to Putin and Russia as treason by a Trojan Horse.
Even more alarming, both the US and Russia military seem to be on a razor's edge. "Bomb shelters" is now a common conversation topic. The CIA plan of waiting for Russia to go bankrupt before the military modernization program is ready in 2017 is rubbish. And to top it off, accidents can – and may - happen. MAD no more: just stark raving madness, as the absolute incapacity of the War Party to read Russia's red lines keeps increasing the possibility of shadow war slouching into hot war.
Twitter-machine Trump notoriously does not read. If only one of his advisers could summarize the thesis behind a provocative book, Theology of Provocation, launched in France earlier this year.
The central thesis, as exposed by Professor Gérard Conio, is that neoliberalism, as imposed by practitioners of the New World Order and financial elites, is not the opposite of totalitarian communism, but rather its apex, with a tiny minority of masters wielding life-and-death power over a vast majority of slaves.
Hillary is the anointed – warmongering - representative of these masters; or to quote 2016 Nobel Prize for Literature Bob Dylan, she's only a pawn in their game, while Trump consciously positions himself as the unlikely outsider. She is actually the Goliath. If he wants to come out as the winning David, his (nuclear) slingshot has got to be a remixed "Daisy".
The statements, views and opinions expressed in this column are solely those of the author and do not necessarily represent those of RT.
You can share this story on social media: