'Clinton-Trump debate shows emptiness, vapidity of US political election cycle'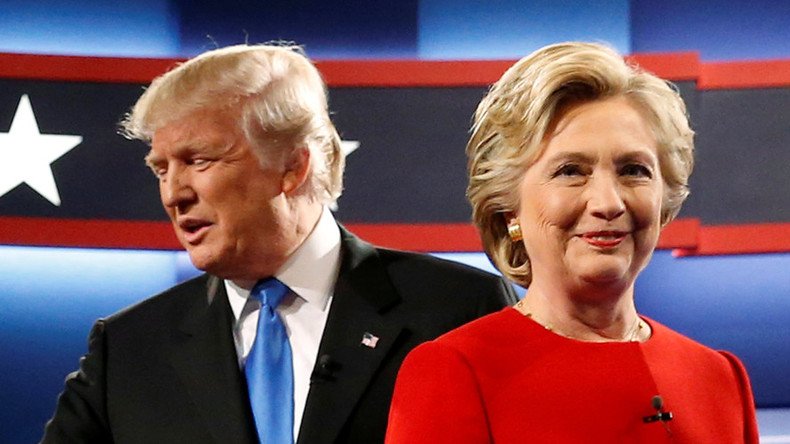 The debate has shown how sensationalized, vapid and empty the US election cycle is, said Brian Becker, from the anti-war Answer Coalition, adding that the candidates' attempts to outdo each other on military support is not a good harbinger for US politics.
A CNN/ORC poll shows that majority of voters feel Hillary Clinton won Monday night's debate over Donald Trump.
According to Brian Becker of the anti-war Answer Coalition, one cannot judge who won by CNN polls as it has been actively campaigning for Clinton.
"They have a few pro-Trump voices, but pretty much the CNN as a network is for Clinton – just like Fox is for Trump. They are not really media outlets; they are echo chambers for the respective political campaign," he told RT.
"The debate showed how vapid, how sensationalized, how empty the American political election cycle is – very expensive, but very long, and very empty. Both of them tried to outdo each other to show who had more support from the generals and admirals. It is not a good harbinger of where things are going in terms of American politics," Becker said.
Ahead of the election, Clinton and her supporters have been repeatedly using anti-Russia rhetoric and accusing Trump of being "unwitting agent" of President Putin and posing a threat to "US national security." On Monday, Clinton played her Russian card again to attack her opponent.
In Becker's view, it's an attempt to divert public attention from the party's own wrongdoing and, also, the escalation of tensions with Moscow will only benefit the US military industrial complex who supports Clinton.
"The attack on Russia, the attempt to blame Russia for all things, including for the hack of the DNC [Democratic National Committee] files that showed the DNC was violating its own rules and trying to tilt the election for Clinton, which happened on the first day of the Democratic national convention. Russia became a convenient punching bag, so that the Democratic Party could divert attention from its own wrongdoing. But it's manifested itself into something more than just a diversion," he said.
"Clinton has the support of all of the neoconservatives: Robert Kagan, husband of Victoria Nuland; a hundred of Republican foreign policy elites. I think they represent the mainstream Washington consensus, which is the consensus of the military industrial complex, which wants to incentivize American public opposition or even hatred toward Russia as a pretext for building up the military armaments business. The expansion or escalation of tension with Russia is very good for the arms business, very good for the military industrial complex. So it is not just electoral politics. I think this is the Hillary Clinton presidency we see in the making. If she is elected, I think this bodes very badly for US- Russian relations," Becker added.
As for Donald Trump, Becker said, he came to a prominent position within the Republican Party "by playing to the basest, most right-wing, most xenophobic, mast racist elements within the party, by bashing immigrants."
However, now he is trying to "play down the issue mildly" because if the Republican candidate continues to alienate immigrants, the Black and Latino community – "he can't win the presidency," Becker said.
The analyst said that overall, very few crucially important for America issues were actually discussed. The moderator of the debates, popular news host Lester Holt didn't even ask one question about immigration, about climate change and other vital issues that have been prominent in the campaign, Becker said.
"It really shows the emptiness of the campaign."
Trump and Clinton "can keep exchanging attacks against each other, and they are right, because both are corrupt, both are dirty dealing here," Becker said. "But again, it doesn't speak to the substantial issues in America. One out of every two Americans is now either in poverty or near poverty; that did not get discussed in the debate."
Debates lack wider perspective as third parties not allowed
Libertarian Party candidate Gary Johnson and Green Party candidate Jill Stein were not allowed to participate in the debates due to low ratings. The third party candidates failed to pass the 15 percent minimum nationwide threshold needed to join the first debate.
Both Johnson and Stein were hosting their own online debates in a bid to challenge the Clinton versus Trump debate. According to James Lark, former Libertarian party chairman they did manage to make an impression.
"Many Americans have now come to the conclusion that the debates - while interesting and in some ways entertaining - are certainly lacking in the sort of having the wider perspective that other parties can provide," he told RT.
"The Libertarian Party is on the ballot on all 50 states and the District of Columbia. This is a very difficult test to perform. I think that many people would like to hear Governor Johnson's perspective. Even if they don't agree with the Libertarian perspective with respect to various important issues, they still feel that that perspective should be represented," he said.
A number of media outlets were urging American voters not to support third party candidates, telling them they have to vote for "the lesser of two evils". James Lark says that approach is not particularly right.
"For those people who believe in limited government, getting government back to its proper role of protecting rights, I tell them that my crystal ball broke a long time ago. I don't know what the right strategy is. I don't tell people for whom they should vote. I tell people however, I want to vote for someone who believes in individual liberty coupled with personal responsibility. The vote for a third party candidate, such as Governor Johnson, will have a much bigger impact on this election than voting for 'the lesser of evils'," Lark said.
WATCH MORE:
The statements, views and opinions expressed in this column are solely those of the author and do not necessarily represent those of RT.
You can share this story on social media: