Jill Stein charged after environmental protest: 'Civil disobedience against injustice'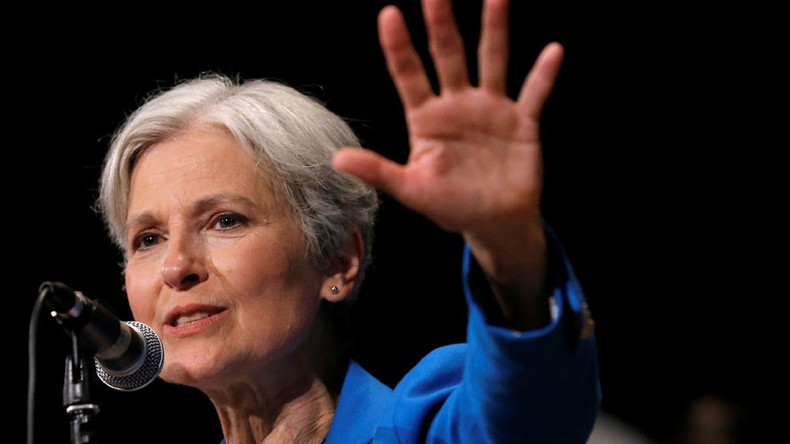 US Green Party presidential candidate Jill Stein is facing criminal charges following an oil pipeline protest. According to Scott McLarty, the party's media coordinator, it was a deliberate act of nonviolent civil disobedience, which is sometimes necessary for fighting injustice.
Green Party candidate Jill Stein and her vice presidential pick Ajamu Baraka are accused of criminal trespass and criminal mischief. On Tuesday, both joined a group of demonstrators protesting the Dakota Access pipeline and spray painted a bulldozer, according to the Morton County Sheriff's Department.
Protesters claim the project will lead to contamination of the area's drinking water and damage to burial and cultural sites important to the local Native American Sioux tribe.
RT: What's the party's reaction to the arrest warrant?
Scott McLarty: Of course we entirely support Dr. Jill Stein and her running mate Ajamu Baraka. We hope that the charges are dropped. We hope also that people understand that the active trespassing and vandalism that were inflicted on the Sioux Indian tribe and other people affected by the pipeline is far greater; it is much worse an act than simply spray painting a bulldozer. We're talking about something that is going to pollute groundwater. And we know that for a fact because the pipeline was moved away from Bismarck for this very reason. It is also something that we should be moving away from - fossil fuel transfer in this age, in the century of climate change.
RT: Jill Stein's accused of spray painting a bulldozer. Wouldn't you expect the police should act in a claim of vandalism?
SM: Well, we're not surprised. What Dr. Stein did was a deliberate act of nonviolent civil disobedience. And nonviolent civil disobedience is an important, useful, and sometimes necessary tactic when we're fighting injustice.
RT: Could this situation affect Stein's standing in the race for the Oval Office?
SM: I hope that people would see that Dr. Stein is taking an important stand to protect people and to protect the environment. We can contrast that with the silence on the pipeline that has come from the other presidential candidates and from the White House. By their silence they've chosen to side with the pipeline company and with the continued burning and consumption of fossil fuels.
RT: Hillary Clinton is accused of far worse crimes, but faces no repercussions. Why do you think that is?
SM: Sometimes people at certain levels of wealth and power have proved to us that they are above the law. We need to change that.
The statements, views and opinions expressed in this column are solely those of the author and do not necessarily represent those of RT.