China & Russia's G20 message: Confrontation with West not our desire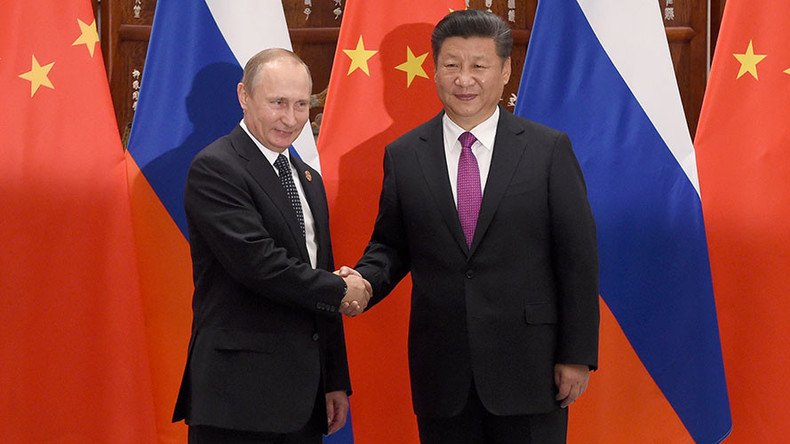 Chinese President Xi Jinping declared the meeting of 20 leading industrial nations a 'tremendous success' during his closing statement, an upbeat assessment that noticeably clashed with the Western media's version of events.
The Western mainstream media concentrated on "controversies" - from an incident with President Obama's security personnel to the tough negotiations between the Russian and American presidents on the margins of the summit. (Both leaders made a last-ditch attempt to iron out their differences on Syria and Ukraine, with Obama clearly missing his last chance to contribute to the settling of these two conflicts before departing office early next year – with both wars started under his tenure and not without his participation).
Symbolism of language
An inexperienced reader might conclude from this Western coverage that bickering between US and Chinese security guards over the intricacies of approaching the US president's plane was more important than the agreement of the G20 to modernize the regime of international trade and the actual discussions between Xi and Obama, Putin and Erdogan, Theresa May and Putin – which all took place during these two busy days in Hangzhou.
There may be a deeper symbolism in this contrast of the positive Russo-Chinese approach to the summit and the US/EU push for "concessions via confrontation." The two sides even used different language. For example, the chairman of the European Commission Jean-Claude Juncker said that China "must" allow monitoring of its steel production, saying that losses for European job market due to China's "overcapacity" were "unacceptable."
It should be noted that Xi and Putin never used the word "must" when talking about problems with their Western partners.
China's peaceful rise
Dmitry Kosyrev, a political analyst specializing on the Far East at the leading Russian news agency RIA Novosti, reminds his readers of Beijing's concept of a "peaceful rise of China."
"The Chinese side made it a priority for itself: to weaken the push of certain countries for geopolitical rivalry," Dmitry Kosyrev commented on the summit in Hangzhou. "The whole idea of the peaceful rise of China is that this rise is not directed against any other country."
Kosyrev explains this Chinese strategy not by weakness, but by strength: "China is such a strong competitor in economy and innovations that it does not need aggression and pressure for increasing its role in the world. On the contrary, China is interested in peace, which would provide it with the widest possible leveled field for development."
Can this attitude be viewed as idealistic in today's world, where the Middle East has become a bloody testing field for proxy wars, foreign-inspired revolutions and sectarian conflict? In a world where NATO and Russia resumed that same "geopolitical rivalry," which China abhors and which seemed to be buried for good back in the 1990s?
Judging by the fact that the G20 managed to agree on the principles of open global economy and took a joint decision to reform the international financial institutions (currently geared to the needs of the US and the EU), China and Russia are not alone in their aspirations for "change without upheavals." And this fact gives the world some hope that change would indeed come without shock. The essence of the change is a more just distribution of power and status in international politics – one that would reflect the reality of rapid growth in "emerging markets," with China and Russia being the leading such markets.
"We agreed to push forward with the reform of quotas and voting procedures in international financial institutions," President Xi explained after the summit. "We expressed hope that the International Monetary Fund would proceed with the planned reform."
'Confrontation with the West is not our desire'
As for the numerous claims of the Western press about Russia's and China's "unpredictability" and even "aggression", one can answer such claims with facts that show confrontation is NOT China's and Russia's choice.
In order to find the sources of confrontation it would make sense to look at the sources of provocative "scenarios,""memos" and "mockumentaries." The doomsday "documentary" imitations of invasions, TV reports and sensationalist articles about Russia or China invading their neighbors – where did they all come from, up until the start of the Hangzhou summit? Almost all of them are made in those same countries that invaded Iraq, bombed Libya and gave Afghanistan "international security assistance", which suspiciously resembles a foreign occupation with many local civilians killed. Now for some reason those same countries suddenly became concerned about the security of China's and Russia's neighbors.
Vladimir Putin said that Russia supported China's position on the situation in the South China sea. Russia did not accept the recent ruling on this situation by a tribunal located in the Hague – tens of thousands of miles away from the "object of controversy" (several man-made islands), where this tribunal decided to spread its jurisdiction.
From South China Sea to Russia's Northern Baltic front
"President Xi did not ask me to comment on the situation in the South China sea and in general we would not like to get involved in this dispute," Putin said at a press conference after the summit. "However, this is our general position that interference of non-regional powers only hampers the settlement of this kind of issues. Our position is not a political, but rather a legal one: we think that third-party arbitrations should be initiated by the parties involved and we think that the arbitration court should listen to the arguments of both parties. China never asked the court in the Hague to rule on its case and China's position was not even listened to there. So, how can such a ruling from the Hague be considered a just one?"
This statement pretty much sums up not only the stance of an objective bystander on the South China sea controversy. It also reflects Russia's position on similar attempts by Western governments and courts in relation to other countries, including Russia itself. The 2014 illegal ruling of the tribunal in that same Hague ordered Russia to pay $50 billion in damages to the former owners of the YUKOS company, which had gone bankrupt in Russia a decade earlier because of huge tax arrears.
Russia & China: Facing global challenges together
Foreign pressure via various controversial "international courts" is becoming a joint problem for both Russia and China. But the much more traditional intimidation by the Western countries' superior military forces is not yet entirely off the agenda neither. Both Russia and China showed in Hangzhou that they understood the need to coordinate their responses to these new forms of pressure.
President Xi made it clear that China together with Russia opposed the deployment of America's Terminal High Altitude Area Defense missiles (THAAD) in South Korea. Russia has been voicing its support for this Chinese position on THAAD for several months in a row.
The United States uses the fear of a possible North Korean "strike" in order to justify its plans to deploy the THAAD missiles (which can be directed against China's and Russia's strategic nuclear capacity). President Xi softly rejected this argument, saying that the best way to guarantee South Korea's security is a dialogue with its northern neighbor and reiterating China's support for denuclearization of the Korean peninsula.
Xi reminded his listeners that while maintaining traditional its ties with Pyongyang, China also cherished the achievements of its 24 years long diplomatic relationship with South Korea, a former "capitalist foe."
Putin often had to fend off similar suspicions and accusations from the NATO's side, constantly repeating that "confrontation with NATO is not our choice." Before leaving for Hangzhou from the neighboring Russian port city of Vladivostok, Putin reiterated this position once again in an interview to Bloomberg news agency, saying that Russia had no intention of "retrieving" the Baltic States, which had been a part of the Soviet Union before 1991.
"All sensible people, who have just some real understanding of politics, all of them understand that claims about a Russian threat to the Baltic states – that these claims are just insane," Putin said after a series of provocative questions from a Bloomberg's journalist.
"Do you really believe we want to fight NATO? How many people are living in the NATO member countries? It must be around 600 million people, and we only have 146 million. Yes, we are a nuclear power, but do you really believe we can use nuclear weapons in order to occupy the tiny Baltic States?"
Islands of discord
Differences in style and rhetoric (positive optimism on the Russo-Chinese side, confrontation and distrust on the US/EU side) lead to different policy decisions. While the United States and their "Trojan horse in Europe" Poland (an expression of the French diplomatic press) keep talking about increasing NATO's motorized contingents in the Baltic States right next to St. Petersburg, the Russian Ministry of Defense invited Latvia, Lithuania, Estonia and Finland for consultations on the security of military movements in the Baltic area.
In the same way, it was the Chinese President Xi who called on his interlocutor, the Japanese leader Shinzo Abe, to increase cooperation with China in all spheres. Xi and Abe announced that the representatives of their defense ministries will meet to discuss confidence-building measures in the East China sea. The two leaders managed to reach an agreement, despite recent bitter disputes between Tokyo and Beijing over several uninhabited islands in the area.
Just two days earlier, in the Russian Far eastern port of Vladivostok, Putin and Abe agreed to resume the dialogue between Russia and Japan which stalled because of the problem of Kuril islands. For Russia, dealings with Japan on the issue are painful, since the Kuril islands became a part of Soviet territory as a result of World War II, in which 27 million Russians lost their lives. China, which lost 35 million, most of them at the hands of Japanese aggressors, shares Russia's feelings.
This is the reason why Xi and Putin stood side-by-side at the 2015 parade in Beijing – a parade consecrated to the end of the World War II on its Asian front (which was no less bloody than the European one). It is a pity that the American president declined an invitation to that parade, preferring anti-Chinese and anti-Russian phobias to discussion of real threats and to memories of real – not invented – existential fights of the 20th century.
The statements, views and opinions expressed in this column are solely those of the author and do not necessarily represent those of RT.
You can share this story on social media: