Green Party town hall: What stood out?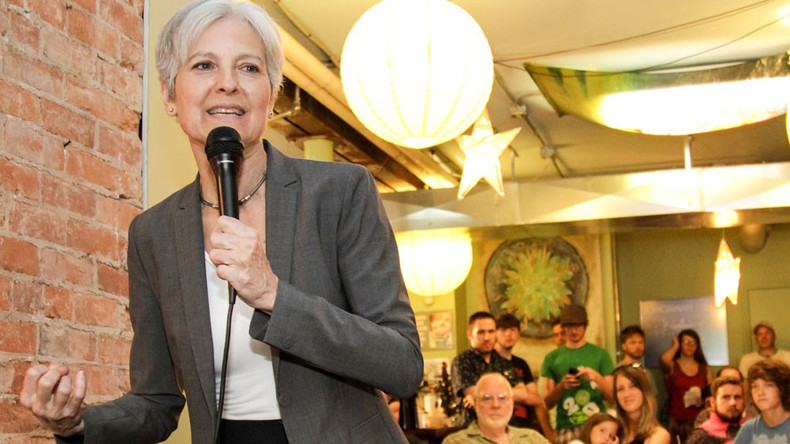 Green Party presidential nominee Jill Stein reached across from conservative to progressive, from left to right – this is what stood out during CNN's town hall meeting, said Carey Campbell of the Independent Green Party, talking to RT America's Lindsay France in the FishTank.
Green Party presidential nominee Dr. Jill Stein and her running mate Ajamu Baraka on Wednesday participated in a CNN town hall meeting for the first time.
RT: It is quite unusual that the day after the town hall nobody was talking about it, including media. What stood out on this to you?
Read more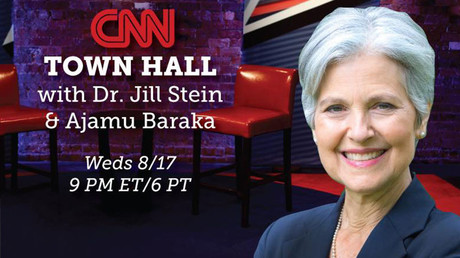 Carey Campbell: Dr. Jill Stein, the Green Party nominee for president, certainly stood out for being the best, the strongest, the smartest candidate for president. The way she handled the program with such beauty, grace and intelligence… I have my conservative relatives in Kentucky, in Tennessee writing to me while they were watching it: "Oh, I see what you've been talking about!" That is what stood out – that she reached across from conservative to progressive, from left to right, and she normally does when people actually get to see her, and she touched them.
RT: What can you say about Ajamu Baraka? How did he do? He seems like a person with a lot of depth, but he is not out there on social media, and so on.
CC: He certainly appeals to me, and I reach him on another level – he has this wonderful similar hairline that I do [laughs]. I thought he was a very cool customer. I have run six times in the last 16 years for local offices and the independent endorsed by the Independent Green Party. Mr. Baraka is now a candidate for public office for the first time in his life. Amazingly cool, amazingly calm. Stein used the words to describe him: "Inspirational, passionate advocate and a voice for justice and human rights." And he showed it [Wednesday] night with his compassion and with his calm. He brings a positive force to the Green Party ticket with Dr. Stein.
RT: Since July 21, Gary Johnson, Libertarian presidential candidate, is up nearly $1.4 million. Stein is showing to be about $860,000. The Green Party office said the numbers have skyrocketed. The minute Bernie Sanders handed the reigns over to Hillary Clinton, their $27 individual donations were going through the roof. What is the approach now on the hills of this town hall to get that money and get out there?
Read more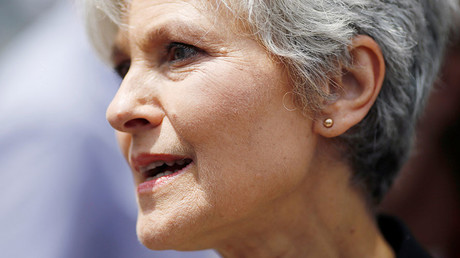 CC: Well, I see great progress. What I am hearing from people who are close to the campaign unofficially is that they are up another million bucks. Those numbers are not out yet, but that is what I am hearing, and publicity is the coin of the realm. I am very optimistic that this CNN town hall will lead to more…
RT: What is one of the policy issues Stein touched on that really hit most powerfully for you?
CC: Certainly the fact that she noted during the debate that conservatives are reaching out to her and joining the campaign. She mentioned that during the course of the debate, and she was very articulate about reining in wasteful spending. She noted that we need to install counter money at the Pentagon – it is called an auditable accounting system. Twenty-two of the 24 federal agencies do it, and of course the Green New Deal – eco jobs for the economy, solar jobs, wind jobs… And the first and foremost thing that Stein focuses on is the 41 million people – she wants to forget their student debts. And Cuomo, which I thought was very, very kind of him, said: "Well, you know, it could be double that number." If that many people discover Dr Stein, and if the Green Party President Dr Stein would forget their student debt, I suspect they will vote for her when voting begins in about 30 days.
The statements, views and opinions expressed in this column are solely those of the author and do not necessarily represent those of RT.