'Erdogan attempting to play hero by confronting US superpower'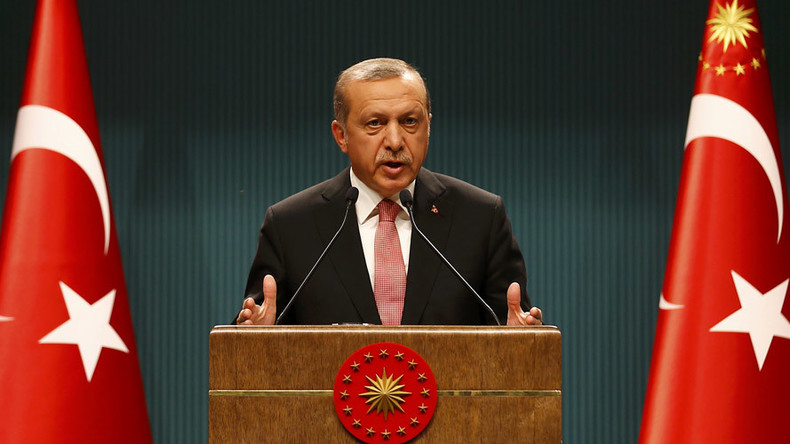 The Turkish leader is attempting to get a tactical advantage over the US and EU, playing the hero for his domestic audience and to get his hands on Fethullah Gulen, political scientist from the Helwan University in Cairo, Dr. Maged Botros, told RT.
Turkey has banned all academics from leaving the country as the crackdown following the failed coup intensifies. At the same time, the number of people who've been detained or suspended from their jobs stands at more than 50,000.
One of the latest moves by the Turkish government was to ban access to the WikiLeaks website after nearly 300,000 e-mails from Erdogan's ruling party were put online.
Read more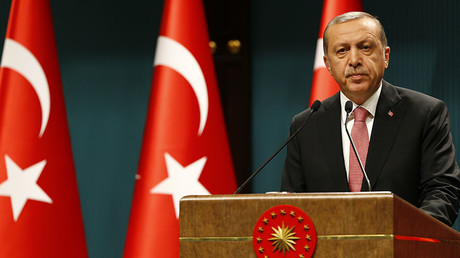 Many Western leaders have called for "restraint and moderation" after Erdogan began his crackdown. The US Secretary of Defense has pledged allegiance to Ankara when asked whether Turkey's NATO membership could be affected by the recent turn of events.
RT: Why won't Ashton Carter condemn what's going in on in Turkey now?
Dr. Maged Botros: Well, actually if you have a simple political analysis, the analysis states that Erdogan wants to revive the Ottoman Empire. He wants to be an original power. So, internally he needs to have a very tight grip on the country, on the state, on the branches of government. So, what he did – he gives bait to some generals to start the coup. The coup failed of course with the help of the US. Now Erdogan is trying to have some extortion on the US like playing the hero for internal gains. So, he is trying to be a hero in front of his people by confronting the US and having some sort of conflict, confronting a superpower. So, this is a tactical thing to hand in Fethullah Gulen, his main rival and opposition figure-head. As a matter of fact, as a member of NATO, he cannot have or sacrifice his long-lasting strategic position in NATO. So, this is a tactical move, just to extort the US to get his hands on Gulen.
"Erdogan is using the coup as an excuse to stage a real coup. Most of the people who were sacked from their jobs or who were arrested, tens of thousands of people in the military, the judiciary or academia had nothing to do with that coup. Basically, what it is going on here is Erdogan is trying to impose a thinly veiled theocracy; this is the true platform of the AKP. These people are an offshoot of the Muslim Brotherhood and their platform is to recreate not only a religious state, but the reincarnation of the Ottoman Empire,"Dr. Ibrahim Alloush from the Zaytoonah University in Amman.
RT: In Europe, one of the most important deals struck by Brussels this year has been the migrant deal agreed with Turkey. For now, it's still in place despite Erdogan being criticized for human-rights abuses... What's more important for the EU: Defending human rights or guarding its political interests? Can the EU do anything to punish or curb the actions of Erdogan?
MB: As I said he is trying to make tactical moves as extortion against the US and the EU. Like he is threatening the EU with a flow of migrants if not abiding to his will, if not going in line with his policies. So, he has some cards to play with. He has a very strong economy, as a matter of fact; it is one of his main successes since he got power in the 1990s. A leader of the Justice and Development party which is manipulation of religion in politics. So, he is trying to be a figure-head: to be a religious leader, a statesman in Turkey by playing with the emotions of the Turkish people. Now we are reviving an empire. He is addressing his people first. Then he is making tactical moves with the superpowers and regional powers in the world. Even he is trying to threaten Egypt and the Gulf countries. When he expels and arrests more than 2,700 judges. This is an unbelievably different phenomenon in the modern world: to sack 2,700 judges in one move. This is a move that has been planned well ahead of time. More than 60,000 people were arrested in Turkey. This is like a car beyond repair. This is a divided country. This is a state of fear. Erdogan divided his nation. It is like he is playing his last card: either to get it all or lose all. This is a very dangerous game of politics.
The statements, views and opinions expressed in this column are solely those of the author and do not necessarily represent those of RT.