Travel advisory: 'Expect US police to become even more paranoid & fearful'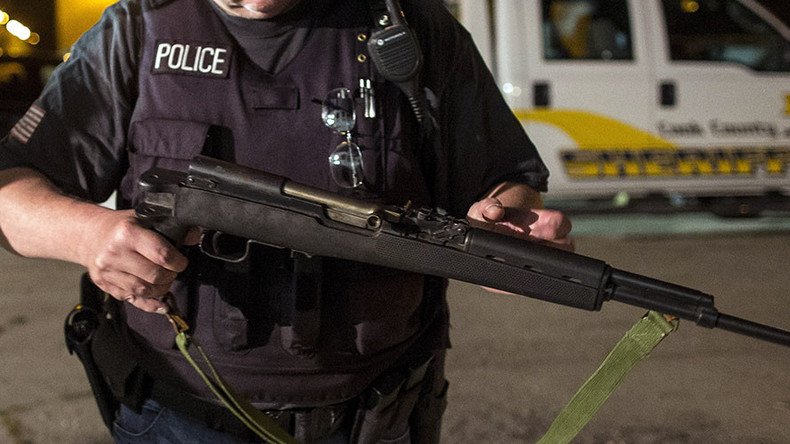 People take a chance whenever they interact with law enforcement in the US, whether you are an American or a tourist, so travel advisories by foreign governments are valid, political cartoonist Ted Rall told RT.
A shooting at the Berrien County Courthouse in St. Joseph, Michigan on July 12 left two court bailiffs and the shooter dead. A sheriff's deputy was also injured.
READ MORE 2 bailiffs, shooter dead after shots fired at Michigan
After civil unrest following the killing of two black Americans by police in Louisiana and Minnesota, the United Arab Emirates, the Bahamas and New Zealand issued travel warnings for people visiting America.
They're advising young males to be extremely cautious when interacting with local authorities and to avoid confrontations with police officers. The warnings also ask travelers to avoid protests under any circumstances and crowded places.
RT: What are the implications for security in the US after tonight's incident in Michigan?
Ted Rall: We don't know whether this is a copycat incident or this is a standalone incident. We don't know if this is related at all to what happened in Louisiana and Minnesota last week, or in Dallas. But it is hard not think about the copycat possibilities. We are in the realm of speculation at this point. What we do know is that you can expect law enforcement in the US, which has already assumed a bit of a bunker mentality for a long time and especially in the last week, to become even more paranoid and more fearful.
RT: Do you think this concerns the safety of officers in general, especially given what happened over the last few days?
TR: This is a new chapter, at least in the current era. Back in the 1970s, there were Black nationalist groups that targeted police for assassination. And within the last year two officers were assassinated, apparently for political reasons, in their SWAT car in Brooklyn, New York. This is relatively new now. What we've been used to hearing recently has been about the police shooting unarmed black men and now it seems like things are turning around and some people are targeting the police, apparently in retribution.
RT: This week new travel warnings have been issued by the United Arab Emirates, the Bahamas and New Zealand for people going to America. What is your take on this?
TR: Well, it is ironic. The US is usually the kind of nation that likes to tell other countries what to do and it is usually in the position of issuing travel advisories to its skittish citizens, telling them not to travel overseas. And not for the first time in recent years you have the US on the wrong side of this situation internationally. And now countries like the Bahamas are advising their citizens to take caution when travelling to the US, particularly if they are black. Frankly, I have to say I think the warnings are valid. I mean, you do take a chance whenever you interact with law enforcement in the US, whether you are American or a tourist, so, I think it is not a bad thing for foreign governments to do this. But obviously, it is shameful for the US.
The statements, views and opinions expressed in this column are solely those of the author and do not necessarily represent those of RT.
You can share this story on social media: