UAE tells citizens to avoid national dress while abroad after man taken for ISIS member in US
Published time: 3 Jul, 2016 15:21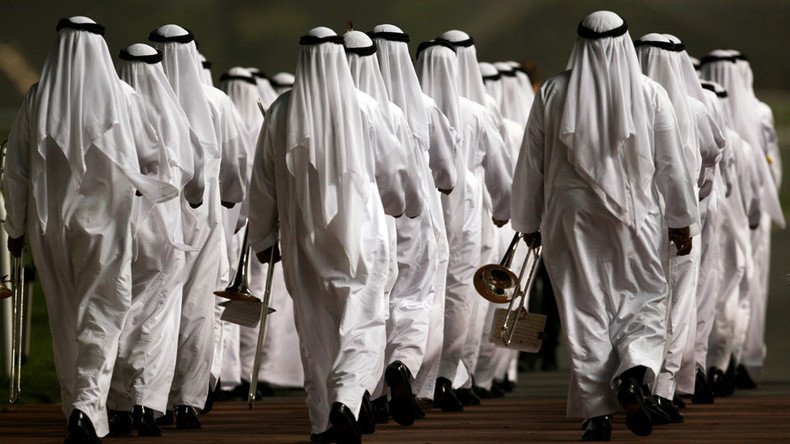 The United Arab Emirates asked its citizens not to wear traditional clothes when travelling abroad after a UAE businessman was forced to the ground and detained as a member of Islamic State extremist group in Ohio.
"For citizens travelling outside the country, and in order to ensure their safety, we point out not to wear formal dress while travelling, especially in public places," the message from the country's Foreign Ministry Twitter account reads.
The ministry also posted a message on their website warning UAE nationals to "abide by the ban of burqa (the veil) applied in some European countries and cities, which prohibits the wearing of the veil (burqa) in public institutions and places."
A UAE businessman was held last week in Avon, Ohio after a female clerk at the local Fairfield Inn hotel called 911 to tell the police that she had seen a man linked to Islamic State (IS, formerly ISIS/ISIL), the Arabic-language al-Bayan newspaper reported, as cited by Reuters.
The woman had heard the man, who was wearing a traditional long white robe and headscarf, speaking on his phone in Arabic in the hotel lobby, the National media outlet reported.
Police detained the Arab businessman, violently wrestling him to the ground. A picture from a video of the encounter was later posted by the Gulf News media outlet, who identified the businessman as Ahmad Al Menhali.
Police released the man after they understood that they had made a mistake.
The businessman was badly shaken by the incident, however, and needed to be sent to the hospital after fainting, Al-Bayan says.
Avon's chief of police, Richard Bosley, apologized to the businessman after Al Menhali said he had hired a lawyer to pursue the case.
Western countries have been introducing restrictions on Muslim traditional clothes as of late. In mid-June, an indoor pool in southern Germany banned the burqini – a modest swimsuit worn by some Muslim women.
In May, a Danish education center forbade six Muslim students from attending classes in niqabs.
The burqa and niqab are also prohibited in parts of Switzerland and Italy, while Belgium and France have placed public nationwide bans on them.
Attitudes towards Arabs in European countries have become tense since an influx of migrants intensified last year.
According to the latest study , Islamophobia has skyrocketed in Germany, where 40 percent said that Muslims should be banned from entry. Seven years ago, the percentage was half that.
In addition, every second German respondent said they sometimes feel like a foreigner in their own country due to the large number of Muslims there.