ISIS downs chopper in Syria: Where do their weapons & intelligence come from?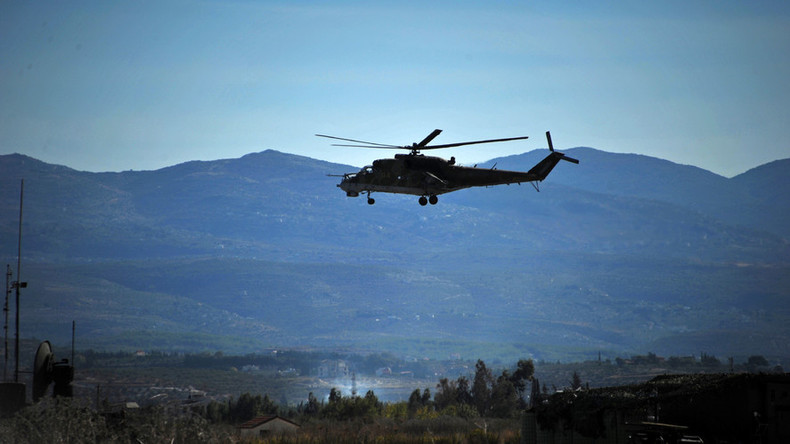 As a military helicopter was downed in Syria by Islamic State, resulting in the deaths of two Russian pilots, RT sits down with political analyst Catherine Shakdam, who says that while soldiers die fighting terror, some governments continue pushing for their political agendas.
READ MORE: 2 Russian pilots killed as ISIS shoots down chopper near Palmyra – MoD
Islamic State (IS, formerly ISIS/ISIL) militants shot down a military helicopter in Syria on July 8, killing two Russian military instructor pilots. This took place near Palmyra where another Russian lieutenant was killed in action earlier this year.
The helicopter had been attacking terrorists at Damascus' request when it was taken down, according to the Russian Defense Ministry.
RT: Does this attack on the helicopter mean ISIS has weapons capable of shooting down an aircraft. Is this a new development?
Catherine Shakdam: Definitely, and I think it is quite worrying. It is harks back to stories we've heard, allegations that were made just a few weeks ago about Jordan with rumors that certain intelligence officers who were actually selling some of the weapons, which were earmarked for so-called moderates. The US and UK have been so keen on poking and helping. We have this question for years now. This is a huge question mark: What it is what they have, what can they do, what will they do with it? And what are they planning to gain?
There is an enormous black market when it comes to weaponry. And I think it is very important to understand that there is no way of knowing. When we keep arming those moderates that the West is still keen on helping, it is playing Russian roulette. Because we don't know where those weapons are actually going to. We know those moderates are not so moderate after all anyway. So it is back to the question where their allegiance is lying. There are too many questions here. I think the only way to actually combat ISIS could be the way Russia has done by going through the official channel and keeping things transparent and open. Otherwise, there is no way to check anything. There is no record that can be kept. It is really a tragedy because so far I really feel that Russia has gone above and beyond and no one is actually supporting or even giving them a credit for their heroism and for the lives that they are saving because those two pilots died, because they were trying to do not only national duty, they were actually helping the Syrian people and doing what is right which is defeating terror and fascism. It is just a shame that governments continue to put politics and political agendas before what needs to be done.
I think that in this case, in the case of terror, there is just black and white, there is not much grey: it is either we help them or help defeat them. So far the only way to defeat them is to work with the Syrian government regardless of what people think of President Bashar Assad, it doesn't matter right now. Because lives are at stake. It is a tragedy to see soldiers sacrifice everything because they have made that choice to actually stand against terror when other politicians are just talking about it. It is really shameful for us, to be honest, because we have completely failed on military and also trying to defeat terror on the ground.
READ MORE: Russian helicopter pilot downed in Syria saved numerous lives over 25-yr service
RT: Downing a helicopter would generally take some serious weaponry. Where could the terrorists get access to something like that
CS: There is always a possibility that it was looted but if it was looted then where is the intelligence? I think it can't for sure happen without being known. The so-called moderates should have comfort themselves: "We lost those weapons, now we need to be careful because ISIS have this kind of weaponry now made available to them." The other challenge that we have to seriously consider that it was brought by IS or, worse, given to them by so-called moderates. Or actually worse, it could be Turkey. We created a situation where it is impossible to check. We don't really have intelligence on the ground. Governments would be lying if they said they know exactly what is going on. They don't know because they have been helping people they can't keep tabs on: they don't know what they want, they don't know what allegiance they have, they don't really know who they are and what they want. You can't deal with people like this. So, it would require two things: not only just weaponry but also intelligence to actually know that those two helicopters were flying above and who was in there and how and when they could target them. It is quite troubling because it means that not only did they have the weaponry but they do have the intelligence as well. And the basic question is: "How is that possible? Why has it been allowed to happen?" Because there is no way that this happens without some knowledge on some level somewhere.
WATCH MORE:
The statements, views and opinions expressed in this column are solely those of the author and do not necessarily represent those of RT.