Russian helicopter pilot downed in Syria saved numerous lives over 25-yr service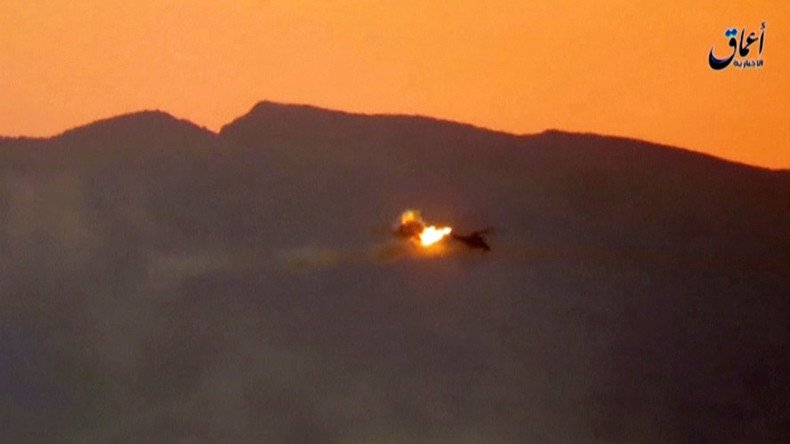 Veteran helicopter pilot Ryafagat Khabibulin, who died in battle in Syria's Homs, was among Russia's most decorated and renowned military pilots. He had taken part in multiple operations in the North Caucasus over the last 25 years.
Ryafagat Khabibulin (b. 1965) graduated from Air Force school in 1988 and was stationed in Poland with the 55th combat helicopter regiment, where he trained to replace helicopter pilots taking part in the Afghanistan campaign.
In February 1989, all Soviet troops were withdrawn from the country and Khabibulin continued to train with senior officers, as some 85 percent of the pilots in his unit had served missions in Afghanistan. They taught the younger pilots the tactics and tricks of warfare in the mountains.
In 1992, Khabibulin's helicopter squadron was redeployed back to Russia, in the southern Krasnodar region.
In autumn 1992, pilots of the 55th squadron flew missions to curb the conflict in the North Caucasus between the Ingush and the Ossetians.
The squadron then took part in putting an end to the conflict between Georgia and Abkhazia. In 1993-1994, Ryafagat Khabibulin spent the whole148 days of the Georgian-Abkhaz conflict on missions.
During the 1994 campaign in Chechnya, Khabibulin's helicopter came under fire from militants. Ninety-seven bullet holes were later found in the aircraft's fuselage. Everybody onboard was killed except the pilot, who suffered a fragmentation wound to the face and had his right thigh shot through. Close to blacking out, in a cabin full of smoke and spilled fuel, Khabibulin managed to secure the aircraft. He spent the next eight months in hospital.
Despite serious injuries, Khabibulin stepped back into the ranks and continued service in Chechnya until 1996.
From Chechnya, Khabibulin returned to Abkhazia. He monitored the truce there, only to return to Chechnya in 1999, when Chechen militants led by Shamil Basaev attacked nearby Dagestan, thus beginning the second Chechen campaign.
By that time he was one of the most experienced military helicopter pilots in Russia. After the active phase of the operations was over, Lieutenant-Colonel Ryafagat Khabibulin was regularly deployed to Chechnya where his squadron operated from the Khankala airfield.
When Georgia attacked South Ossetia in August 2008, Khabibulin went on sorties in the Ossetian Mountains. During one, his helicopter evacuated 12 wounded soldiers from the battlefield.
In his numerous rescue missions, many of them in extreme weather conditions or under fire, Khabibulin saved the lives of at least 40 wounded soldiers. He received numerous commendations for his skill.
His last assignment came this spring, when he was deployed to Syria as pilot-instructor.
Lieutenant-Colonel Ryafagat Khabibulin and weapons system operator Evgeny Dolgin died in combat in the Syrian province of Homs on July 8, when their Mi-25, after having fired on a group of advancing Islamic State militants, was hit with a missile in their tail and crashed to the ground.
Later, the Defense Ministry announced: "The skillful actions of the helicopter pilots pushed back the terrorist attack and thwarted their effort to pierce through the Syrian Army defenses" in the area.
Ryafagat Khabibulin and Evgeny Dolgin are now to be posthumously decorated with top state awards.
WATCH MORE:
'Pilots fly away and don't come back' – son of Russian helicopter pilot killed in Syria
Inspired by his father's bravery, the son of a Russian helicopter pilot killed in Syria has followed in his footsteps – he is also a pilot. In an interview with Russian channel Life News, he said he will do everything in his power to be like his father and "not let him down."
"It's very hard. This is a pilot's life – as they say, pilots fly away and do not come back. [My father] is a great man, a great pilot. An honored officer of our country. I will keep trying to be like him as much as I can. We will not let him down," Ryafagat Khabibulin's son, Ruslan, told the tabloid channel.
Ruslan says his father had been demanding but fair. The concepts of honor and keeping one's word were always priorities. He dreamed of a time when his countrymen would sleep peacefully and did everything for it, Ruslan recalled, which to him, explained his father's career achievements.
"I followed in his footsteps because I saw it all from childhood, it was my dream, he raised me correctly. Sometimes a child, I felt offended, but when I grew up, I realized that my father was doing everything right.
"He grew from lieutenant to base commander. [The airbase he headed recently] has been the best base in Russia for three years now. A legendary base. Here he prepared combat pilots, legendary men, who performed the most difficult tasks in any conditions. It is the pride of the aviation and he was it's commander," Ruslan said proudly.
Ryafagat's wife Ramilya said she could not believe the news when she heard it, but even more so she can not believe how many people have been reaching her and her son over the past two days to express their support and grief.
"We had a good life together. It's such an enormous for us. But all of Russia has been trying to reach us, worried for us," Ravilya said.
Ryafagat's 55th Separate Army Aviation regiment has been helping the family to organize the funeral. They even collected money needed for the proceedings, which Ramilya is very grateful for.
"I never asked for it, but I am very grateful. That's just customary for them. We will have a public funeral for everyone to say their farewells and then we'll bury Ryafagat in his native village near Ulyanovsk," Ramilya told journalists.
You can share this story on social media: