Istanbul attack – result of 'complex & dangerous situation in Turkey'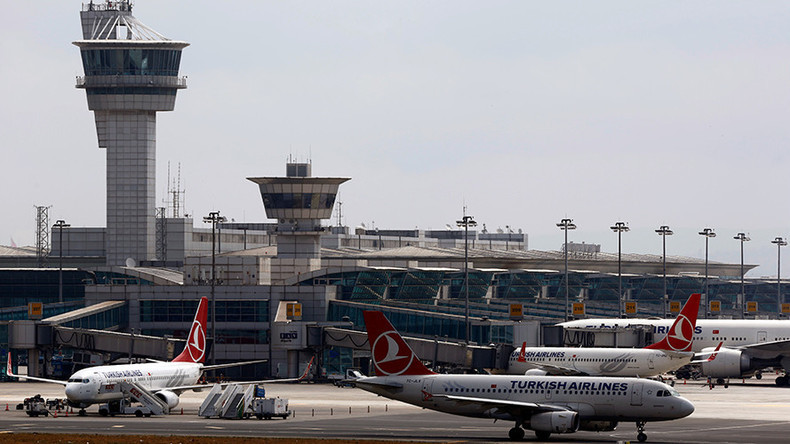 Will Turkey strengthen its security after the attack at Istanbul Ataturk airport? Will it extend military activity on the Syrian border? Is there a link between the attack and Erdogan's attempts to rebuild relations with Russia and Israel?
Turkish Prime Minister Binali Yildirim said the initial investigation suggests Islamic State (IS, formerly ISIS/ISIL) was behind a triple suicide bombing and gun attack on Istanbul's international airport which killed at least 42 people and injured 239.
READ MORE: Over 30 killed, 140+ injured as blasts rock Istanbul's Ataturk Airport
RT asked security analyst Tobias Feakin whether it is normal for Islamic State (IS, formerly ISIS/ISIL) not to claim responsibility for such an attack – as happened this time – and if it was them.
Tobias Feakin: We have seen that pattern that very quickly ISIS, ISIS fans, or supporters will come out rapidly and claim responsibility for a particular attack, or even an association with an individual, who is claiming some sort of allegiance to ISIS. At the moment I wouldn't read too much into that. It's the confused security situation within Turkey itself and incredibly complex security dynamics that President Erdogan is having to deal with…
Some would say that he has incredibly large radicalization problem within his own borders; he has an influx of fighters coming back from Syria and Northern Iraq and they have tightened up border controls and on that borders especially with Syria. But it is still clearly not having as an acute impact as we would like. He is also undertaking incredibly heavy handed security operations in the south-east of Turkey, which is leading to this incredibly complex and dangerous security situation within Turkey's borders currently.
RT: Why could Turkey become a target for Islamic State?
TF: It is a process of divide-and-rule and destabilization. Why is ISIS attacking mainland Europe? Why did they attack Paris? Why did they attack Brussels? They want a split anywhere, where there is unity and strength, and that identified clearly with the EU, with Schengen arrangements, which is identified in propaganda that is expounded online – that they want to upset that, they want to ruin it, they want to exploit what they call the "grey [zone]". In Turkey, where you have a situation where there are growing numbers of more extreme Islamist beliefs, attacks like this are a good way of trying to exploit those growing divisions within Turkey itself…
RT: The attack in Istanbul took place three months after another attack on the airport in Brussels. Do these cases bear similarities, in your opinion?
TF: We can certainly see some similarities, absolutely. We're seeing the attacks are taking place, where the passengers congregate to begin their journey – ticketing and then going through security, where you have congestion points. It is a tactic we've seen terrorist groups now using over the last decade and a half in targeting airports at large. And they seem to change their point of attack depending on, where the security is built up in an airport…
Unfortunately groups like ISIS, like Al-Qaeda in the past and still now – they look to understand, where security has more often changed and hardened, and then try to exploit the gaps that then arise as a consequences of security being focused in other areas.
Jennifer Breedon, legal analyst from the Clarion project, which aims to combat Islamic extremism says that Turkey has been a target for ISIS attacks "for a while now."
"We know that Turkey has been able to foil some of the attacks there. We look at this attack – against the third largest international airport in Europe - as being against the international community, because they want to show that they are strong," she told RT.
If Islamic State claims responsibility for the attack or if the investigation finds the terrorist group was behind it, "we expect the Turkish government to start doing a lot more military contingency and put a lot more of their military in the fight against IS, whether that is in Syria, or all over the world because they are calling this a global attack."
So far the Turkish government hasn't used its military much "because they have been focused on the PKK and on some other domestic terror threats, as well as ISIS within their own borders," Breedon said.
It is now "very likely" Turkey will tighten security and military activity on the Syrian border, the expert suggests.
"Right now they have a refugee and immigration situation of millions of different people from the Syrian spillover. So this can probably prompt them to tighten that security. We know that they have been trying to do that with the spillover from that war so far," she said.
She compared the Istanbul attack with the explosions in Brussels in March saying that there are "very many similarities."
According to the analyst, extremists "target soft targets, which are international airports, because they want to show that they are against democracy, they are against not just the West, but they are against international coalition."
Tuesday's attack came shortly after Turkey signed an agreement with Israel, normalizing relations between the two countries. Ankara is also seeking to rebuild ties with Russia.
In Breedon's view, it's highly possible that there is a connection between these events.
"[ISIS] have been trying to do more things that target any kind of normalizing ties with Israel. The same as Turkey is trying to better its relationship with Russia… ISIS is not powerful enough to come in to attack Russia at all. But they are definitely angry at Russia's presence in Syria. Now ISIS wants to target countries that are definitely trying to normalize ties with those places, even if Turkey has been more quiet about their moving against ISIS," she said.
"Turkey is a huge tourist hub, Istanbul airport is the third largest in Europe and the third busiest in Europe. Many people come there. It is also one of the biggest sources of income for Turkey. This is all going to hurt global travel," Breedon added.
Gwenyth Todd, a Middle East analyst says it is highly likely ISIS is behind the attacks.
Commenting on the Turkish authorities' statement, she said they "know just how dangerous they are," because "certainly in the past" they "supported the groups that have helped arm ISIS."
The statements, views and opinions expressed in this column are solely those of the author and do not necessarily represent those of RT.