Orlando massacre: 'Clearly a politically motivated act'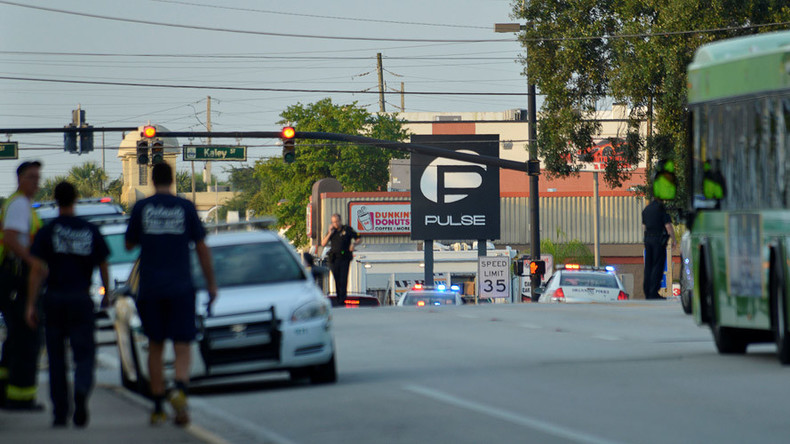 What could be the reason for the mass shooting in an LGBT nightclub in Orlando? How will the public react to the tragedy? Despite hundreds of deaths in similar attacks and an ongoing debate on stricter gun control, why has nothing has been done yet?
At least 50 people were killed when a gunman entered a popular gay nightclub, Pulse, located in Orlando, Florida. The club was packed with more than 300 people when the assault began. Bill Nelson, US senator, and intelligence staff suggested that the suspect could have had connections to Islamic State (IS, formerly ISIS/ISIL).
Gregory Copley, foreign affairs analyst believes the Orlando tragedy was "a politically motivated act", but adds that people should get back to normal lives and media should encourage them to do so since "the answer to terrorism is to minimize multiplier effect".
"Terrorism only works when there is a force multiplier which creates the desired psychological effect on the political and social environment as a whole," he said.
In Copley's view, "we have to separate this incident away from domestic gun violence in the US."
"This is clearly a politically motivated act, which ISIS said it would do. We have to understand also that ISIS is now so weakened strategically and militarily…in Iraq, Syria, Libya and Nigeria that it is now having to follow back on the soft target terrorism acts…," he told RT.
Neil Clark journalist and broadcaster said earlier homophobia could be the motive.
RT: What do you think could be the reason for the attack?
Neil Clark: Homophobia could be the motive. It's a gay club, and the first thing you would think of is this deranged attacker is obviously a man obsessed or anti- gay, for some reason – that would be the number one reason perhaps. It is just terribly shocking news. This comes in Orlando just one day after the appalling killing of the singer Christina Grimmie, who was [a] the Voice contestant. She was gunned down; she was signing autographs after her concert by an attacker who then killed himself.
There is a mass shooting every day in the US – 372 people killed in mass shootings last year… Incredible statistics: 1.4 million American citizens have been killed in fire arms attacks between 1968 and 2011.
RT: The gun law is a part of the constitution. Obama has said repeatedly that something should be done about that. Why has nothing been changed yet though?
NC: Every time we get the same thing, don't we? US president comes saying: "This has got to stop, we can't carry on like this." What happens – they do carry on like this. We do have so much talk about the right to bear firearms. What about the right to go to a gay club on a Saturday night without the fear of being shot? What about that right – the right of people to go about their business without the fear of being gunned down? The gun lobby in America – the reality is, it's just too strong.
LGTB human rights activist Peter Tatchell also shared his opinion on the latest shooting at a gay club in Orlando. He said there is a long history of mass shootings by lone gunmen in the US.
RT: Police say they are investigating this as an act of terrorism. What were your first instinctive responses when you first heard about this story?
Peter Tatchell: Initially it was just shock and horror and sympathy for the victims and their loved ones. But it is too early to speculate. The US does have a long history of mass shootings by lone gunmen for many different reasons. I think the implication or suggestion that may have been terrorist related possibly with Islamist extremist connection – that is speculative. It is way too early to make that conclusion. But obviously that is one line of inquiry, because we know that Islamist extremists do condemn gay people; they do say that gay people deserve death, and in countries where they have power and influence gay people are killed. We recently had the murder of a gay blogger in Bangladesh by Islamist extremists. There have been many attacks and assassinations of gay people in Islamist areas. So this fits with that pattern. Although it is very unusual in term of Western counties. In Britain the only major terrorist attack on a gay club took place in 1999 in London when three people were killed and over 70 seriously injured. But that was by a far-right white supremacist organization not connected in anyway with Islamist terrorism, but with traditional neo-Nazi movements.
Ajamu Baraka, a human rights campaigner, believes it's "reckless" to say at this stage that the massacre was "an act of terrorism."
"My initial thought is the recklessness in terms of how that kind of information is being leaked to the press. We might recall when Dylan Roof went into a Church in Charleston, Southern Carolina and murdered nine African Americans. The press seemed to be very reluctant to characterize that as an act of domestic terrorism. There was a sensitivity to that – that was highly unusual," he told RT.
"But here we have the situation now, where there is no real clear information in terms of who was involved, what kind of background they had. But already now it has been leaked that this individual may have some kind of a 'radical Islamic leanings.' That is irresponsible, especially within the context of this very dangerous xenophobic and racist context within the USA," he added.
The statements, views and opinions expressed in this column are solely those of the author and do not necessarily represent those of RT.
You can share this story on social media: