Bangladesh police arrest Islamist militant over gruesome murder of LGBT activists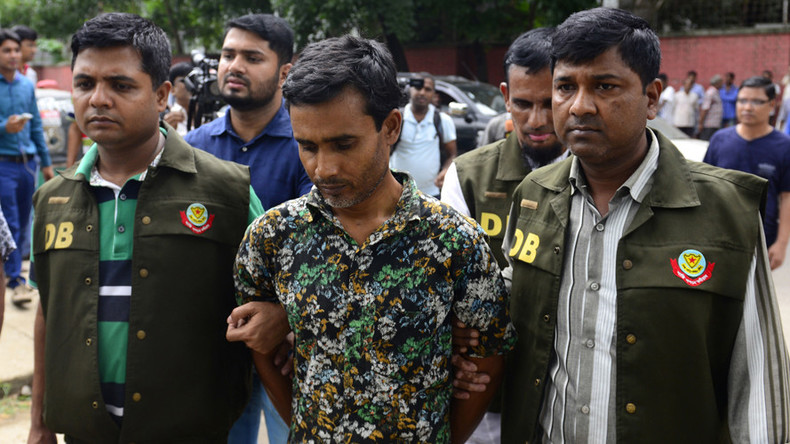 Police in Bangladesh have arrested an Islamist militant over the brutal murder of two gay rights activists. There has been a surge in violence against liberals and religious minorities over the last few months in the Asian nation.
Law enforcement officers said on Sunday 37-year-old Shariful Islam Shihab had been arrested. He is a member of the Ansarullah Bangla Team (ABT), which is a banned militant group in Bangladesh. He was detained in the southwestern district of the capital Dhaka.
"We've arrested one man in connection with the murder of Xulhaz Mannan," Dhaka police spokesman Maruf Hossain Sorder told AFP.
Xulhaz Mannan, 35, editor of Bangladesh's first magazine for gay, bisexual and transgender (LGBT) people, and fellow activist Mahbub Rabbi Tonoy, 25 were hacked to death in an apartment building in Dhaka last month, by a group of about six men carrying guns and machetes.
"They killed the gay rights activists because they were creating confusion about Islam," Dhaka counter-terrorism chief Monirul Islam said, according to AFP.
Shihab denies carrying out the murder, though one of the two guns that he owns was found at the crime scene. He has also provided weapons and bombs for missions previously carried out by the ABT.
Al-Qaeda in the Indian Subcontinent (AQIS) claimed responsibility for killing the gay rights activists saying the pair was responsible for "promoting homosexuality" in Bangladesh.
The arrest of Shihab comes a day after an elderly Buddhist monk was hacked to death on Saturday. The body of 75-year-old Mongsowe U Chak was found at a remote temple in the south east of Bangladesh.
In April, days after the killing of the LGBT activists, Islamic State (IS, formerly ISIS/ISIL) claimed responsibility for the death of a Hindu tailor who was hacked to death in the town of Tangail, some 80 kilometers northwest of Dhaka.
IS militants said the tailor, 50-year-old Nikhil Chandra Joardar, had blasphemed against the Prophet Mohammad.
Islamist militants have targeted atheist bloggers, academics, religious minorities and foreign aid workers in a series of killings that date back to February 2015 and have claimed at least 20 lives.
In September, ABT published a hit list of bloggers and activists across the globe, including nine from the UK, which it says will be killed unless its demands are met.
Activists on the list have often been highly critical of extremist religious behavior, with a particular focus on Islam.