Orlando bloodbath: Multiple deaths after shooting rampage at gay nightclub
A mass shooting has taken place in a gay nightclub in Orlando, Florida. About 50 people have been killed and at least 53 taken to hospitals, police said, adding that a SWAT team killed the shooter.
Follow RT's LIVE UPDATES on mass shooting at Orlando gay nightclub
The incident took place at the Pulse nightclub.
"This can be classified as a domestic terror incident," Orange County Sheriff Jerry Demings said.
50 people were killed and at least 53 people have been taken to local hospitals, Orlando Mayor Buddy Dyer said. Orlando Sheriff John Mina added that the shooter was wearing some "type of device."
Nearly 320 people were inside the nightclub at the time of the shooting.
The shooter inside the nightclub was dead, police said on Twitter. The sheriff also confirmed the attacker was killed by a SWAT team. He was armed with an assault rifle and a handgun, officials said.
The Orange County sheriff called the nightclub shooting an "act of domestic terrorism."
"At this time we're looking at all angles right now," an FBI official said.
He was asked if the shooter might have possible connections with extremists. "We do have suggestions that that individual may have leanings towards that particular ideology [extremism]. But right now we can't say definitively so we're still running everything around," he added.
Twitter users said they heard multiple gunshots in the area.
One more witness, Brett Moots, told the New York Daily News that he saw people "being taken away with bullet wounds [to] their arms and abdomen."
According to a reporter from the Orlando News, the shooter was wearing a bomb.
Pulse nightclub wrote on Facebook: "Everyone get out of Pulse and keep running."
People took to Facebook to share information on the shooting. Under the Pulse club post they wrote that the attacker had an assault rifle and was barricaded inside with hostages.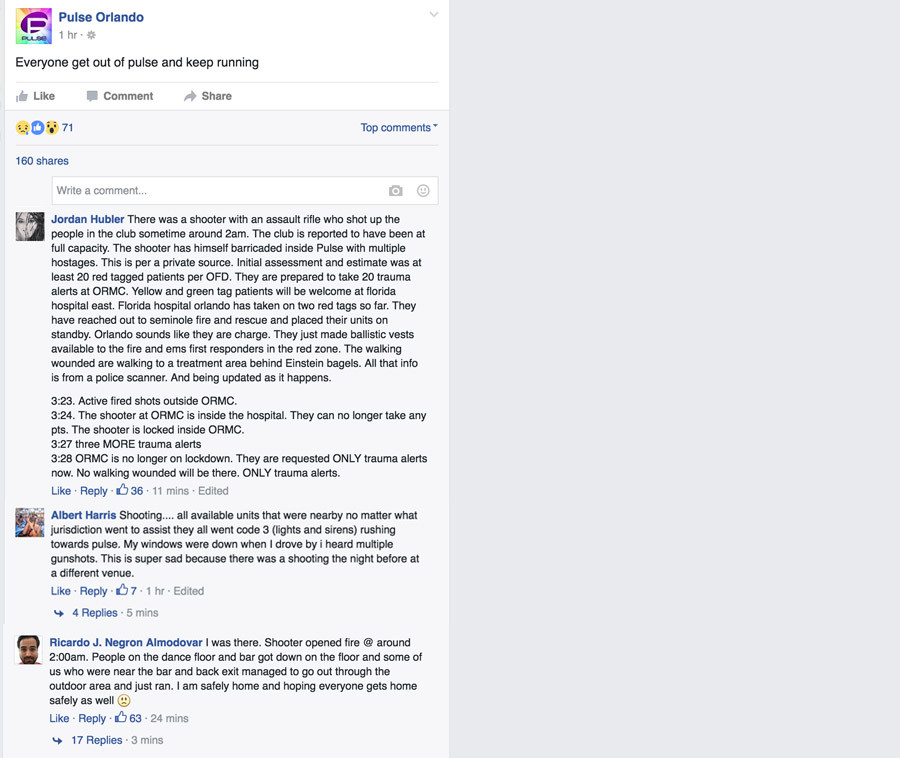 Javer Antonetti, who went to the club with his brother, told Orlando News that he heard many shots. He managed to escape, but his brother, who was on crutches, remained in the building. "I'm not going anywhere," he said. "Police told me he's safe but he's still stuck back there."
"Everyone was getting on the floor," another witness, Rosie Feba added. "I thought it was just part of the music, until I saw fire coming out of his gun."