'Hollande desperate to pass French labor reforms by any means'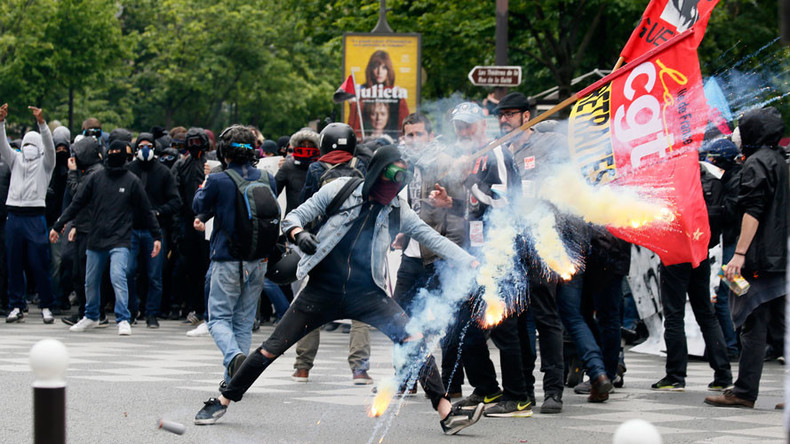 French President Francois Hollande needs to find a way to implement new labor reforms in France by any means in order to be reelected for another term, political analyst Pierre Schweitzer told RT.
Protests against the French government's controversial labor reforms hit Paris on Wednesday. The proposed changes will allow employers to negotiate longer working hours and decrease overtime rates.
RT: President Francois Holland has made it clear he's not going to back down on the reforms. How much pressure is he under?
Pierre Schweitzer: The pressure comes from both sides. I don't think he can afford giving up this reform, because this is his last reform, and he wants to be reelected. Some people speculate that he won't run for a second mandate, but most probably he will... If he does, he needs to end on a good note. So he needs this reform to be passed by any means.
RT: The government has approved a new two-month extension of the state of emergency. What's the purpose of that move, do you think?
PS: The motivation is simple. Of course it doesn't make them very popular to extend it for no obvious reason. It would definitely come [as a] backlash into the government's face if anything happens during EURO 2016 in France, the football, or during the cycling Tour de France. It is probably just a safety measure: better safe than sorry.
RT: Yesterday the police launched their own protest over violent acts against them by rioters, including cars being torched. Do you think the protesters have crossed a line here?
PS: Yes, parts of the protesters have definitely crossed the line... I am not usually against the police or anything; this is definitely not my thing. But here from what I could see, from what I could read and from what I could witness in the street in my town, there is definitely some disproportional rage against the police. As a matter of fact 82 percent of the population, according to a recent poll, supports the police. So there is definitely a bit of cop violence, but it's probably nothing compared to what they have to face in return from some of the protesters. And the last thing, as days go by, as weeks pass, there are fewer and fewer protesters in the streets. And the fewer there are the more violent [protests] become. This is something that many analysts have noted overtime.
RT: On the other side of the argument. France's unemployment rate is at an 18-year high of more than 10 percent, with one in four under-25s unemployed. Do you think many in France see these reforms as necessary, to turn the situation round?
PS: It's really hard to say…People elected this government to make reforms, but they didn't elect the government to make this particular reform. It is a socialist government… People elected a socialist government and now this is a Social Democrat's policy that is being conducted. I'm personally in favor of reforms. Most people who voted for so long may not vote for him again, because of this reform. But if he doesn't do this reform, then he will be accused of having done nothing, which is probably even worse - he is just choosing the lesser of two evils.
The statements, views and opinions expressed in this column are solely those of the author and do not necessarily represent those of RT.