Paris police car set ablaze as officers protest brutality against them (VIDEOS, PHOTOS)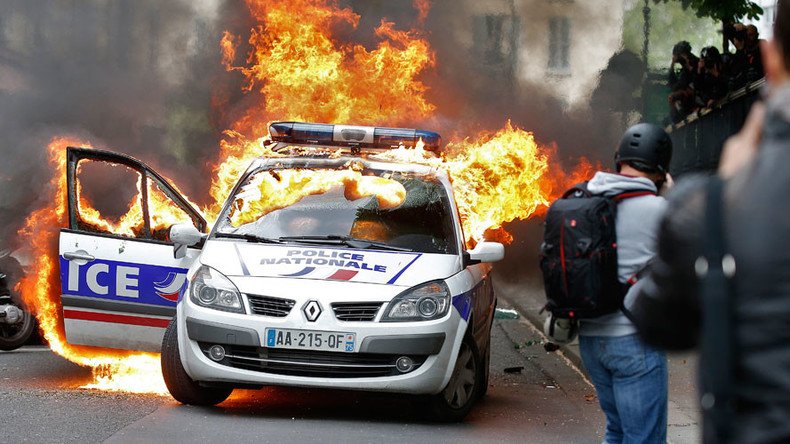 A police car has been torched in central Paris after an angry crowd surrounded the vehicle, police said. The incident took place as a police demo against "public hatred" was confronted with a counter-rally.
Several protesters surrounded the car and attempted to break its windows.
The anti-police activists were heard shouting: "Police everywhere, justice nowhere," and "Cops, murderers."
Police officers escaped from the car when a smoke bomb or Molotov cocktail set it on fire, a journalist at the scene for France's Le Monde newspaper reported.
Firefighters who arrived at the scene managed to extinguish the fire. At least one police officer was injured during clashes with demonstrators.
The incident happened hours after police staged a rally protesting "brutality" against their ranks during massive anti-labor reform protests, which have been raging in France for two months.
A total of 350 police officers have been injured in clashes at the protests, Interior Minister Bernard Cazeneuve said.
Police believe they have been unfairly treated by the public for simply trying to do their job. A major French police union, Alliance, says there is a mounting "anti-cop hatred" becoming evident in France.
While police were protesting "anti-cop" brutality, their opponents tried to gather for a counter-rally, which was banned by authorities.
Since March, people across France have been protesting the new labor bill. The proposal states that employers need pay only 10 percent of overtime bonus, instead of the current 25 percent. The bill technically maintains the 35-hour working week, but says that in case of "exceptional circumstances" employees can be asked to work up to 60 hours a week.
On Wednesday, French railway and port workers went on strike protesting the law. Train services were halved and ferries to Britain were canceled.
The rallies, held under the hashtags #LoiTravail (Labor Law) and #NuitDebout (Rise Up At Night), have repeatedly turned violent, with officers clashing with demonstrators and police firing tear gas at protesters. Almost every rally has ended with arrests. The most violent rallies occurred in Paris, Rennes and Nantes.
Sporadic anti-labor law protests in France have grown into something more substantial – now people are rallying against capitalism, the French government and intolerance, very similar to the Occupy movement in the US that turned global.
You can share this story on social media: