Japan willing to risk US ire over improving Russia ties? Looks like it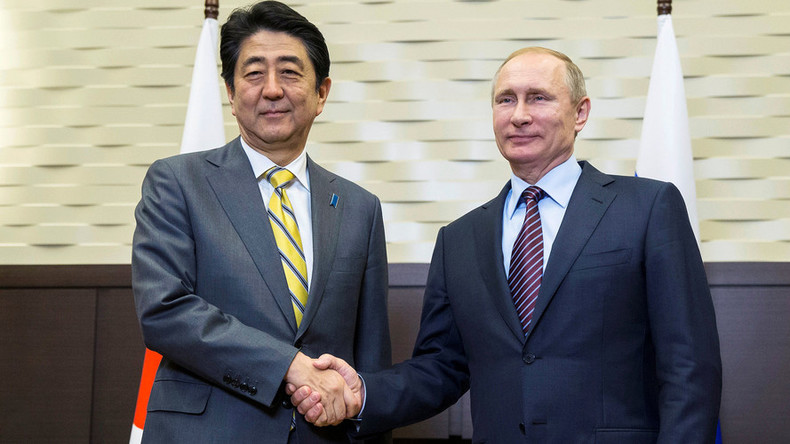 Not everyone was happy about the three-hour long talks between Vladimir Putin and Japanese Prime Minister Shinzo Abe which took place in Russia's Black Sea resort of Sochi on Friday.
While for Abe the meeting was diplomatically significant — a chance to discuss the disputed Kuril islands face-to-face with Putin — for the White House, it was an unwelcome fissure in the united front Washington has instructed its allies to construct against Moscow. It was so unwelcome, in fact, that Barack Obama had reportedly asked Abe personally not to go to Sochi at all.
Island diplomacy
The long-running dispute between Russia and Japan over ownership of the Kuril island chain meant that the two countries never signed a peace treaty after World War II. Russia claims ownership of the strategically important territory under the 1945 Yalta accord and argues that the islands — which Russia refers to as the Southern Kurils and Japan knows as the Northern Territories — were handed over to the Soviet Union with Washington's blessing. Japan disputes this.
The Kremlin kept expectations low for the meeting between the two leaders in Sochi. Russia has plans to build up its military assets on the islands and has singled the territory out for significant socio-economic development. Frankly, no one expects that Putin will suddenly decide to give the islands up — not even Abe.
Nonetheless, Abe believes that if anything will help soften Russia's stance over the dispute, it will be increased economic and technological cooperation between Moscow and Tokyo, which could help revitalize the Russian Far East. Most observers say, however, that despite Russia's economic woes, Abe's hand is weak.
Displeasing Washington
But, let the reader not be fooled into believing that the Russia-Japan relationship is to be controlled only by Moscow and Tokyo. The US, naturally, also wants its say. The problem for Japan — a major US ally — is that the diplomacy surrounding the islands dispute is so important, that Tokyo has had to show a rare willingness to go against Washington.
Abe knows that to curry favor with Putin, he must display that he, not the White House, is in control of Japan's foreign policy. This has been difficult, given the obvious pressure from the US, but it seems to be a risk that Abe is willing to take — even given the awkward timing of the meeting just ahead of a G7 summit in Japan later this month. His refusal to sour his relationship with Putin, has obviously put yet another spanner in the works where US efforts to 'isolate' Moscow are concerned.
After rejecting Obama's request not to meet with Putin, the level of pressure from the US was revealed when Abe sent a top security official to Washington to explain why the meeting in Sochi must go ahead. It remains baffling that Tokyo should feel obliged to provide such a courtesy.
The China factor
Japan is not a country with an abundance of overly-friendly neighbors. Two of them, Russia and China, are consistently strengthening ties. If Tokyo doesn't get in on that action, it will be to its own detriment. As such, it's not in Japan's national interests to play the isolation game with Russia. The more Moscow and Beijing strengthen their relationship, the worse off Japan will be. Tokyo, remember, also has territorial disputes with Beijing over the Senkaku islands. And, in the unlikely event that there is any major improvement in relations between the West and Russia, it would also be prudent for Tokyo to keep things on an even keel with Moscow.
Not to mention that for Russia, improving ties with Japan also makes a lot of sense. One notable expert believes that Asian nations like Japan are "unused reserves" of Russian foreign policy and can provide a counterbalance to too much focus on Beijing. Another observer has accused Abe of "going soft on Russia" at the worst possible time.
The meeting between Putin and Abe, therefore, was diplomatically and geopolitically significant for both. Knowing this, Washington has attempted to exert its influence as forcefully as possible, lest any deeper Russia-Japan friendship grow legs. What should be a delicate diplomatic dance between Moscow and Tokyo is subsequently hampered by the fact that Abe still needs to think about hurting feelings in Washington.
Playing the NATO card
In perhaps the greatest show of interference in the Japan-Russia relationship, German Chancellor Angela Merkel reportedly offered Tokyo NATO membership during a meeting with Abe last year, according to a Japanese newspaper. Merkel reportedly assured Abe that she could get France and the UK on board with this plan — as if this was something that she believed he would see as being to his country's benefit. As a side note, if NATO is going to go around asking countries located in the Pacific Ocean to join the 'North Atlantic' treaty organization, it might want to consider changing its name to something more appropriate.
Anyway, there's little chance that Merkel's offer was made on a whim over some sushi. More likely, the plan was first hatched on the other side of the Atlantic. Still, more concerned for the moment with improving its ties with Russia than joining a Western military alliance, Japan is said to have turned down the kind offer.
But it is just this kind of move which exposes the lengths to which Washington and NATO will go to wrangle a country away from Russia if they fear it is not fully on board with their own policies of containment and isolation. These days, if you're a US ally, a good relationship with Russia is simply forbidden. The two are mutually exclusive. In that context, it is somewhat impressive that Japan still seems intent on pursuing an independent foreign policy insofar as is possible.
Positive signs?
Abe's wording after the conclusion of his meeting with Putin was interesting. Without much elaboration, he said that the two leaders had agreed on a new approach to resolving the dispute over the Kuril islands. He noted that the peace treaty issue would be resolved "by ourselves" and that Japan would pursue a "future-oriented" relationship with Russia "free of any past ideas". This kind of talk is not exactly music to Washington's ears, to say the least. Abe is also believed to have presented Putin with an eight-point plan to strengthen their countries' ties. No date has been set for Putin's visit to Japan, but the Japanese prime minister has been invited back to Russia for the Eastern Economic Forum in Vladivostok in September.
Abe is not stupid. Even if he gets nowhere on the Kurils issue, he knows that balancing the Russia-China relationship is beneficial regardless. Signs so far indicate he is willing to risk displeasing the US in Japan's better interests.
The statements, views and opinions expressed in this column are solely those of the author and do not necessarily represent those of RT.
You can share this story on social media: