Merkel, Tusk shown 'Potemkin village' in Turkey, not reality with refugees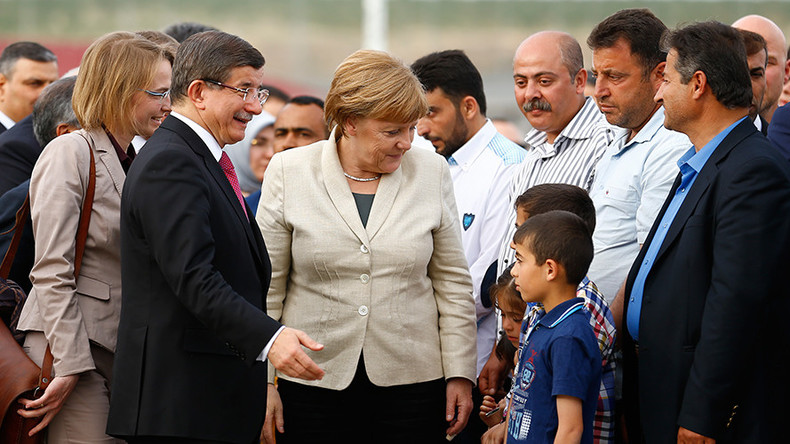 EU president Donald Tusk praises Ankara's efforts in dealing with migrants, but what he and Chancellor Merkel saw during their visit to Turkey has nothing to do with reality on the Turkish-Syrian border, said Michael Opperskalski of Geheim Magazine.
German Chancellor Angela Merkel, European Council President Donald Tusk and Vice-President of the European Commission Frans Timmermans visited Turkey on Saturday in their latest effort to grease the deal under which Ankara has promised to help Europe deal with the refugee crisis.
The EU officials visited a new refugee camp in Nizip, near the Turkish-Syrian border, which hosts 4,800 refugees, and the inauguration of a child protection center in Gaziantep.
Donald Tusk told a media conference that Turkey is "best example for the whole world how we should treat refugees. No one has a right to lecture Turkey what to do."
Michael Opperskalski, journalist and international affairs expert at Geheim Magazine, told RT he completely disagrees with Tusk's assessment.
Read more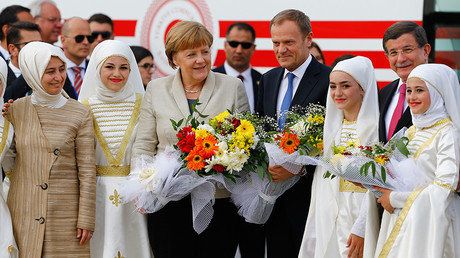 "Especially because this speech was not written by the Polish diplomats," but by those responsible for the "German diplomatic protocol," he added.
Human rights groups criticized the visit to the camp that they called "sanitized". Amnesty International said the European top officials must address the human rights abuses faced by refugees in Turkey but not sweep them under the carpet.
"What Angela Merkel really needs to bring back from Turkey are not smiling photos but cast-iron guarantees that the Turkish authorities will stop sending refugees back to their countries of origin and start implementing its asylum laws effectively," said John Dalhuisen, Amnesty International's Director for Europe and Central Asia.
Michael Opperskalski believes that what the European delegation saw has nothing to do with reality.
"What they saw is like 'the Potemkin village," he told RT. What "is real," he went on, is what is happening on the border between Turkey and Syria, where "Turkish troops [open] fire on refugees," he said. According to the journalist, the "Turkish regime" has set up "special zones" in order to completely control refugees.
What is also not being openly shown, Opperskalski said, is the "Turkish regime organizing supplies of arms, ammunition and weapons" to terrorists.
The expert is confident that Turkey is blackmailing the EU over the refuge crisis.
"Sultan Erdogan" is under the impression that he plays a key geostrategic role for the Europeans because of three reasons, Opperskalski said. Erdogan thinks he plays a crucial role in addressing the refuge crisis and "can decide how to go and even who could be allowed to the EU." Secondly, Opperskalski went on, the Turkish President "plays a key role in the still ongoing campaign of regime change in Syria which is supported by Germany and the EU, and many other forces." Thirdly, "he is also a key player in many anti-Russian activities," he said. Therefore, the expert concluded, Erdogan "is under the impression that he can dictate things."
The statements, views and opinions expressed in this column are solely those of the author and do not necessarily represent those of RT.