'Internal threats at airports now greater than external ones'
Published time: 29 Mar, 2016 13:49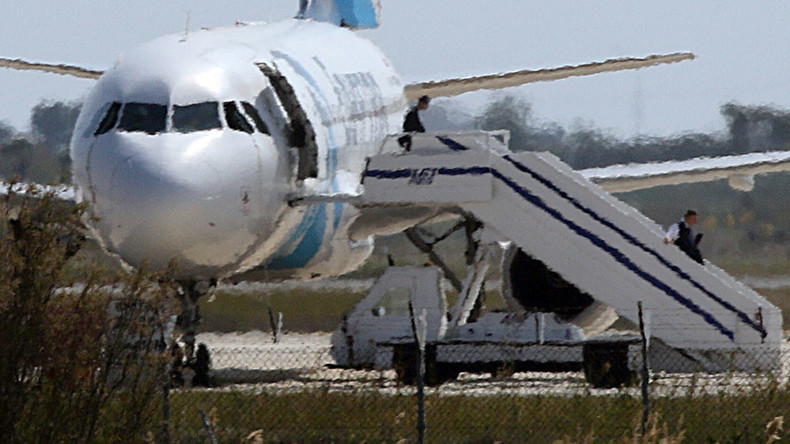 We should view any type of hijack or an attack on a nation as a form of terrorist attack, whether it is personal or anything else, says Ricardo Baretzky, President of the European Centre for information and Security.
Egypt Air flight MS181 was hijacked on its way from Alexandria to Cairo and forced to land in Larnaca in Cyprus on Tuesday. According to the Cypriot Foreign Ministry, the hijacker, Seif Eldin Mustafa, was arrested and all the passengers on the plane were released.
RT: The hijacker released all the passengers from the plane. What do you read into that?
Ricardo Baretzky: It is very difficult to say without the exact facts. But I can say this: we should see any type of hijack or attack on any nation as a form of terror attack, whether it is for any personal aim or anything else. Any attack on any nation is a type of terrorist attack today.
RT: You're a security expert. How could this have happened?
RB: First of all, security services at all border controls - not only in Europe, but also in all the neighboring countries, and all the countries that go to Europe or from Europe, Egypt and other countries in the northern part of Africa or West Africa, those airports and border patrols need to understand that security measures have to be on an international level. And what has happened over the last few years? We have seen a shift between international level security measures dropping in some areas in Africa and not stepping up the security measures as they should be doing.
RT: It is possible that the hijacker had some sort of inside help?
RB: Case studies show that in the past few years there has been a shift from external threats to internal threats. The probability of this being an internal threat with other people being involved inside is very, very high. We've seen this everywhere in the world, so this is no exception. What is important to understand is: Why is the internal threat becoming so important and why it is spreading so much and so quick? That is a fundamental question we need to ask within the industry.
Political commentator Marwa Osman told RT: "Sharm El-Sheikh, the airport that is supposed to be the most high-tech airport because it has lots of tourists there, doesn't have the security. So what about Cairo, Alexandria and the other airports in Egypt? When we are talking about the security of airports, we are talking about the security of everyone. If one airport in one state… is not secure, then every other destination will be at risk."
RT: What kind of motives had the hijacker had?
RB: The fact that he released the passengers is a kind of good will gesture… We have to see what the motive is and what the outcome would be. What is most important is that they capture alive the people responsible.
RT: What will be the reaction of authorities?
RB: I think that this will create a bit of confusion because it is not normal. And that raises the alarm: why and… what is at stake? These are the questions we have to ask and the question that the officials will struggle to get to grip with because they might never know what the end goal was in this particular event.
The statements, views and opinions expressed in this column are solely those of the author and do not necessarily represent those of RT.