'Critical voices in Turkey facing intimidation'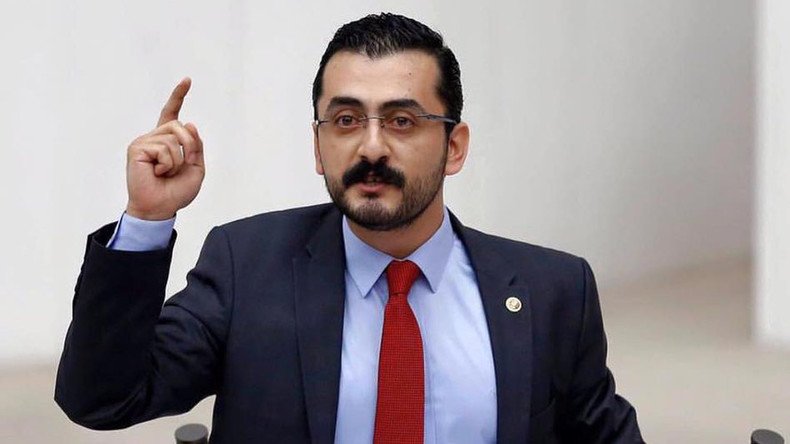 As authoritarianism deepens in Turkey, it can't be ruled out that the majority AKP party will put on trial the lawmaker who alleged ISIS shipped sarin gas to Syria through Turkey, Dr. Aykan Erdemir, a former member of the Turkish Parliament told RT.
Prosecutors opened a case against a Turkish opposition MP after his interview with RT where he alleged that a deadly chemical agent was supplied to jihadists in Syria via Turkey. Eren Erdem is being accused of treason. According to Erdem's Twitter account, he has received a number of death threats, and a nationalist organization called the Ottoman Hearths plans to target his house.
RT: As we heard, the opposition lawmaker has been receiving threats from the paramilitary group the Ottoman Hearths, which supports the Erdogan regime. Could you tell us more about how this group operates?
Dr. Aykan Erdemir: Yes, this group could be called paramilitary group, it is basically group of thugs with an earlier criminal record of attacking the Hurriyet Daily [News] in Istanbul, and also attacking the pro-Kurdish HDP's [Peoples' Democratic Party] offices around the country. It had a very rapid rise in Turkish politics, especially through their association with the ruling AKP [Justice and Development Party]. We can see that they have access to the very top levels of the Turkish state. And until recently Turkish security forces turned a blind eye to the breach of law.
READ MORE: Turkish MP faces treason charges after telling RT ISIS used Turkey for transiting sarin
RT: Eren Erdem did not show RT any of the evidence he is basing his allegations on; he said he was afraid he would be accused of treason. Is it becoming increasingly dangerous to criticize the government in Turkey?
Dr. AE: Actually the case of the legislator shows that even parliamentarians are no longer safe from government pressure. We know that Turkish parliamentarians have immunity, and they should be free to raise any criticism. But in this case Mr. Erdem, who was referring to an earlier criminal case and basing his allegations on official documents of the court, is now undergoing investigation himself. I think this is basically an intimidation of all critical voices in Turkey - both through legal means – that is through indictment, and also through this paramilitary wing 'the Ottoman Hearths,' which has basically revealed Mr. Erdem's house address and held demonstrations in front of his house. So on two fronts there seems to be an intimidation campaign.
RT: Do you think it's likely that Erdem will be prosecuted?
Dr. AE: The court documents will be sent to the Parliament and it will be up to the Parliament to decide whether to lift its immunity or not. Turkish parliamentary tradition in such cases would require standing behind the legislator. But Turkey is undergoing a very difficult period under very special circumstances. As authoritarianism is deepening in Turkey, it is very difficult to guess what might happen. AKP might simply use its parliamentary majority to send this legislator to court to be tried.
READ MORE: 'Turkey using psychological warfare on anybody critical of the government'
RT: There have been numerous allegations of Turkish support for Islamic State, like buying oil, treating terrorists in hospitals, and now this. How damaging is this for Ankara's relations with its key allies, particularly the US?
Dr. AE: Turkey has since the very beginning of the Syria crisis implicated through its involvement with proxies in Syria … that use arms to kind of change the regime and install the Muslim Brotherhood's regime in Syria. I think this is having a negative impact on Turkey's image, not only in the Middle East, but also in the transatlantic world. I think beyond the Syria crisis, Turkey will continue to grapple with this issue. I can say that Turkey has lost part of its prestige and soft power in diplomacy through its dealings with Islamic radicals.
The statements, views and opinions expressed in this column are solely those of the author and do not necessarily represent those of RT.
You can share this story on social media: