'What drove jihadists to take up arms in Iraq? The experience of Abu Ghraib and Guantanamo'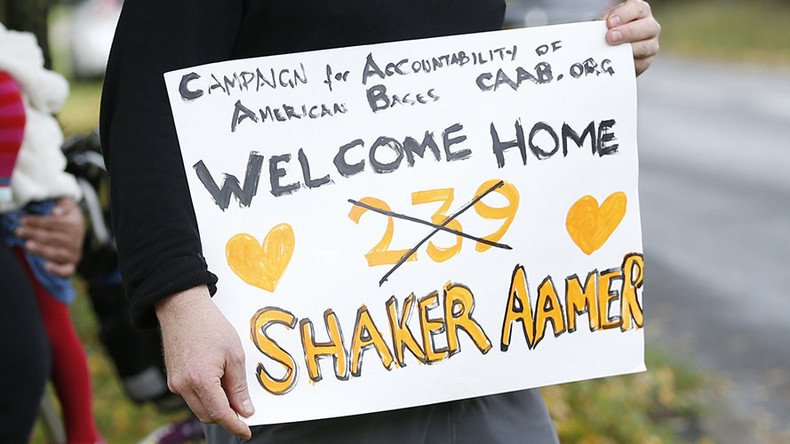 It is a shameful episode in the US history and the bottom line, said Ray McGovern, former CIA officer. If you want to encourage people to become terrorists, there is no better place to do it than in Abu Ghraib or Guantanamo, he added.
READ MORE: 'This is Azkaban': After 14 yrs in Gitmo, Shaker Aamer recounts brutal torture allegations
British resident Shaker Aamer was held at Guantanamo Bay for almost 14 years, and has spoken to the media for the first time since his release in October. In a series of interviews he made detailed allegations of mental and physical torture at the US detention center.
RT: Shaker Aamer made some serious allegations (Gitmo interrogators threatened to rape his then five-year-old daughter and while in Afghanistan, Americans held him in a cage and beat him). How concerned do you think the US government is about these claims?
Ray McGovern: How concerned it actually is is a matter of conjecture. How concerned it should be, how ashamed it should be, is a matter of record. The president flippantly said in August last year: "Well, we tortured some folks." Wow. And who paid the price for that? The folks tortured. The torturers? They were given a 'Get out of Jail Free' card. So it is a shameful episode in US history and the bottom line, of course, is that if you want to encourage people to become terrorists, there is no better place to do it than in Abu Ghraib or Guantanamo. We have that attested to by a fellow named Matthew Alexander, his pseudonym, he was an Air Force interrogator, chief interrogator in Iraq 2004-2006, and what he said was this: "We asked the real jihadists what drove them, what brought them into Iraq, they said two things: Abu Ghraib and Guantanamo."
RT: The US military classified Aamer as a threat but he was never charged. Why did it take so long for him to be released?
RM: Because he knew too much, because he saw too much in Bagram and Guantanamo. And because he wasn't quite a British citizen, but just a legal resident. The British government didn't really put a lot of pressure on the US to free this man. This man, who has spent 30 percent of his entire life in Guantanamo. This man has four small children, one of whom he had never seen before. This is inhuman; this is something to be really ashamed about. And not only that, it is causing, as I said before, more and more people to take up arms and to avenge these kinds of maltreatment.
RT: Did the fact that he is a British resident help to draw public and media attention to his case?
RM: If Andy Worthington were not there, a British fighter for justice and expert on Guantanamo, if other people didn't put pressure, I, myself, joined in the fast for Shaker Aamer about two months ago. We put a lot of pressure on the US government. Finally, they felt that the pressure of disgrace of keeping him outweighed the risk that he would tell what he experienced and what he saw, and let him go. It is a very sorry chapter. And I have to say that just reading the poignant remarks of Shaker Aamer as he met his wife and said: "Fourteen years of pain disappeared as I saw my wife and hugged her. Met my smallest child for the first time. And tried to become acquainted again with my other three children now in their teens."
The statements, views and opinions expressed in this column are solely those of the author and do not necessarily represent those of RT.
You can share this story on social media: