Merkel's Faustian embrace of Turkey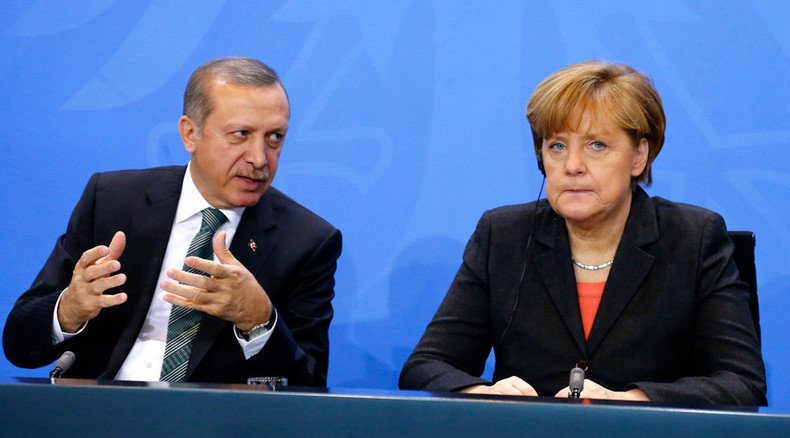 Turkey is pressuring Germany to create "safe zones" inside Syria as a "price" for alleviating the EU's refugee crisis. It's a Faustian bargain that could escalate the Syrian conflict, where NATO forces could end up pitted against Russia's military.
German Chancellor Angela Merkel's hot-footing to Istanbul last weekend was capped with a U-turn regarding Turkey's much sought-after membership of the European Union. In a surprise move, Merkel announced that she was now in favor of pushing for Turkey's accession to the EU, when only a few weeks ago she had reiterated her opposition to its membership.
"Turkey holds the cards," declared the German news outlet Deutsche Welle. And it's hard to disagree with that, given Turkey's pivotal role in Europe's migrant crisis, which has seen the biggest mass movement of people since the Second World War. Some 600,000 refugees have reached EU borders this year alone, according to the International Organization for Migration.
Most of the human exodus has come through Turkey, which is currently accommodating 2.5 million refugees. Most of those have stemmed from the nearly five-year conflict in Syria, on Turkey's southern border.
Turkey's President Recep Tayyip Erdogan and his Prime Minister Ahmet Davutoglu are pressing home the opportunity presented by this crisis, by getting the EU to accept that it "needs Turkey" to halt the flow of refugees. That's why Merkel and other high-ranking EU officials have in the last week showed a newfound attentiveness to the government in Ankara.
READ MORE: €3bn, visa deal & EU access talks if Turkey stops refugee flow to Europe
Before she flew to meet Erdogan and Davutoglu last Sunday, the German Chancellor said that "all options were on the table." The leaders subsequently said they had worked out an "action plan" which will be finalized over the coming weeks, with more high-level meetings planned in Berlin and Ankara.
What is known is that Merkel is now backing revitalized talks over Turkey's accession to the 28-member EU. Negotiations had been mothballed since 2005 owing to EU concerns over Turkey's human rights record and Ankara's repression against its minority Kurdish population.
Another apparent concession from the EU confirmed by Merkel is the granting of €3 billion ($3.4 billion) in aid to Turkey for accommodating its refugee numbers – said to the largest in the world currently. Ankara claims that it has already spent $8 billion in caring for refugees on its territory.
A third concession that Ankara is demanding is for the EU to back its long-held demand for setting up "safe zones" in northern Syria. Merkel demurred on the subject while holding a news conference with Davutoglu, but the Turkish premier was not holding back on the issue.
"The establishment of secure zone within Syria is Turkey's must," said Davutoglu. "That's why I repeated the necessity of the creation of a secure zone in Syria and keep the refugees inside their country," he added.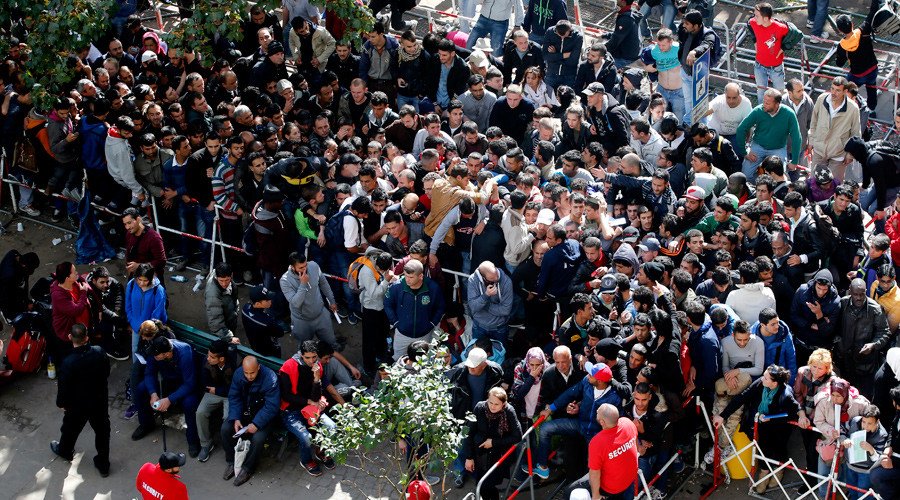 Turkey has been strenuously advocating the creation of a so-called safe zone in northern Syria since the war erupted in March 2011. But both Washington and its European allies have up to now balked at the idea. That's because to maintain such a buffer territory inside Syria, which by definition means the exclusion of Syrian government forces, would require a major military intervention by the Western powers. It would, in effect, be a no-fly zone requiring American and NATO warplanes to enforce, as well as troops on the ground.
But the worsening migration crisis has shifted the calculus, and appears to be giving Turkey decisive leverage. Merkel in particular is under pressure to staunch the flow of refugees. Her previous "open door policy" to asylum seekers is rebounding badly since other EU member states are refusing to share more of the burden.
This week saw more anti-immigrant protests in Germany held by the right-wing Pegida movement. And it's not just the far-right that is mobilizing. Even centrist Germans – many of them core supporters of Merkel's Christian Democrat Union party – are growing in anxiety over the influx of refugees. One recent poll found that only one-in-three Germans back Merkel's accommodating stance.
With Hungary, Croatia and Slovenia closing their border crossings, tens of thousands of refugees are facing hellish conditions as winter approaches, and many are pushing on with desperate journeys to Austria and Germany. Media footage of migrant families freezing in muddy fields battling with riot police is putting the image of the EU in the dock of international public opinion. The crisis is becoming untenable, and Merkel is evidently compelled to do something about it.
Turkey seems to be emboldened to apply even more leverage. Speaking after Merkel's departure, Davutoglu warned that his country would not become "a concentration camp."
The prime minister told Turkish media: "We cannot accept an understanding like 'give us the money and they stay in Turkey'." With notable defiance, Davutoglu added: "I told this to Merkel, too. No one can accept Turkey becoming a country like a concentration camp where all refugees live."
The UN refugee agency, UNHCR, reported that the number of migrants leaving Turkey for Greece and thence to wider Europe has increased in recent weeks. That suggests that the Turkish authorities may be using a tacit policy of opening refugee traffic to Europe, in the cynical knowledge that the resulting flow gives Ankara greater negotiating power with the EU.
If the EU, under Merkel's direction, accedes to Turkey's demand for setting up safe zones in northern Syria, then that has ominous implications. Turkey has previously called for the zones to penetrate close to the strategically important northern city of Aleppo. The safe zones would also be used as sanctuaries for "anti-government rebels." Turkey and its Western allies refer to these rebels as the "moderate" militants of the "Free Syrian Army." But it is an open secret that the FSA is but a fictional cover for extremist jihadists of various Al-Qaeda groups and Islamic State.
The Turkish government of Erdogan and Davutoglu is believed to be a key sponsor of the extremist mercenaries in the Western covert regime-change operation in Syria. Turkey has served as a main transit route for foreign jihadists and weapons, according to Turkish opposition parties and the Syrian government.
While Ankara may claim that the setting up of "safe zones" is primarily motivated by assisting civilians displaced in the conflict, it seems clear that the real agenda is to give the regime-change mercenaries cover from military assaults by the Syrian government forces.
With Russian warplanes now striking hard in support of the Syrian government against the various extremist brigades, a no-fly zone established along Turkey's border would put NATO forces in direct conflict with Russia's military.
The German government may well suspect that Turkey has its own agenda of prosecuting overt schemes against Syria's President Bashar al-Assad. But as the European migrant crisis intensifies, Merkel, it seems, is caught over a barrel. She needs to stem the refugee crisis urgently, especially with discontent growing among her own population.
However, if she concedes to Ankara's demands for "safe zones" that could, in turn, lead to the Syrian conflict escalating to untold levels, with NATO pitted against Russia.
There is a more straightforward and effective alternative. One that has been spelled out by Syria's Assad and Russian President Vladimir Putin. That is, for Washington and its allies, including Turkey, to desist from their criminal regime-change machinations and to respect the sovereign government of Syria.
LISTEN MORE:
The statements, views and opinions expressed in this column are solely those of the author and do not necessarily represent those of RT.
You can share this story on social media: