'We're hosting 2.5mn & nobody cares' - Turkey's Erdogan slams Nobel Prize committee for refugee bias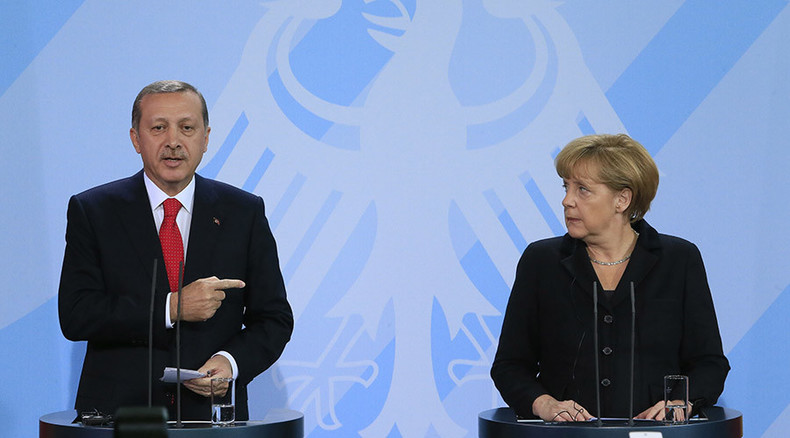 Turkish President Recep Tayyip Erdogan has hit out at reports that the Nobel Peace Prize could have been awarded to German Chancellor Angela Merkel for her pro-refugee stance. He says his country has done much more to help the plight of those who have been displaced.
Merkel, who had called on EU members not to hold back and accept the increasing number of refugees flowing to Europe from the Middle East and North Africa, was considered one of the favorites among nominees for this year's Nobel Peace Prize.
In the end, the prestigious award went to four Tunisian civil organizations, who steered the country's transition during the Arab Spring – the only nation to do so without significant bloodshed.
READ MORE: Nobel Peace Prize awarded to Tunisian national dialogue quartet
However, reports that Merkel could have been awarded the prize apparently irritated President Erdogan. He said the honor is given for political reasons and the selection process is biased.
"You know how the Nobel prizes are given. They are given by order [from outside the committees]. This means whether [the recipients] deserve it or not does not matter," the Today's Zaman publication quoted him as saying.
"Someone says, 'We will receive 30-40,000 refugees,' and then they are nominated for the Nobel [prize],"Erdogan said, without saying who he was referring to. "We are hosting 2.5 million refugees at the moment. Nobody cares about that. Because the Nobel is political."
READ MORE: €3bn, visa deal & EU access talks if Turkey stops refugee flow to Europe
Turkey along with Jordan has been a major destination for people fleeing violence in neighboring Syria since 2011. It also hosts refugees from troubled Iraq, where the security situation has seriously deteriorated over the past few years. According to Erdogan, Ankara has spent $8 billion to accommodate the refugees, while other countries have contributed by providing a mere $417 million.
The Turkish president added that in Europe the refugee crisis wasn't even in the public eye until a photo of a drowned three-year-old Syrian boy washed on a Turkish beach was shown in the media. Turkey has been calling for attention for years, he said.
LISTEN MORE:
You can share this story on social media: