'Terror attack in Yemen was expected'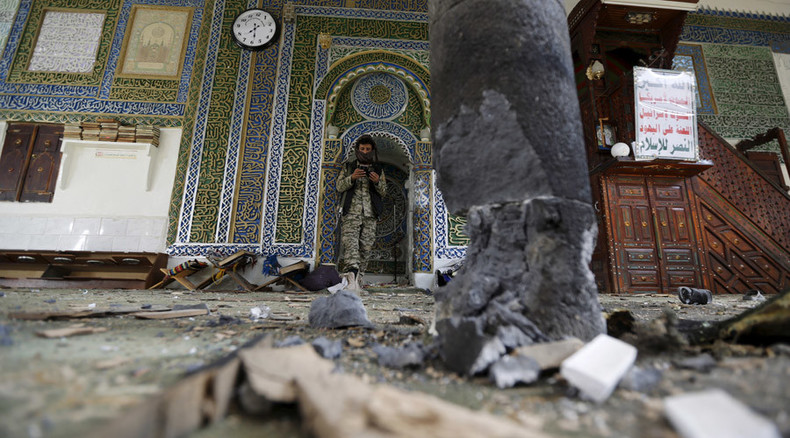 With the current level of hate speech, previous attacks on Shia mosques in Yemen, and the presence of ISIS, the latest deadly terrorist attacks were expected, political analyst Hisham al-Omeisy, who was on the scene of the blast, told RT.
Eid celebrations in Yemen have been spoiled by a suicide bombing at a mosque in Sana'a. At least 29 people have been killed.
RT: What did you see at the mosque?
Hisham al-Omeisy: It was a bloody scene – it was a twin suicide bombing that happened and killed 29 people. There are a dozens of people injured, there was blood all over the place. Unfortunately because it's Eid, there were a lot of people at the mosque during the suicide bombing. People are rushing to the area trying to help, take the injured and the wounded to the hospital. Unfortunately, because there are no drugs at the hospitals, there is no blood at the hospitals, now people are being asked to go and donate blood there.
READ MORE: Yemen: Worst for civilian death & injury from explosive weapons, UK-Saudi arms sales continue
RT: The Yemeni capital has suffered a string of bombings targeting Shia mosques in recent months, who could have been behind this latest attack?
HO: It has to be Islamic State. You have to remember Al-Qaeda outlawed the attacking of mosques early on. For the past six months, multiple attacks on Shia mosques or Houthi affiliated mosques happened and have been claimed by the IS. Yesterday, for instance, when Al-Qaeda was again repeatedly saying there is no attack in mosques the IS was gearing up for more attacks. Unfortunately, the Saudi clerics yesterday on the mass of Arafah, they were again preaching hate speech against the Houthis, against the Yemenis at large, basically. And that is why for a lot of people here in Sana'a and the capital the attack was not a surprise, it didn't come as a surprise to us. With that much hate speech on TV for millions of Muslims, especially when there is IS in Yemen, such an attack is expected.
READ MORE: Britain fueling war in Yemen, breaking international law – Oxfam UK
RT: You're saying Islamic State is behind this latest attack, there has been a Saudi-led bombing campaign essentially going against Houthi rebels. But we understand that Houthi rebels are also battling IS. What is the state of affairs now when it comes to the balance of this very difficult war?
HO: Well, there is no balance to speak of. While the Houthis are trying to fight Al-Qaeda and the IS, they are being bombarded by the Saudi-led coalition. In addition to the fact that the Houthis are also fighting with the resistance. Add to it, multiple warlords across Yemen and multiple factions, and that is why it is a mess, and that is exactly why the Saudi-led coalition could not yet have a decisive win despite six months.
LISTEN MORE:
The statements, views and opinions expressed in this column are solely those of the author and do not necessarily represent those of RT.