Britain fueling war in Yemen, breaking international law – Oxfam UK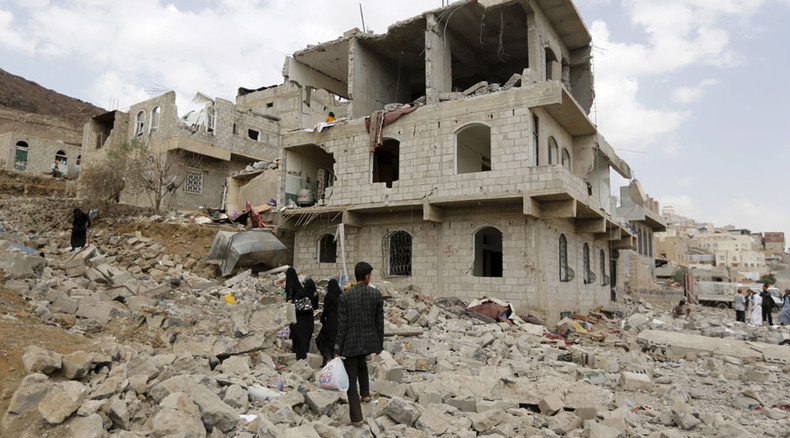 The conflict in Yemen has been exacerbated by the UK government's arms deals with Saudi Arabia, causing a terrible humanitarian catastrophe and potentially placing the government in breach of international law, Oxfam UK has said.
The ongoing war has seen Saudi Arabia, backed by US and UK arms, carry out airstrikes on Houthi rebels attempting to take control of Yemen.
International law states that arms deals should be prohibited if there is a risk they could be used to commit war crimes or human rights abuses, the charity said, adding the UK's response to the conflict has been a "paradox."
The British government insists is has not been directly involved in the bombings, but Oxfam says the UK has been replenishing Saudi weapons since the conflict began. Simultaneously, it has been donating money from the Department of International Development to aid the millions of civilians caught up in Saudi bombing raids, which have targeted factories, warehouses and markets.
Oxfam Chief Executive Mark Goldring called the conflict a "humanitarian disaster."
"Yemen has descended into a humanitarian disaster putting its people at risk of famine and the UK is materially involved through its export of arms and military support to the bombing campaign. An estimated eight children a day are killed or injured in Yemen's conflict. The ongoing conflict in Syria and the refugee crisis it has produced show why it is so vitally important to search for political solutions before it is too late. It is time the government stopped supporting this war and put every possible effort into bringing an end to the carnage.
"There is a paradox at the heart of the government's approach to Yemen. On the one hand the Department for International Development is funding efforts to help civilians caught up in the conflict, while on the other the government is fueling the conflict that is causing unbearable human suffering," he said.
"The UK successfully lobbied hard over many years for a UN Arms Trade Treaty to regulate the arms trade which came into being last year. This government has incorporated the treaty into national law, yet at the first test of the new law it has turned a blind eye to mounting evidence of potential misuse of its weapons and support."
The charity is calling for a suspension of arms trading with Saudi Arabia and a full investigation into the legal implications of its trade with the country, as well as a push for more humanitarian aid.
Its plea comes after an investigation into the conflict by BBC's Newsnight revealed the plight of civilians in Yemen, many of whom have been forced to flee their homes.
The report showed one target of a Saudi airstrike believed to have been a training camp and arms factory. In actual fact the target was a water-bottling plant. The airstrike killed many workers, some as young as 13.
You can share this story on social media: