China explosion: 'Risk of another blast if initial cause unknown'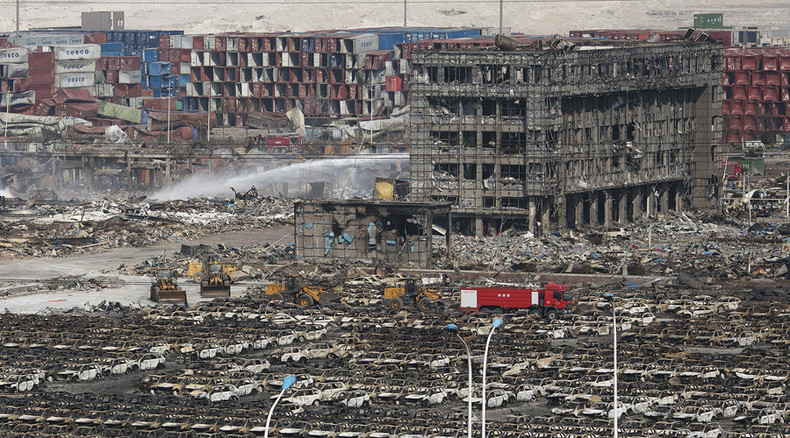 There is a risk of another explosion in China if the causes of the blasts in Tianjin aren't determined, UK fire and safety expert John Williamson told RT.
The port city of Tianjin in northern China has been rocked by huge explosions triggered by a fire. According to officials at least 50 people were killed, and 700 people were injured.
RT: Judging from the pictures you've seen, what do you think could cause explosions of this size?
John Williamson: There are so many types of explosives. It could be commercial explosives, the sort that would explode as soon as there was a shock, but even a shock detonation can cause a massive explosion. It could be military explosives; it could be gas; the list is almost endless. There are many, many causes of such a violent explosion. The worry is that it was so great. It did seem to show a fire in the early stages followed by at least one explosion and possibly even then just before the very, very large detonation. That is not uncommon, but it looks very, very powerful, and when you see that kind of explosion you wonder how much injury and possibly loss of life could have occurred due to that shock.
READ MORE: Toxic fumes detected in 500-meter radius from Tianjin blast area
RT: There are reports, that chemicals are involved. If it is true, how difficult is it to contain fires like that?
JW: It is very, very difficult. I don't envy the firefighters going to such a scene, because not only have they've got the risk of another explosion, and if they don't know what caused the first one, whoever is in charge, that's going to be the first thing on their minds. And of course that means they've got to wear protective clothing, if there are chemicals involved they have got to wear chemical-type suits because they can absorb chemicals through the skin. The potential for this is horrific, it really is.
RT: What kind of dangers could be posed to the wider area and environment by a blaze like this?
JW: As always, [the fire represents] massive environmental damage. But that is for later. At the moment whoever is attending that emergency is going to be looking at preventing further explosion, and perhaps evacuating the area and trying to rescue those that are injured.
RT: Is it ever possible to be completely safe from a blast like this happening?
JW: Safety systems should work towards that. Companies, industry that specialize in using chemicals that are explosive and combustible should have the highest safety services and safety systems in place. Of course all sorts of things can cause an ignition. It could even be something as obscure as lightning, it can be friction, it can be a spark, it can be a pilot light, it can be a mechanical spark - there are all sorts of things that could cause an ignition, and you can never ever be 100 percent certain. But safety systems should limit those and make sure that chances of them happening are so minimal.
The statements, views and opinions expressed in this column are solely those of the author and do not necessarily represent those of RT.