Exit stage left: Jon Stewart and the US political comedy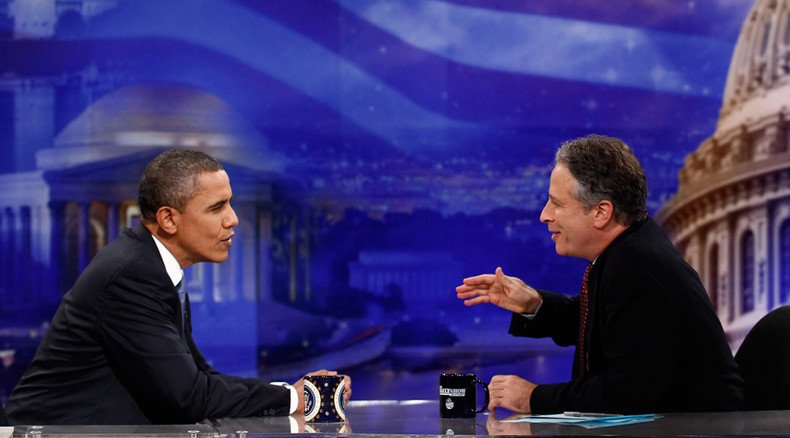 About to retire from hosting his influential show, political satirist Jon Stewart has laughed off reports of two secret meetings he had at the White House. Yet even Stewart's trademark snark can't hide the troubling connection between politics and comedy.
Stewart, who has hosted the half-hour "Daily Show" on Comedy Central since January 1999, announced his retirement this spring, being coy as to why. His last show will be August 6. Though always insisting he was just a comedian, Stewart's tenure on the show made him "one of the most important and influential voices on the progressive left," according to The Nation publisher Katrina vanden Heuvel.
Writing in the Washington Post, vanden Heuvel described Stewart as an "improbable icon who cut through right-wing talking points with satire while making progressive ideas sound like common sense."
The Democratic party was quick to embrace the "Daily Show" as a bullhorn for its message. Barack Obama has been Stewart's guest seven times since 2005, thrice as a sitting President. Elizabeth Warren, another rising star among the Democrats, has made six appearances on the show.
READ MORE: 'Who are we bombing?' Jon Stewart grills Obama over Iran deal

Obama also summoned Stewart to the Oval Office on two occasions, Politico recently revealed. According to the President's aide Austan Goolsbee, the 2011 meeting was about countering Obama's critics on the left and laying the groundwork for the 2012 reelection campaign.
The February 2014 meeting came just a few days after US-backed radicals overthrew Ukraine's elected president in a violent coup, setting in motion the ongoing crisis in that country. Stewart's show after the meeting featured a segment called "It's a Vlad, Vlad, Vlad, Vlad World," satirizing Russian president Vladimir Putin.
Stewart laughed off the Politico report in a segment on both his own show and a guest appearance on the "Nightly Show," a spinoff hosted by Daily Show alum Larry Wilmore. According to Stewart, Obama scolded him for turning young Americans cynical, Stewart explained he was actually "skeptically idealistic," and then they argued about ways to fix the Veterans' Administration and Healthcare.gov.
Goolsbee, the Obama aide who liaised with Stewart's producers to arrange the President's appearances on the show, admitted the White House was "quite interested in at least explaining its side of the story to Jon Stewart," and that Obama wanted to "sell" the comedy host on his agenda.
While Goolsbee's comments suggest an equal relationship between the White House and Stewart, the "Daily Show" host has often been accused of throwing softballs to Obama and other Democrats, letting them use his show as a pulpit for their policies.
The entire genre of comedy news owes its existence to Stewart, who became synonymous with the "Daily Show" even though he was not its first host. Prior to Stewart, the show was a more conventional parody of entertainment news, and barely registered on the public's radar. Sixteen years later, it has spawned several spinoffs and imprinted its snarky approach to political talking points onto the American mainstream.
"Ridicule is man's most potent weapon," wrote Saul Alinsky in 'Rules for Radicals,' his last and most famous book. "There is no defense. It's irrational. It's infuriating. It also works as a key pressure point to force the enemy into concessions." Alinsky dubbed this Rule Five, and for years Stewart has been the perfect example of it in action.
Fox News and Republican politicians have been a constant target of Stewart's mockery. According to vanden Heuvel, Stewart has done more than anyone on television to "define Fox News as the reliably partisan outlet that most people know it as today."
Stewart worked with fellow comedian Stephen Colbert to create a caricature of a conservative pundit, spinning of what began as a series of sketches on the "Daily Show" into "The Colbert Report," a faux-Republican parody show that ran between 2005 and 2014.
In October 2010, just days before the midterm election, Stewart and Colbert organized a "Rally to Restore Sanity and/or Fear" on the National Mall in Washington. The rally, which drew a crowd of over 200,000, featured a poster with the word "fear" in red – a color attributed to the Republicans ever since the 2000 presidential election.
"He's done a great thing for us reminding young people why the Republican Party is out of step," Senator Claire McCaskill, a Missouri Democrat, told Politico, adding some Democrats are "worried" now that he is leaving the show.
Even the Republican-leaning Politico describes Stewart as a unique voice "capable of turning in-the-weeds policy discussions into viral video sensations that the country is still talking about the next morning." The potential payoff of having a comedy show rant about an issue has not escaped political operatives. "Last Week Tonight," a weekly HBO show hosted by the "Daily Show" alum John Oliver, is basically a delivery vehicle for issues segments that often take up half the show's running time and go viral after being uploaded to YouTube.
Jon Stewart keeps saying he's just a comedian. While that is technically true, he also obviously doesn't mind working hand in glove with politicians to push their agendas, making him more akin to a savvy court jester. The extent to which he might be responsible for the toxic polarization of American politics today is debatable. His enduring legacy, though, is turning millions of young Americans away from thinking about politics and towards favoring knee-jerk emotional reactions steered by snarky comedy hosts.
Nebojsa Malic
The statements, views and opinions expressed in this column are solely those of the author and do not necessarily represent those of RT
The statements, views and opinions expressed in this column are solely those of the author and do not necessarily represent those of RT.
You can share this story on social media: