'If Greek financial assistance is needed, we will consider that' – Russian Deputy PM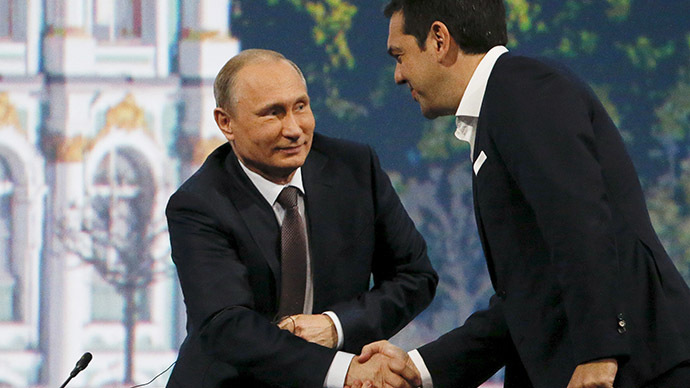 ​With the Greek government locked in negotiations with international creditors – the IMF, the ECB and the European Commission – over its €240 billion debt, fears are mounting that the country could default on its massive loan and exit the Eurozone.
On Friday, Russia and Greece signed a deal to create a joint company for the construction of the Turkish Stream pipeline across Greek territory, which will supply 47 billion cubic meters of gas a year. Russian President Vladimir Putin said the EU should "applaud" the deal since it will help create desperately needed new jobs in Greece.
READ MORE: Putin: €2bn Russia-Greece gas deal will help Athens pay its debt

On the sidelines of the St. Petersburg International Economic Forum on Friday, Deputy Prime Minister Arkady Dvorkovich spoke to RT about cooperation between Russia and Greece, as well as other topics.

RT:Mr. Tsipras is in Moscow in the wake of the breakdown in debt talks with his European creditors, what is he hoping to get from Moscow, if anything?

Arkady Dvorkovich: We have very strong political and economic relations with Greece and in difficult times we always support our partners…. We are supportive of any solutions that Greece and European partners and friends may propose. Certainly we have a priority to support investment projects and trade with Greece, and if financial assistance is needed we will consider that. But overall, it is our priority to have a stable Europe, a stable Greece and we'll continue to supportive of a resolution of the Greek financial crisis.

RT:Western media are speculating that Greece is after a loan from Russia in exchange for a promise to block the extension of EU sanctions. Is there any truth to those claims?

AD: There are many countries in Europe that want sanctions to be lifted as soon as possible, and Greece is among them. I think those countries are thinking about business, about their own economies, not about politics and we believe it is a constructive approach. So we now have more intensive consultations with those countries than with European majors who don't want to continue economic dialogue at this point.
READ MORE: Russia, Greece sign €2bn deal on Turkish Stream gas pipeline

RT:If the sanctions are extended anyways, how will the Kremlin respond?

AD: If sanctions are extended then we will continue to have our food embargo, so we will not allow food products from countries who established sanctions against Russia, and basically we'll continue the policies that we started a few months ago without any substantial changes.

RT:Just back to business at the forum where you are now, apart from the much-discussed Turkish Stream, what other lucrative deals are on the table in St. Petersburg?
READ MORE: Greek bank run: Deposit withdrawals hit €3 billion in four days - media
AD: Well, we have very intensive dialogue with our Asian-Pacific partners, in particular China, yesterday [Friday] at the investment commission… around 30 projects have been approved, billions of dollars will be invested into those projects. Also, memorandums have been signed with French, German companies, IBM, Intel on different investments in R&D activities in Russia. Overall, we are happy with the participation of foreign investors at the St. Petersburg Forum and the contracts and memorandums signed here.
The statements, views and opinions expressed in this column are solely those of the author and do not necessarily represent those of RT.
The statements, views and opinions expressed in this column are solely those of the author and do not necessarily represent those of RT.
You can share this story on social media: