​Putin: €2bn Russia-Greece gas deal will help Athens pay its debt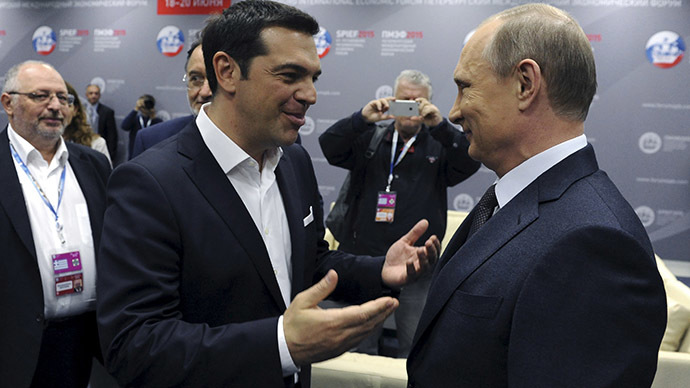 A deal to jointly build an extension of the Turkish Stream gas pipeline across Greece will help Athens to settle its multibillion euro debt to international creditors, President Vladimir Putin said at the St. Petersburg International Economic Forum.
Talking to the representatives of international media at the Forum, Putin said he didn't see any support for Greece from the EU, RIA Novosti reports.
"If the EU wants Greece to pay its debt than it should be interested in the Greek economy growing," Putin said. "The EU should be applauding us. What's bad about creating new jobs in Greece?" he said, commenting on Russia's preliminary gas deal with Greece.
READ MORE: Russia, Greece sign €2bn deal on Turkish Stream gas pipeline
On Friday, Russia and Greece signed a deal to set up a joint company for the construction of the Turkish Stream pipeline across Greek territory that will supply 47 billion cubic meters of gas a year.
Moscow has repeatedly said it was ready to help Greece, if necessary, but so far Athens hasn't asked for direct financial help.
Tsipras's government is now locked in tough negotiations with its international creditors – the IMF, the ECB and the European Commission – over its €240 billion debt to them. The total Greek debt now stands at €316 billion, with fears mounting that the country could default without a deal with creditors and leave the Eurozone, as well as the EU.
READ MORE: Greek bank run: Deposit withdrawals hit €3 billion in four days - media
The panic is bringing the Greek banking system to the verge of a collapse, as record amounts of deposits have been withdrawn from the accounts this week. On Thursday alone, Greek depositors withdrew an estimated €1 billion from the banks, as another round of talks with creditors failed to produce results.
On June 22, the EU will hold a summit in Brussels where the EU officials will make another attempt to resolve the Greek crisis. On this day Greek banks may remain closed, according to ECB Executive Board member Benoit Coeure, Reuters reported Thursday.
You can share this story on social media: